Giant pandas Jia Jia, Kai Kai to extend stay in Singapore until 2027
Giant pandas Kai Kai and Jia Jia first arrived in Singapore from China in 2012.
SINGAPORE: Giant pandas Jia Jia and Kai Kai's stay in Singapore has been extended for five more years under an agreement signed by the China Wildlife Conservation Association (CWCA) and Mandai Wildlife Group (MWG) on Friday (Sep 2).
The announcement was made during the double birthday celebrations of Kai Kai and Jia Jia, who turn 15 and 14 respectively this month.
The signing by the two parties took place on Friday morning at the Giant Panda Forest at River Wonders.
It was witnessed by Minister of State for Trade and Industry Low Yen Ling, as well as Chinese Ambassador to Singapore Sun Haiyan, Vice Administrator of China's National Forestry and Grassland Administration (NFGA) Li Chunliang, and other NFGA representatives.
Group CEO of Mandai Wildlife Group Mike Barclay said: "Mandai Wildlife Group is delighted to deepen our partnership with China Wildlife Conservation Association and continue to contribute to conservation efforts for the Giant Panda species.
"We have journeyed with Kai Kai and Jia Jia for a decade, from when they first arrived to making their debut in the Giant Panda Forest exhibit, and ensuring they are in good condition for each annual breeding season. We look forward to playing a part in their further growth and milestones."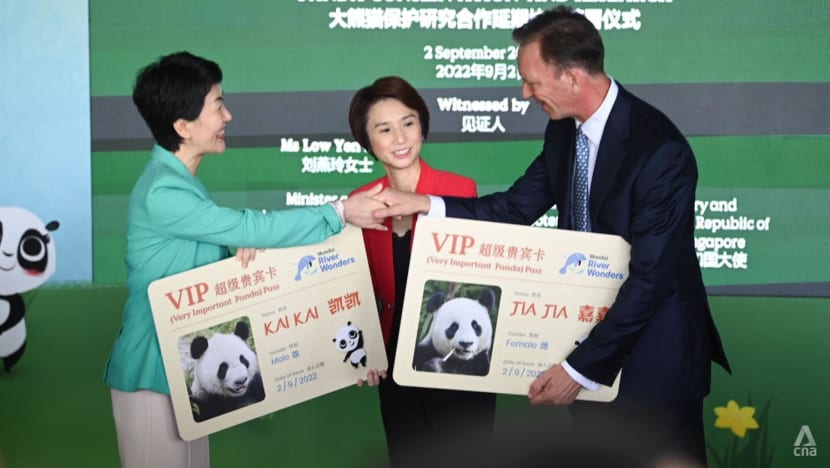 Ms Low said that President Halimah Yacob and China's President Xi Jinping welcomed the signing of the Memorandum of Understanding (MOU) on the Cooperation of Promoting Giant Panda Conservation, between NFGA and the Ministry of Trade and Industry (MTI). Under this MOU, MTI and NFGA will support the joint implementation of the conservation and research project by MWG and CWCA.
"We welcome the signing of the extension agreement between MWG and CWCA which will strengthen the foundation for our next phase of collaboration and we are constantly exploring new possibilities for cooperation.
"This extension agreement will enable MWG and CWCA to deepen their 
meaningful work on Giant panda conservation, and is testament to the long-standing friendship between Singapore and China," Ms Low added. 
Kai Kai and Jia Jia arrived in Singapore from China in 2012 under a 10-year agreement, known as the Agreement on Cooperation in Panda Conservation and Research. They were due to return this year. 
Last year, Mandai Wildlife Group, formerly known as Wildlife Reserves Singapore, told the media that it was in talks with the Chinese authorities to extend the two pandas' stay beyond this year. 
The extension would give the Singapore team the opportunity to plan another breeding season for the pandas. 
Jia Jia and Kai Kai's first panda cub Le Le, was born on Aug 14 last year after artificial insemination. 
Le Le will return to China when it reaches independence at two years old. 
BIRTHDAY CELEBRATIONS FOR JIA JIA AND KAI KAI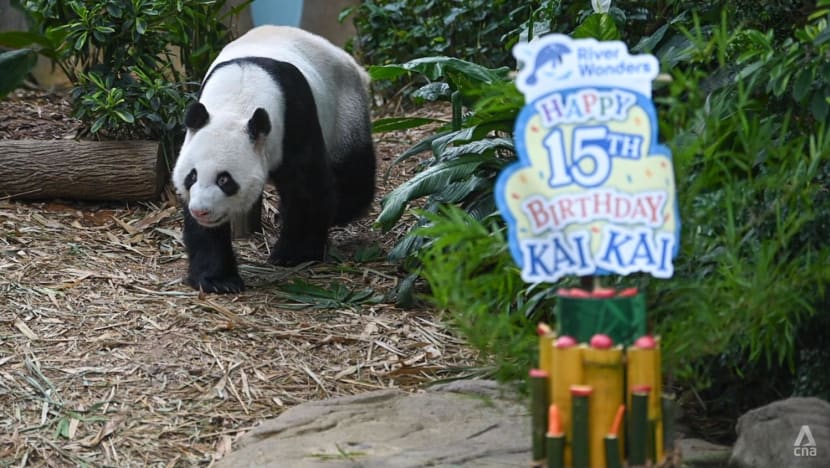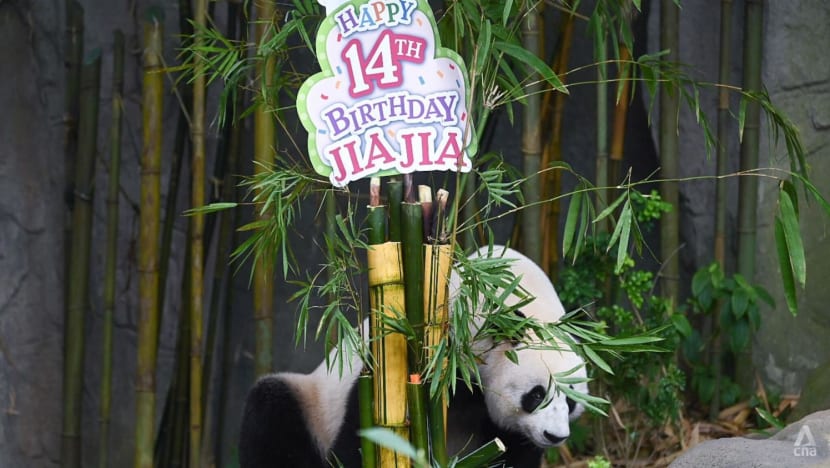 The media were on Friday also taken to Jia Jia and Kai Kai's separate enclosures, where they each had their own birthday cake and a birthday present filled with straw and pellets.
Jia Jia, who will turn 14 on Saturday, had a bamboo ice cake with carrots, apples and bamboo shoots, while Kai Kai, who will turn 15 on Sep 14, had a bamboo cake. 
Jia Jia entered her enclosure with son Le Le, who celebrated its first birthday on Aug 12 with a three-tier ice cake.
The panda cub appeared energetic on Friday as it climbed up a tree trunk and grabbed a carrot tied to the end of a banner.
Le Le then released the banner which read "Wishing Jia Jia safety and health" in Mandarin.