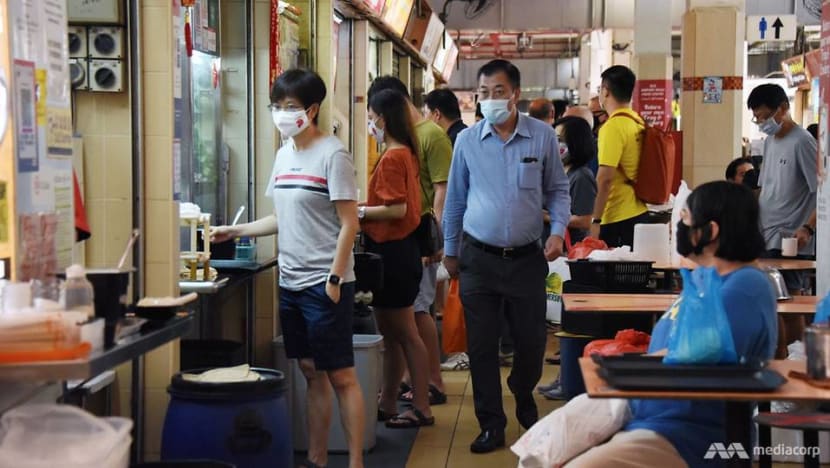 SINGAPORE: On Monday (Apr 25), chwee kueh seller Theresa Tan's chye poh (preserved radish) supplier told her that he will increase his prices. 
A tin of chye poh, which she can easily go through in a day, will cost S$158 from May 1, up from S$130 now. 
This additional cost for the ingredient, an essential in the making of the steamed rice flour cake dish, would come on top of others. 
Speaking to CNA at her stall at Bendemeer Market and Food Centre on Wednesday, Ms Tan rattled off a list of ingredients that have become more expensive recently – cooking oil, sugar, garlic and onions.
As a result, Ms Tan will also raise her prices from May 1. Four pieces of chwee kueh will cost S$1.60, up from S$1.20, while eight pieces will cost S$3.20, up from S$2.40.
"I tried not to increase (the price), but if I don't, I'll drop dead," she said, adding that it's the first time in 10 years that she is raising prices. At the current prices, she earns enough just to pay for her overheads, including utilities and the salaries of her two workers.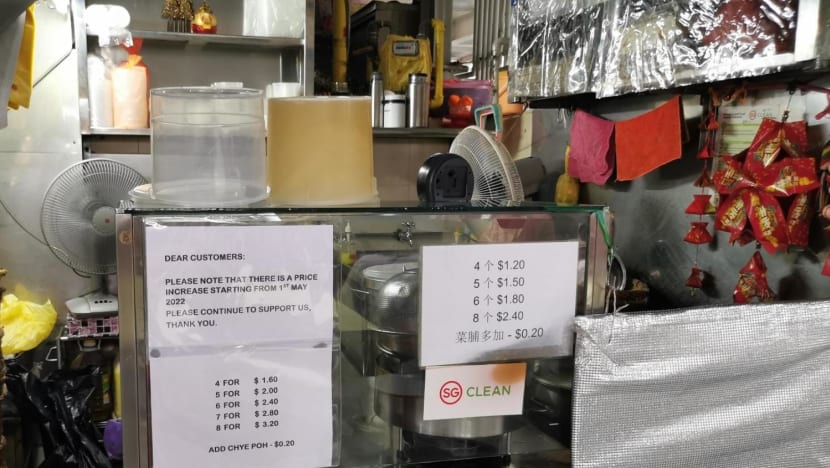 At an Owen Road coffee shop, the price of a plate of chicken rice was raised from S$3 to S$3.50 earlier this month.
A sign at the stall reads: "Due to the recent increase in food raw materials and operating costs, coupled with global inflation, our store has decided to adjust the price of food slightly from 11th April 2022."
Mr Foo Tak Lim, who runs the stall, said the cost of ingredients like oil, noodles, chicken and eggs has increased by 10 to 20 per cent. 
But the 50-cent rise in his chicken rice price – his second increase in the last 10 years – does little to cover his costs, Mr Foo said. His stall is still running at a loss. 
INCREASE IN PRICES ACROSS THE BOARD
Association representatives painted the same picture of the need for hawkers to raise prices. 
About 40 to 45 per cent of the 200 members of the Kheng Keow Coffee Merchants Restaurant and Bar-Owners Association have raised prices recently, its vice-chairman Kenneth Lee told CNA. 
The increase ranges from 10 or 20 cents for drinks to up to S$1 for food, with seafood prices going up the highest, he said. 
Many stalls use cooking oil manufactured in Ukraine, Mr Lee noted. Oil prices have shot up amid tight worldwide supply following Russia's invasion of Ukraine in February this year. 
Similarly, Mr Anthony Low, who chairs the hawker division of the Federation of Merchants' Associations (FMAS), highlighted the soaring cost of cooking oil – a tin now costs about S$50, double what it cost about a year ago.
"We need to fry the items every day and we have to make sure the oil is fresh," said Mr Low, who has been running a ngoh hiang prawn cracker stall for more than 50 years. 
The majority of hawkers in the association, 80 per cent, raised their prices recently, he said. 
INFLATION STILL RISING
This comes as Singapore's core inflation rose to a 10-year high of 2.9 per cent year-on-year in March. 
In its macroeconomic review published on Thursday, the Monetary Authority of Singapore (MAS) said non-cooked food inflation climbed to 3 per cent year-on-year in the first quarter, up from 2.5 per cent in the preceding quarter, amid rising prices in fish, seafood and meat. 
Adverse weather conditions including severe flooding in Malaysia late last year also affected fish supplies. 
"Meanwhile, labour shortages in Singapore's key meat import source countries (eg Brazil and Malaysia) as well as elevated feed costs drove poultry prices higher," the central bank said. 
The pace of price increases of fruits and vegetables also remained "elevated" in the first quarter at 3.4 per cent and 4.8 per cent respectively, MAS said. 
CIMB Private Bank economist Song Seng Wun told CNA it is hard to say when the prices would stabilise given that the factors leading to the increase are variable, although he ventured that it would not be in the near term. 
The increase in prices in hawker fare is justified, he said.
"If running a food store and selling their food cost more, it's fair that we pay more and certainly, we can afford to pay more," he said.
"THE AMOUNT ADDS UP"
Still, some hawkers said they raised their prices reluctantly, after much thought.
The son of a soya bean products stallholder said his father only agreed to increase prices in January this year after much prodding from his family.
A glass of soya bean milk at his stall in Pek Kio Market and Food Centre now costs 80 cents, up from 70 cents. Taking away the drink in a paper cup costs S$1.40, up from S$1.20, to reflect the additional beverage that the cup accommodates and the cost of the packaging.
Each carton of 1,000 paper cups increased by S$10 to S$20 two months ago and the price of the plastic carriers also increased last week, said the son, who only wanted to be known as Mr Teo.
"It may be a few cents to people, but if you sell every day, the amount adds up," the 29-year-old said. 
His father wanted to keep the prices low so that prices remain affordable for the regulars – many of them elderly – who frequent his stall.
"He wants to keep things cheap. He doesn't dare increase (the price) so much. His mindset is that he wants people to be able to afford his product," Mr Teo said.