CNA Explains: Why does Singapore need to prepare for haze this year?
With a more intense dry season expected, Singapore could face its worst episode of haze in recent years.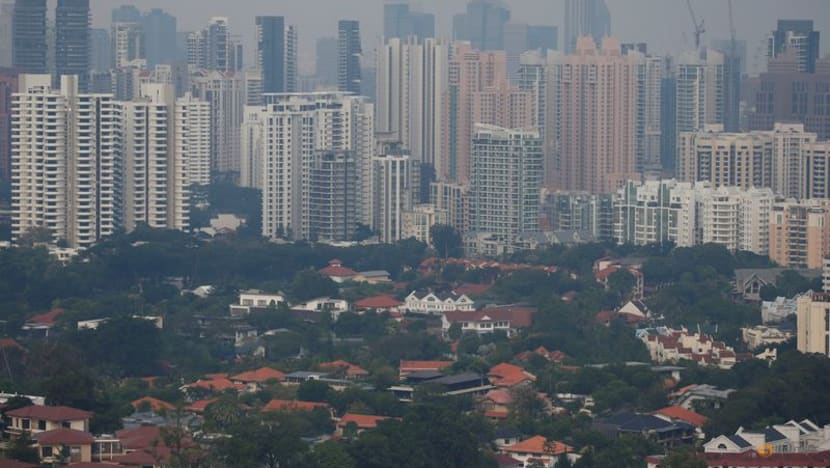 SINGAPORE: More than three years after Singapore last experienced transboundary haze, the government has warned that it could return this year.
Smoke haze in Singapore is caused by regional forest fires, which arise when open burning is used to clear land for agricultural uses, according to the National Environment Agency's (NEA) website.
It is often worse in dry periods, when the wind changes direction and when precipitation is low.
The government's haze task force is making preparations, and the Meteorological Service Singapore is advising the public to get ready.
Why is the risk higher this year?
The Met Service said the dry season in the region could be more "intense and prolonged" compared with recent years because it expects El Nino conditions and a positive Indian Ocean Dipole to develop.
The season, which usually lasts from June to September, could stretch into October.
El Nino is a naturally occurring climate pattern that happens every three to five years. It is associated with changes in the ocean and atmosphere in the parts of the Pacific Ocean near the equator.
There is a 70 to 80 per cent chance of an El Nino event occurring this year, and that affects Singapore's rainfall.
During the last strong El Nino event, Singapore's total rainfall from June to September 2015 was about 35 per cent below the long-term average, the Met Service said.
A positive Indian Ocean Dipole also usually leads to lower rainfall in the region because sea surface temperatures in the eastern Indian Ocean are cooler, resulting in less cloud formation.
What does El Nino mean for temperatures?
El Nino conditions usually bring higher temperatures, the Met Service said.
From June to September 2015, the average temperature in Singapore was 28.8 degrees Celsius, or 0.6 degree Celsius higher than the long-term average for those months.
Even higher temperatures are usually seen in March and April after the start of El Nino.
In March and April 2016, Singapore's average temperature was 29.2 degrees Celsius, 1.2 degrees above the long-term average for the period.
"Drier and warmer conditions are conducive to the development of peatland and vegetation fires," the Met Service said.
"Therefore, hotspots could escalate from June 2023 under extended periods of drier weather, particularly in fire-prone areas."
How should we prepare for haze?
When Singapore was affected by haze in 2019, the Ministry of Health reminded healthcare institutions to use air purifiers, fans and portable air coolers.
Preschools were advised to minimise outdoor activities when the air quality entered the unhealthy range, and the Ministry of Manpower told employers to reduce prolonged or strenuous work for healthy employees.
A 24-hour Pollutant Standards Index (PSI) reading of between 101 and 200 is considered unhealthy. The index measures six pollutants and is used as an indicator of air quality.
Last month, Minister for Sustainability and the Environment Grace Fu wrote on Facebook that the NEA has convened Singapore's Haze Task Force to review and prepare its response in the case of transboundary haze.
"As a precaution, Singaporeans may wish to make preparations to protect your loved ones, such as by ensuring that you have an adequate supply of N95 face masks and your air purifiers are in good working condition," she said.
The NEA's haze microsite said portable air cleaners can be used to keep particle levels low in an enclosed space. A device with a higher clean air delivery rate can produce more clean air for a room.
Who is more vulnerable?
Children, the elderly, pregnant women and those with chronic lung or heart disease are more vulnerable, according to the NEA's haze website.
When air quality is in the unhealthy range, people with chronic lung or heart disease should not engage in prolonged or strenuous outdoor physical activities. Children, seniors and pregnant women should minimise such exertions, while healthy individuals should reduce outdoor exercise.
In 2013, clinics and hospitals in Singapore said more people were seeing the doctor for haze-related conditions. Even those without existing medical conditions felt the effects of the haze, CNA reported at the time.
The PSI reading in Singapore hit 401 in June 2013, which is in the hazardous range where healthy individuals are advised to minimise going outdoors and vulnerable people should avoid outdoor activities.