WP calls for BTO eligibility age for singles to be lowered, boost in HDB flat supply
In an adjournment motion, Workers' Party MP Louis Chua asked the Government to take "urgent and decisive steps" to increase the availability of HDB housing.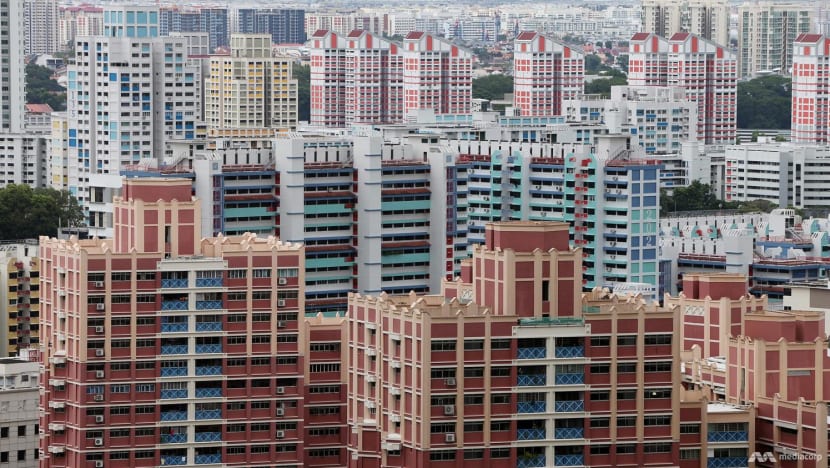 SINGAPORE: Workers' Party Member of Parliament Louis Chua on Tuesday (Sep 13) made a case for lowering the age at which Singaporean singles can apply for a new Housing Board (HDB) flat to 28, while urging the Government to up the supply of public housing for all.
Mr Chua (WP-Sengkang), made the calls in an adjournment motion on "Ensuring Housing Needs of Singles and Singaporeans are Met" in Parliament.
He said that while public housing options for singles have gradually expanded since 1991, when the Single Singapore Citizen Scheme was introduced, one key policy requirement has remained unchanged – that singles must be at least 35 years old to be eligible to purchase public housing. He called for age eligibility to apply for Built-to-Order (BTO) flats to be lowered to 28.
"This proposal would be a critical change, yet a continuation of the Government's efforts over the years to expand HDB options for singles, while still allowing HDB to give priority to providing for families," said Mr Chua. 
"In fact, we believe lowering the threshold for owning HDB flats to 28 years would go a long way towards HDB's stated aims for Singapore's public housing to be 'inclusive' and to 'reflect the diversity of our society'."
However, a more pressing issue at the moment is the inadequate housing supply, he said.
"I would like to implore the Government to take urgent and decisive steps to increase the availability of public housing and address the current demand-supply imbalance, to ensure that the housing demand of all Singaporeans, not just singles, can be met," said Mr Chua.
Mr Chua said that BTO flat application rates have climbed over the past decade to new highs.
For three-room and larger flats, this increased from 2.8 times in 2012 to 6.1 times in 2021. For two-room flexi flats, whose buyers are more likely to be the elderly or singles, application rates rose from 2.8 times in 2012 to 3.6 times in 2021, he said.
Despite the ramp-up in flat supply this year, application rates have reached new record highs, he added.
"While I acknowledge that our proposal on singles' BTO eligibility could increase marginal demand for two-room flexi flats, it does not detract from the fact that there appears to be serious imbalances in the housing market," he said, adding that the "spill-over effects" of this are higher HDB resale prices.
LOWER AGE TO APPLY FOR BTOS
On why the BTO eligibility age for singles should be lowered to 28, Mr Chua said that by that age, most Singaporeans would have had some chance to "lead independent lives and steady their financial footing".
Citing the National Youth Council's 2021 publication on the state of youths in Singapore, Mr Chua said that when it comes to aspirations or life goals, the top choice of youths here was to maintain strong family relationships while the second choice was "to have a place of my own".
"While it is abundantly clear that many Singaporeans who may be single for various reasons before the age of 35 would like to have a place of their own, many simply cannot afford to do so," he said.
"Should we not look into further enabling single Singaporeans to meet their housing needs and aspirations?"
The WP proposes to reduce the BTO eligibility age to 28, and not that for the resale market, said Mr Chua so that the incremental demand is met through new supply and not through existing supply and via the currently "buoyant" HDB resale market.
He said that with a waiting time of up to 5.7 years as of the August 2022 BTO launch, a single who successfully ballots for a BTO flat at age 28, would already be close to 35 years old by the time he or she can move in to the flat.
He also touched on grants for flat buyers, saying that single buyers are not eligible for the range of housing grants available to married couples.
If the Government has budgetary concerns or believe that younger singles should not given incentives to buy a place of their own, the level of housing grants can be on a "graduated scale", he said.
"DEFAULT" THRESHOLD OF AGE 35 
In 1991, singles over 35 were allowed to buy resale HDB flats but limited to three-room flats in selected locations. The rules were further relaxed over the years, and in 2013, singles over 35 were allowed to buy new, subsidised two-room flats from the HDB.
Mr Chua said that these developments showed that the Government can be responsive to the changing demographics of society, but the general threshold of excluding singles below 35 years old seems to have been "retained by default" since 1991. This is despite changing demographics and societal mindsets.
Mr Chua said that the policy was based on the implicit expectation that Singaporeans should get married before turning 35 years old, and will live with their parents before marriage. But Singaporeans are now staying single for longer for various reasons, and not moving straight from their parents' home into a matrimonial home, he said.
"This rule has serious implications on the growing number of singles under 35, depriving them of the security of home ownership if they are priced out of the private market, the private and HDB rental market and not having a place of their own and build their own lives," he said. 
This is as Singaporeans choose to marry later, and the proportion of singles among citizens in the 30-34 years age group is now at a record high of 42.2 per cent in 2021, increasingly steadily from 27.6 per cent in 2000 and 36.9 per cent in 2010, said Mr Chua.
Meanwhile more singles are moving out before getting married. Between 2017 to 2020, the number of people below 35 years old and living alone has almost doubled from 12,300 to 25,000, said Mr Chua. 
The data and trends highlight the "negative effects" of excluding those under the age of 35 from owning HDB flats, he said, but adding that the housing needs of families should still be prioritised.
Mr Chua pointed out that singles do not compete with young couples and families for the same type of HDB flats in non-mature estates, as they are limited to buying two-room flexi BTO flats.
He said: "We are in full agreement that public housing policy should provide extra support and incentives to young couples and budding families. 
"Having said that, providing support for young couples and families should not be viewed as mutually exclusive from expanding HDB options for singles."
GOVERNMENT "KEENLY AWARE" HOUSING ASPIRATIONS CHANGE
Responding to Mr Chua's proposals, Senior Minister of State for National Development Tan Kiat How assured the House that ensuring affordable and accessible housing for Singaporeans has always been an important priority for the Government.
He said that the Government is "keenly aware" that housing preferences and aspirations change over time, and across different life stages of families and individuals. 
This is why the Ministry of National Development (MND) and the HDB have been actively engaging Singaporeans to understand their needs and aspirations, said Mr Tan. 
As part of a recent year-long Long-Term Planning Review, authorities heard from more than 15,000 people.
"We received many valuable feedback and suggestions, some of which are quite similar to what Mr Chua raised today, and we are studying those suggestions carefully," he said.
"We would want to meet the needs of all Singaporeans ... their aspirations and their wants if we can. But we have limited land and resources and would have to prioritise and allocate within these constraints."
Mr Tan said that MND is already taking steps to address the concerns raised by various groups, such as by ramping up flat supply, and the ministry is monitoring the situation to see if other measures are needed.
He pointed out that while application rates for HDB flats have increased, four in 10 applicants did not choose a flat when invited to do so.
"So we are monitoring the situation, both the supply, the interest, the application rates and the locations where the application rates are elevated," he said.
For singles, Mr Tan said HDB has expanded housing options for them. Since singles were allowed to bid for two-room BTO flats in 2013, the quota allotted to them has increased over the years. 
Mr Tan added that as part of the Forward Singapore exercise, MND will be engaging Singaporeans on their housing needs and aspirations, and urged Singaporeans to participate and give their views.
"I would like to assure Singaporeans that even as we engage all of you as part of the Forward Singapore exercise, we have already taken steps to address the concerns raised by various demographic groups and various segments of Singaporeans."