Property agents disciplined over breaches relating to HDB minimum occupancy rules; cases rise
Between 2017 and 2022, 18 property agents breached the code of ethics which requires them to perform due diligence to ensure that no regulations have been infringed.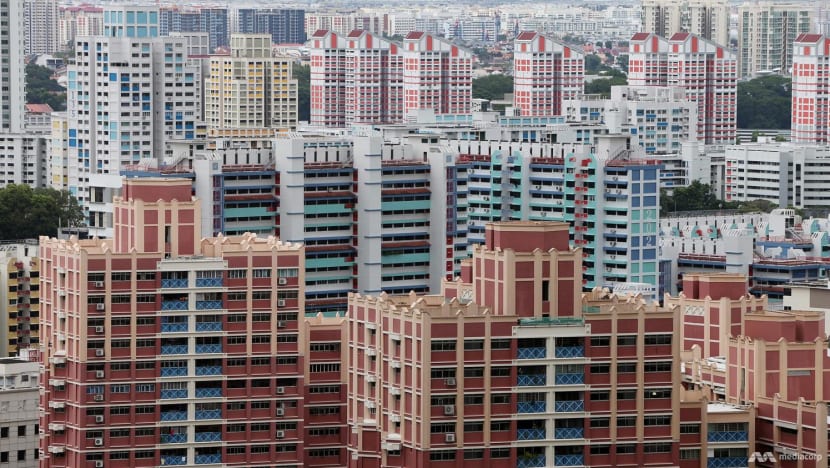 SINGAPORE: Disciplinary action has been taken against 18 property agents who helped clients market Housing Board flats that may not have met the minimum occupation period (MOP) between 2017 and 2022, National Development Minister Desmond Lee said in Parliament on Monday (Jan 9).
They were among 51 cases involving 69 property agents that the Council for Estate Agencies (CEA) investigated between 2017 and 2022.
Investigations into 32 cases have been completed and 19 cases are still being looked into.
Under the Code of Ethics and Professional Client Care, property agents need to perform due diligence to ensure that no law, including those that apply to HDB properties, has been infringed.
The Housing and Development Board (HDB) requires flat owners to fulfil a minimum occupation period of five years before selling their home, and the owners have to physically occupy the flat.
Of the 18 property agents who were found to have breached the code of ethics, six have had their registration suspended for between seven weeks and 48 weeks, as well as received financial penalties of between S$2,000 and S$5,000.
Two property agents were issued letters of censure, and one of them was also given a S$1,000 penalty. Another 10 agents were issued warning letters.
Mr Lee was replying to parliamentary questions from several Members of Parliament about how the Ministry of National Development (MND) ensures that Build-to-Order (BTO) flats are occupied by their owners during the MOP.
Mr Don Wee (PAP-Chua Chu Kang) also asked what measures there are to prevent future cases of BTO flats being left vacant or rented out during the MOP, until they are listed for sale.
In response to a supplementary question by Mr Saktiandi Supaat (PAP-Bishan-Toa Payoh), Mr Lee said that the number of complaints against agents who are suspected of helping to break HDB rules, including those in relation to MOP, has increased over the last two years, from about three per year to around 20 per year. 
"We are concerned about this, and we'll continue to have HDB and CEA worked closely together to ensure that the understanding of the foundation of these rules relating to property and real estate are underscored by our sector," said Mr Lee.
500 RANDOM INSPECTIONS MONTHLY
A few MPs also asked for more details on the breaches of the MOP over the years, how HDB detects such violations and how the ministry deals with such "errant owners".
Mr Lee said that HDB detects potential infringement of HDB rules and regulations through a range of methods, including the use of data analytics and other tools. But it also does not want to "overly impinge" on the privacy of 1.1 million HDB home owners, the vast majority of whom abide by the rules, he added.
HDB conducts 500 inspections randomly each month to check for infringements, such as unauthorised rentals and non-occupation of flats.
The agency also relies on feedback. Between 2017 and 2022, HDB received around 4,700 cases of feedback on potential infringements of MOP rules.
As part of the HDB resale process, it also conducts inspection on all HDB flats in a resale transaction, and flats that have been found to be in bare or "brand-new" condition will be flagged for further checks.
HDB has taken action against 53 owners who had not occupied their flats and 21 have had their units compulsorily acquired from January 2017 to November 2022, said Mr Lee, numbers that HDB had previously given.
Owners whose flats are compulsorily acquired by HDB will also be debarred from buying subsidised flats or taking over such flats through a change in ownership.
"For some of these cases where we take firm action, it is quite clear from the evidence, from the interviews, investigation that they either had no intention to live in those homes or felt that ... they could get away with it," said Mr Lee. 
Responding to MPs' questions on whether the penalties for such cases should be higher, Mr Lee said that their suggestions will be considered as part of a broader review.
STRIKE A BALANCE
Mr Lee told the House that the current five-year MOP seeks to strike a balance: Reinforcing the objective of owner-occupation, while not "unduly hampering" those who want to move when their family circumstances or life needs change.
As for owners who are unable to fulfil their MOP due to changes in their circumstances, they need to return their flat to HDB. 
Between January 2017 and December 2022, a total of 258 BTO flats and 168 resale flats have been returned to HDB, he said.
These owners faced circumstances such as divorce or separation, death of the owner and medical reasons, among others. As they had not fulfilled their MOP, they were not allowed to sell their flat on the open market.
Mr Lee said he recognises the concern, and sometimes anger, of members of the public when they come across such cases.
"They see public housing as first home while recognising that people do have changes in life course and also do want to upgrade as their circumstances and financial situation improves," he said, encouraging members of the public to blow the whistle on potential breaches.
"HDB will investigate such cases and continue to take firm action against infringement of HDB rules and regulations."