How HDB resale prices have risen in every Singapore town in the current property boom
Singapore has seen HDB resale prices rise for 10 consecutive quarters, with the Government implementing cooling measures to try and moderate demand.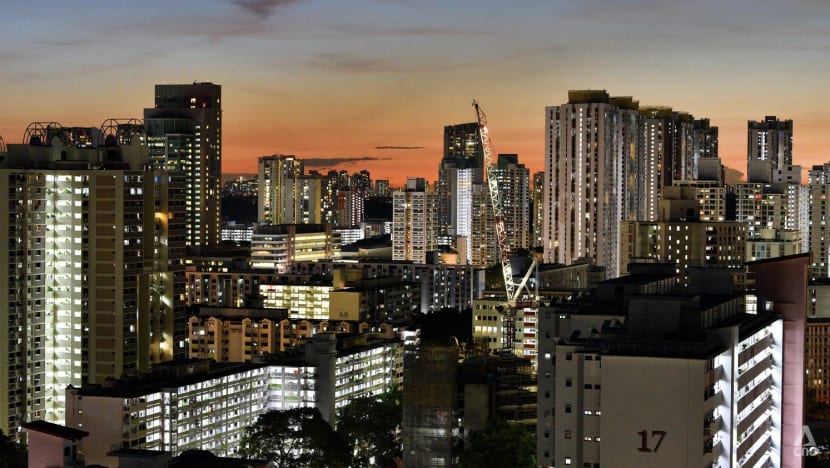 SINGAPORE: Median resale prices for Housing and Development Board (HDB) flats have climbed the most in heartland areas over the past two and a half years, with towns such as Sembawang and Woodlands recording the largest increases.
The resale price index, which provides information on the general price movements in the resale public housing market in Singapore, has risen for 10 consecutive quarters.
Figures from HDB show that the median prices of resale homes in some non-mature towns have risen by more than 40 per cent since the first quarter of 2020 – just before the recent property boom.
The Government has implemented two tranches of cooling measures in less than a year: The first in December last year, and the second on Sep 30 this year. The latest resale statistics for the third quarter of 2022 reflect market conditions prior to the latest cooling measures.
This is how HDB resale prices have risen across towns in Singapore:
FIVE-ROOM HDB FLATS
Data showed that the median resale prices of five-room flats rose by up to 40 per cent across the country.
The biggest jump was in Choa Chu Kang, from S$420,000 to S$588,000. In Woodlands, the median resale prices for five-room flats saw a 38.3 per cent surge from S$408,000 to S$566,000 – a difference of S$155,000.
Aside from these two heartland estates, the jump was also most keenly felt in Bukit Batok, Sembawang and Ang Mo Kio. 
Hybrid work arrangements due to the COVID-19 pandemic may be a key reason why people are forking out more for larger flats in non-mature towns, analysts told CNA.
Ms Christine Sun, senior vice president of research and analytics at OrangeTee and Tie, said that five-room flats are gaining popularity mainly because of a lack of supply in the market and a growing need for bigger living spaces.
Five-room flats are generally snapped up by larger households and are available in fewer estates, in comparison to four-room units.
Ms Sun said: "With more companies adopting the hybrid working mode and more people working from home, there is a greater need for large living spaces now.
"Some people may use the space to set up a home office, while others may have a few family members working from home at the same time."
With prices rising, some people may also want to buy bigger units as they are worried such units may be "out of their financial reach" in future, she added.
Mr Lee Sze Teck, senior director of research at Huttons Asia, pointed out that activities like construction and home-buying stopped or slowed dramatically during the COVID-19 "circuit breaker" in the second quarter of 2020.
When Singapore began reopening, pent-up demand pushed up prices of resale flats.
"The pandemic made people realise the need for more space as the home becomes an office, a school and a place to rest. Hence there was a shift in demand for five-room and larger flats," said Mr Lee.
Ms Sun added that the number of five-room Build-to-Order (BTO) flats launched for sale in recent years has been "much lower" than four-room flats, especially in mature estates. This led to demand outstripping supply.
The increase in demand for larger flats has also led to a rise in the number of million-dollar resale HDB flats transacted, said Mr Nicholas Mak, head of research and consultancy at ERA Realty.
FOUR-ROOM FLATS
For four-room resale flats, the biggest jump in median prices was 55.7 per cent in Kallang/Whampoa. 
The subsequent biggest jumps were seen in heartland areas. Sembawang saw a 46.7 per cent increase, from S$351,000 to S$515,000, followed by Choa Chua Kang with a 45.7 per cent rise.
Ms Sun said that there could be more flats reaching the minimum occupation period (MOP) in these estates. These flats can be put up for sale after the MOP and the newer ones tend to fetch higher prices.
"Moreover, as prices of resale flats in mature estates continue to climb, some may consider resale flats in the non-mature estates for their affordability," she added.
Mr Mak from ERA said that because resale flats in non-mature estates are typically cheaper, there is "more space" for the prices to jump.
"The increase in prices, percentage-wise, is more notable, rather than flats which are already priced quite high in locations such as Tiong Bahru and Marine Parade," he added.
COOLING MEASURES
Analysts said that the latest round of cooling measures will likely help moderate price growth.
Ms Sun said that many private home owners may have wanted to buy five-room resale flats in some mature estates but exited the market due to the new cooling measures.
As part of the latest cooling measures, there is now a 15-month wait-out period for private home owners buying HDB resale flats. The wait-out period does not apply to seniors aged 55 and above who are moving from their private property to a four-room or smaller resale flat.
"With some of these buyers (private home owners) exiting the market, first-time buyers or young couples may want to purchase these (five-room) flats but they may not be able to fork out as high a price as before. Therefore, prices may moderate or rise at a slower pace," said Ms Sun.
Mr Mak said: "I think that unless we have a recession, I don't think the prices of HDB resale flats will drop significantly. There might be a small increase or it may go flat – up, down within a very small range."
THREE-ROOM FLATS
Median resale prices for three-room HDB flats rose most significantly in mature estates.
The biggest median price increase of 42.2 per cent, from S$225,000 to S$320,000, was recorded in Geylang. 
Median resale prices in Bukit Batok also rose quickly over the last two and a half years, at 39.5 per cent, from S$253,000 to S$353,000. It was followed by Kallang/Whampoa, Toa Payoh and Hougang.