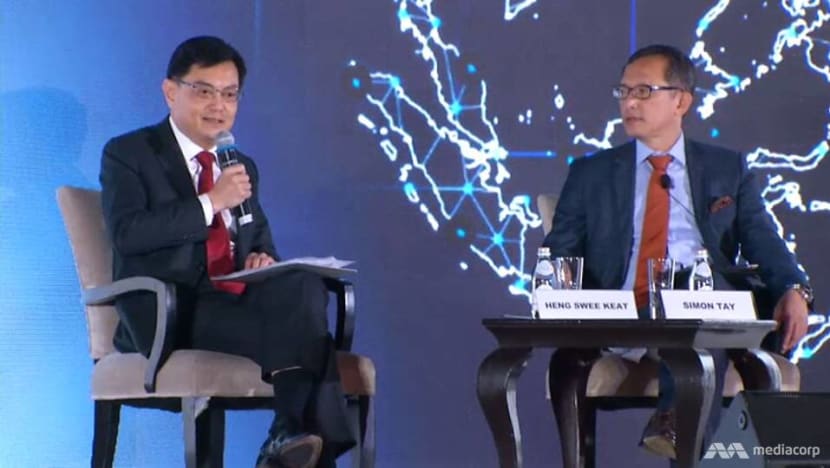 SINGAPORE: The Association of Southeast Asian Nations (ASEAN) region can be like a hawker centre, where stall holders cooperate and compete but "each offers something special" and makes the whole place a lot more attractive.
Finance Minister Heng Swee Keat used this analogy to illustrate how countries can benefit from economic integration and multilateral trade, at a time when countries are resorting to protectionist measures as a result of trade disagreements.
Speaking at the ASEAN and Asia Forum organised by the Singapore Institute of International Affairs (SIIA) on Thursday (Aug 30), he said regional countries must work together to find their own competitive advantages. 

"Those of us who go to a hawker centre know that we don't go to a hawker centre to eat the same food every day," Mr Heng said to an audience of around 200 corporate leaders and policymakers.

"But the great thing about many of our good hawker centres is it has such a good variety. 
"I hope the ASEAN and Asian region will be that way too - that each of us is specialising in different areas and the grouping as a whole becomes attractive."
He added that the region should welcome investments from all over the world, including traditional sources such as the US, Europe and Japan, emerging economies like China and India, as well as cross-border investments within ASEAN.

"That's how Singapore has grown in the last 53 years," said Mr Heng. "That's why I feel very strongly that globalisation will need to be defended and supported."

Mr Heng said countries should make use of multilateral platforms such as the World Trade Organisation (WTO) to settle any disputes or disagreements, when asked for his thoughts on United States-China trade tensions.

If the friction boils over into a global trade war, Mr Heng warned that the outcome will be "negative for everyone" - including the countries that start them. 
"Many economists who have studied this deeply have all advocated that tariff measures and retaliatory measures are not the right solution, even if you're unhappy about certain areas," said Mr Heng. 
"For many small countries around the world, the rule-based multilateral system is our best bet, and we need to uphold and defend this multilateral system."

STRONG SUPPORT FOR REGIONAL ECONOMIC INTEGRATION

Mr Heng said he was heartened by the strong support for regional economic integration. He stressed that countries should continue to advance and expand the ASEAN Economic Community, which envisions the regional bloc as a single market integrated in the global economy.

The next step is to bring together agreements made between ASEAN and countries such as India, Japan and China into the Regional Comprehensive Economic Partnership. 
"That will be a very major grouping, with half of the world's population and 30 per cent of the world's gross domestic product," said Mr Heng.

"I hope it does not lead to the fragmentation of the world into major trading blocs. But based on our own experience with free trade agreements, regional and bilateral agreements are important building blocks for a broader international agreement."

"Our hope must continue to be on the WTO Doha Round, to try to conclude it and see how we can do it," Mr Heng said, referring to the latest round of WTO negotiations launched in 2001, which aims to lower barriers and revise trade rules.

In the process of coming to bilateral and regional agreements, countries learn how to make structural changes in their economies and learn how to cooperate and settle disputes better, Mr Heng added.

When asked by dialogue moderator and SIIA chairman Simon Tay how Singapore sees Chinese-led infrastructure projects, Mr Heng said that China's Belt and Road Initiative (BRI) is a "good project and good set of ideas". 
But he pointed out the importance of its execution, "lest unrelated projects be billed as part of the BRI".