Concerned about HIV infection? Think twice before buying a self-test kit online
Dangers include lack of counselling, and no way to check accuracy or interpretation of test results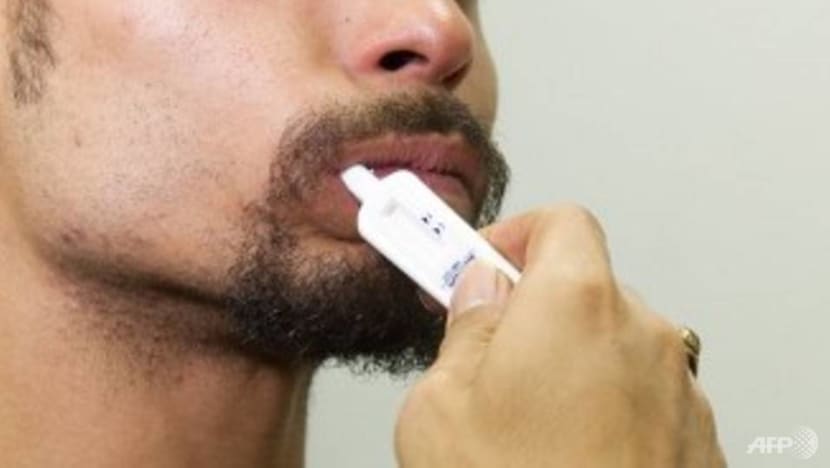 SINGAPORE: While getting an HIV test at a clinic in Singapore is straightforward, some people apparently prefer self-diagnosis.
Which is perhaps why a simple search online turns up at least 40 from local suppliers' advertisements for self-test human immunodeficiency virus (HIV) kits which promise accuracy, privacy and convenience. 
They also assure speed, with a result promised within 20 to 30 minutes. All that is needed is a mouth swab or blood sample. 
The catch? The suppliers of the kits are not licensed.
Currently, such tests are only allowed to be conducted in a clinic, the Health Sciences Authority (HSA) and Ministry of Health (MOH) told Channel NewsAsia. 
They said this is to ensure that potential carriers of the HIV virus, which causes Aids and is often transmitted sexually, receive comprehensive care. 
"It is important for patients to be managed holistically by receiving appropriate testing, including screening for other sexually transmitted infections and pre- and post-test counselling," an MOH spokesperson said. 
She added that testing at a clinic would allow access to follow-up care in the event of a positive result. Some clinics here currently offer rapid testing options that give results in 20 minutes. If a positive result is found, a sample will be sent for a lab confirmation, which could take two weeks.
MOH has also listed 10 clinics and sites where members of the public can be tested anonymously. At these sites, people are assigned numbers instead of having to provide their personal particulars.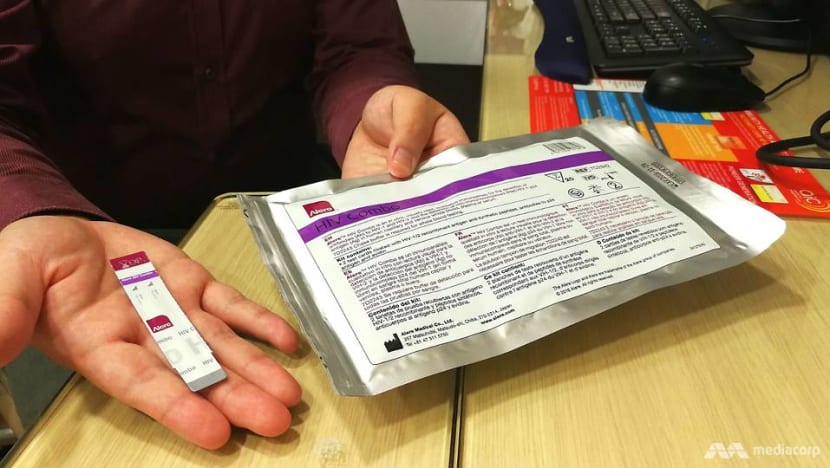 "Medical devices, including the sale of such devices on local online platforms such as Carousell, are subject to the regulatory controls under the Act," she added.
Any person caught selling unregistered medical devices or dealing with such products without the relevant dealer's licence faces up to S$50,000 in fines, a maximum two-year jail term, or both. 
DANGERS OF SELF-TESTING: MISINTERPRETATION, FALSE RESULTS
Doctors and experts warned that using such self-test kits is fraught with risks. Dr Tan Kok Kuan, Chief Medical Officer at the Doctor Tan And Partners Clinics Group, said that that there is no way to police the quality and accuracy of test kits bought off the Internet. 
In fact, some are "just plain fake" and do not work, he added. He also said that there is no way to ensure that patients are conducting the tests properly and the results they are getting are accurate.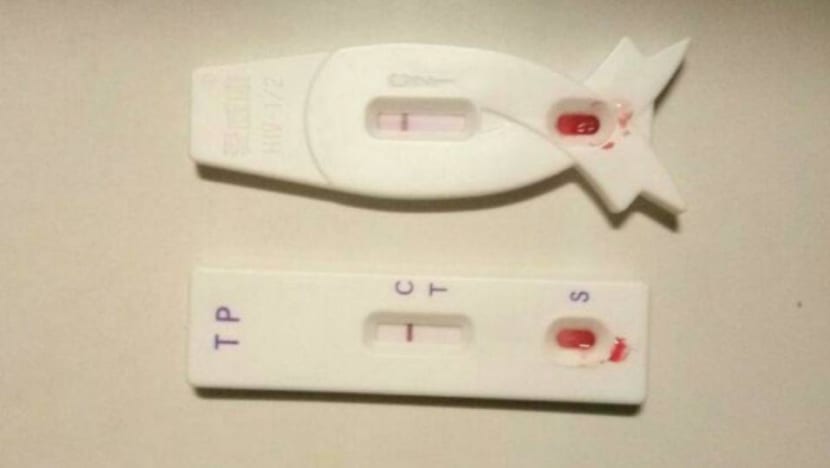 Dr Jeremy Chan who runs a medical practice in his name in Toa Payoh said that before being authorised to conduct HIV tests, doctors have to attend training courses and that the efficacy of the tests is frequently audited. 
"It may seem simple, but the science behind it still needs training. They could be using the wrong technique or even the wrong body fluid," he said.
It could also be tricky to use mouth swab samples which some of these unlicensed kits require, he said. Taking a swab from the wrong part of the mouth, and taking too much or too little of the swab could affect results. 
A wrongly-done or interpreted test could lead to false negatives, a case where the tester is infected, but gets a result that he is not - or false positives in the opposite situation, he added.
Ms Sumita Banerjee, general manager of Action For AIDS, a non-governmental organisation dedicated to fighting HIV and AIDS infection, also cautioned against self-testing.
"A positive result needs to be confirmed by a laboratory-based test. Furthermore, members of the public need to understand that a negative test needs to be repeated if there was recent high-risk sexual exposure," she said. 
The latest figures from MOH show that a total of 361 new cases of HIV infections were reported among Singapore residents from January to October last year. In the whole of 2016, 408 new cases of HIV infections were reported among Singapore residents.
ONLINE SELLER SAYS HE IS DOING GOOD
An online seller, who spoke to Channel NewsAsia on the condition of anonymity, said that he has been selling his unlicensed kits for almost two years, and that he has repeat customers. 
He said that while he is aware that selling or distributing them here without a licence is against the law, research states that self-testing helps people in dealing with their emotions if they test positive.
I still feel that I am doing a good thing in helping people.
The seller, who said his kits are from the United States, pointed out that the World Health Organisation (WHO) approves of self-testing to defend his sales.  
In December 2016, WHO recommended that HIV self-testing should be offered as an additional approach to HIV testing services. The international body also pre-qualified the first HIV self-test in a move to increase HIV diagnosis and treatment in July last year.
However, MOH said that WHO's pre-qualification of one brand of self-testing kit is a complementary approach to increase testing capacity, and improve access to testing, especially in countries with low testing service coverage and poor laboratory infrastructure.
Dr Tan said self-testing is more suitable for resource-poor countries where people have limited access to quality medical care.
"In Singapore, it is too easy to walk into any clinic for a HIV test. There is really no need to initiate self-testing," said Dr Tan whose clinic in Robertson Walk is one of 10 approved anonymous HIV testing sites. He conducts 200 to 300 tests a month. Action for AIDS conducts about 1,000 tests a month, Ms Sumita said. 
Still, infectious disease specialist from Mount Elizabeth Novena Hospital Dr Leong Hoe Nam said self-testing should be allowed in Singapore. 
"It is just like a knife. It has benefits and it can be subjected to abuse. But being able to abuse it doesn't mean we don't use it. It should come with clear instructions," he said. 

WHY WOULD POTENTIAL CARRIERS WANT TO SELF-TEST?
"Those who suspect they have HIV may want to test themselves in the secure comfort of their home," said Ms Sumita, adding that such knowledge may be empowering for individuals who are not comfortable discussing their sexual behaviours. 
Dr Tan said that potential HIV carriers may feel "extremely self-conscious" walking into a clinic and talking to a doctor about HIV testing and convenience, as going to a clinic involves travelling and waiting.
He added that even with anonymous testing options, they may not be convinced that their details are not recorded. "They have the mistaken impression that if they test positive, they will still be asked to submit their personal information to MOH and somehow their family or employers will find out," he said. 
He debunked this, saying that there will be no record of them ever having had the test done, he said. 
"Even if a patient tests positive for HIV, we do not ask them for their name or any other form of identification. Basically, once they walk out of the clinic, there is no way we or anyone else can trace them," he said.
MOH said it regularly reviews new diagnostic technologies including self-tests, and will consider including them as part of its HIV management policy if they are suitable for the Singapore context, "taking into account considerations regarding access to counselling and linkage to follow up care".
Doctors encouraged potential carriers to go to a clinic, instead of resorting to buying kits online. They assured the public that the process is not distressing.
Dr Tan said: "I can understand that if a patient has not undergone this before, he or she may have the wrong impression that doctors will grill them with many embarrassing questions before the test. The way we conduct pre and post-test counselling is very non-intrusive, non-judgemental and very professional."