SINGAPORE: The closure of car parks at Holland Village to make way for a new mixed-use development has been pushed back to minimise inconvenience to the public and disruption to businesses in the area, Far East Organisation has said.
The open-air car park will be kept open until the end of October while the two-storey car park will remain open until August next year, Mr Marc Boey, the director of planning and acquisitions at Far East Organisation, said in a statement on Monday (Aug 13). He was also speaking on behalf of joint venture developers Sekisui House and Sino Group.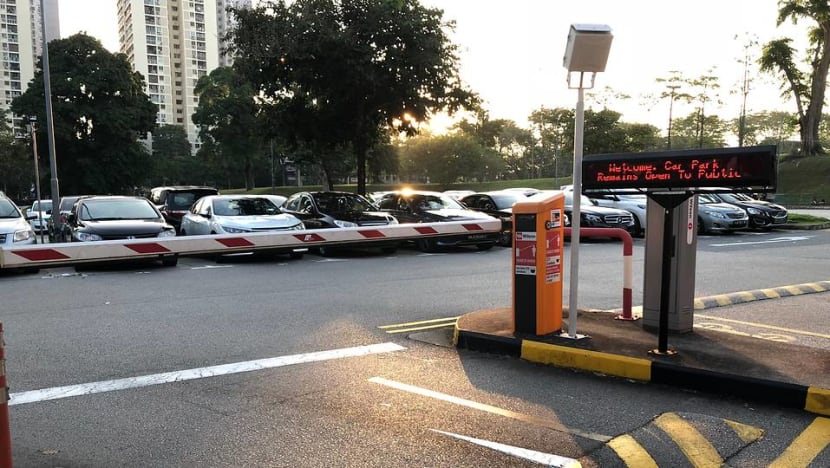 The closing dates of the car parks may be adjusted as the planning for the development progresses, Mr Boey added.

Two temporary pedestrian connections will also be constructed to link Holland Village to two interim car parks, with 350 lots, at Holland Drive, he said.

Both existing car parks at Holland Village offer a total of 405 lots. It was earlier reported that the car parks would be closed from Monday, the same day the developer took possession of the site. 

Stirling Land Holdings, a consortium led by Far East Organisation, was awarded the tender for a 99-year-old leasehold land parcel at Holland Road in May.

Information boards and directional signs will be put up when the car parks are due to close to inform the public of the changes in traffic circulation plans for the area, according to a flyer distributed at Holland Village which was seen by Channel NewsAsia.
The two-storey car park is expected to be demolished in September next year. 

The new development will include a new basement car park that will provide 486 car lots and 56 motorcycle lots, according to the flyer. Its projected completion date is in 2025.

"We are committed to keeping the existing car parks open for as long as possible before construction work commences," Mr Boey said. 
"We also remain keenly sensitive to the needs of the existing community. Hence, we are working hard to minimise any potential disruptions to the existing businesses and community at Holland Village."
The Housing and Development Board (HDB) had earlier distributed notices from Aug 1 informing motorists of the closure of the open-air car park.
HDB also highlighted alternative parking spots, namely the car parks opposite Blocks 18 and 21 Holland Drive, and at Block 5A Holland Close and Block 10A Holland Drive. 

Holland Village car park to close Aug 13

Despite the flyers and notices, restaurant owners and hawkers that Channel NewsAsia spoke to said they were not aware of the extension of the car park's closure.

Shopkeeper of A&L Fresh Fruits Suppliers Lily Chua said the only thing she can do is to "accept and see what we can do".

Ms Chua said: "I think we should be fine. At least for our customers, they will still come back to us, then we'll see what we can do in the next two months."

Superfudo, which opened 10 months ago, has already seen a slump in business.

Its managing consultant Donna Tang said it was quieter, especially during lunchtime.

"It's only been one day but based on the rough calculations we've done, when the car park does close, 400 lots equate to about 100,000 fewer customers a month and that's going to affect all of us," said Ms Tang.

Grillhouse iSTEAKS Diner is calling it quits after six years of business at Holland Village.

The restaurant's owner Ivan Loo said the decision to move was not difficult. 

"With the expected closure of the car park, it means that opportunities will shrink, with an even smaller pie."

He added that businesses have historically been affected when construction works happen.

"We anticipated that it's going to be like how the construction of MRT stations has affected Holland Village, Cheong Chin Nam and right now, Upper Thomson. So that scenario is probably going to repeat itself here," said Mr Loo.

Meanwhile, some customers welcome the changes and said the closure of the car park will not affect their decision to frequent the area.

Accountant Lee Keen Meng said he is looking forward to the new mixed-development project. 
"Why not, it makes this place vibrant, even more vibrant than what it is now. I'm all for it, it's good for us," he said.