After decades heading culinary teams in five-star hotels, these chefs now serve hospital patients
Having built their career in top hotels around the world, these chefs gave up the glamour of hospitality for a hospital's kitchen. They tell CNA about the challenges – and fulfilment – that came with their career pivot.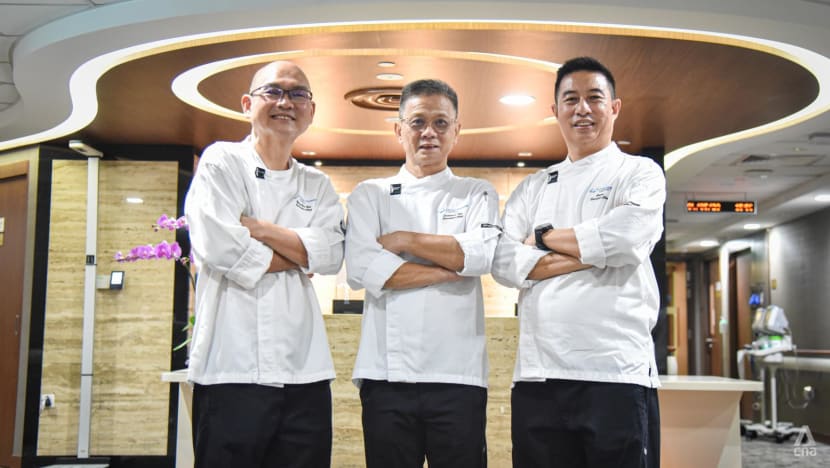 SINGAPORE: More than two decades of handling customers in luxury resorts and hotel chains did not quite train chef Catan Tan to prepare a patient's "last meal". 
Unlike the joyous occasions the 56-year-old was used to catering in his former life, Mr Tan – who has led culinary teams in Pan Pacific Singapore and Four Seasons Hotel Singapore, as well as in countries like London and Maldives – was struck by the sobering realities of a hospital. 
"In a hotel, we serve happy customers. But in a hospital, the 'customer' is not here for a happy occasion," said Mr Tan, the group executive chef of IHH Healthcare, Singapore's largest private hospital chain.
"Every day, you have patients who receive bad news from the doctor. They feel lost, don't know what to do."
In one instance, Mr Tan's team whipped up a three-tier wedding cake for a patient from Australia on life support who wanted to get married to his partner. They also cooked him an Australian meal.
Two days later, the patient died in the intensive care unit. 
"Of course, there was some emotion, some sadness inside us," recalled Mr Tan, who was Gleneagles Hospital's executive chef prior to his current role. 
"In the beginning of this career, I'd feel very emotional, very connected to this kind of patient. But now, after so many years, you kind of get used to it. And we feel that doing a last meal for a patient is a very beautiful journey. You do your best so they get to eat something they enjoy before they pass on."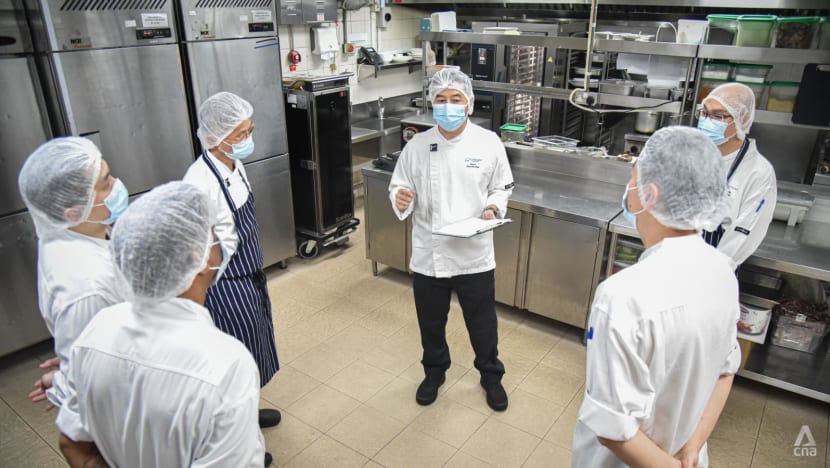 EMPATHY NEEDED TO COOK FOR DYING PATIENTS
Despite being in his 11th year of service in a hospital, Mr Tan's decision to leave his comfort zone was initially met with scepticism from his peers, who called a hospital a "retirement place".
"When I joined, oh my goodness, it's more challenging than a hotel, honestly … Trust me, it's not a retirement place," he said. 
Barely two months into his new gig, Mr Tan visited an elderly cancer patient, only to get berated for the meal he served. Not having experienced such treatment in his career, he was angry and shocked, and confided in his daughter – who was then a nurse in a cancer ward. 
"She told me, 'You never feel what the patient feels. You only feel what you feel.' She was correct. It made me think," he recalled.
Mr Tan returned to see the patient two days later to apologise for his reaction. 
"Before I could apologise, the patient apologised to me … Then he showed me a picture from his scope, and I saw all the ulcers in his throat due to chemotherapy. I finally understood he meant to tell me he couldn't eat the food because of its thick texture (after it went) cold, but he was in so much pain."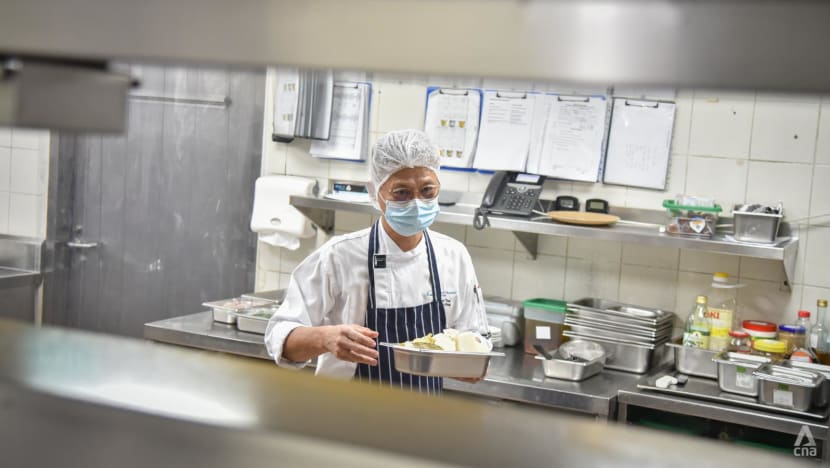 Other chefs who made the switch from hospitality to hospital also remembered the emotional toll that came with caring for ill or dying patients. 
With patients whom the culinary team is familiar with, "we will feel upset" when they die, said Mount Elizabeth Novena Hospital's executive chef Wong Boo Hor. "But that's life. When you've worked in a hospital for a few years, you (learn) to manage this stress."
The culinary team isn't always aware of how long a patient has to live, added the 56-year-old. 
Instead, the hospital staffer who serves patients their meals "would come to us and tell us: 'Chef, please stop cooking for this patient, no need to cook anymore'". That's only when the team knows the patient has died, he said.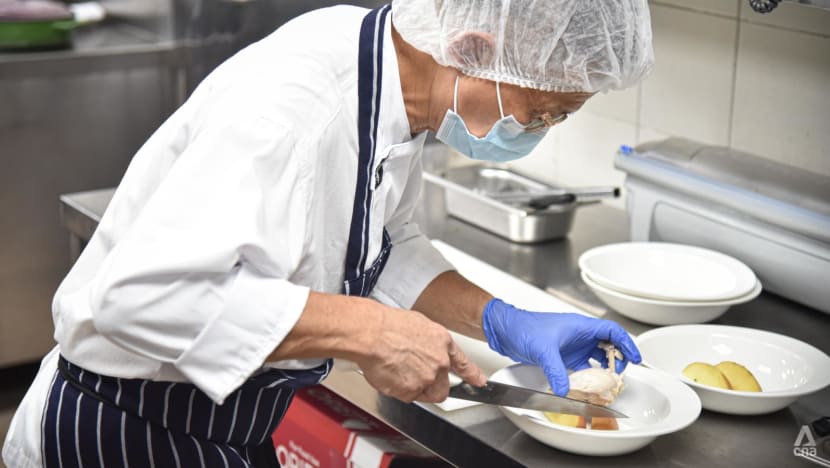 CUSTOMISING FOOD FOR PATIENTS 
Preparation of meals now requires a whole new level of precision and detail – on a large scale. Mr Tan used to plate around 800 meals a day comprising 40 to 50 varying diets.
Chefs also need to monitor a patient's therapeutic diet (a meal plan that controls the intake of certain foods or nutrients) and take note of any allergies. 
Hospitals also serve texture-modified diets, for example, to patients who have recovered from a coma. As they've lost muscle in their mouth, they have to relearn how to chew their food, breaking it down into smaller pieces. 
Such patients, said Mr Tan, can't be given a liquid diet as they will choke.  
"In a hotel, you can do whatever you want, as long as the guests are happy with your cooking. But in the hospital, you cannot do that … Some patients may have seafood allergy, some cannot have spicy food, some need to have low salt, low cholesterol, all kinds of things," added Mr Wong. 
"We have to tailor-make all their food based on the diet. Of course, sometimes it's too complicated, so we even need advice from the dietician. They will tell us to do it in this way and we have to follow the exact recipe and quantity to prepare."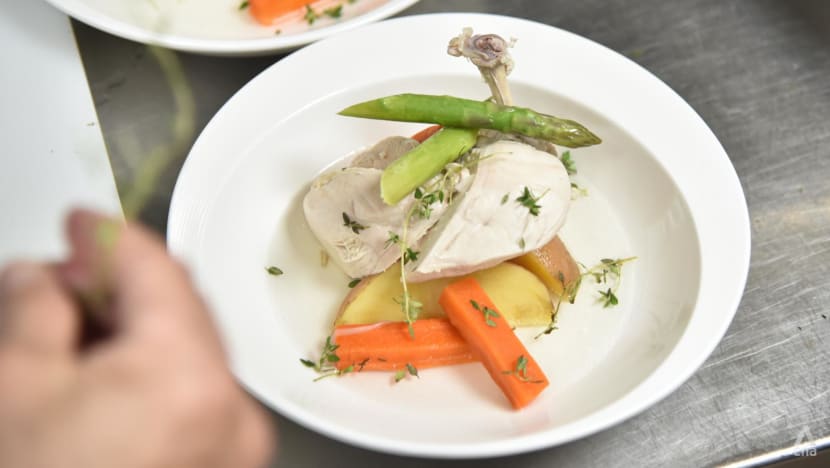 For instance, Mount Elizabeth Hospital executive chef Lawrence Tay explained how he would have cooked stock in a hotel kitchen. 
"I'd blanch (the vegetables) in water then take butter, sauté the vegetables … For the stock itself, I must add in wine. (We also) wouldn't use so many vegetables, only carrot, leek, celery and onion. I'd add in artificial seasoning," the 64-year-old said. 
But now, he only uses fresh ingredients. More vegetables such as cabbage and turnip are used and only "a pinch of salt".
Mr Tay, who worked in hotels like Shangri-la Rasa Sentosa and Orchard Hotel for 35 years before taking on his current role in 2014, has learnt to read the ingredients on packets of seasoning to ensure they're suitable for patients before purchasing. 
It is a huge change for the chef who admitted he once knew nothing about therapeutic diets. Yet, this was also the impetus for his career switch, as he wanted to understand how to cook such meals for the growing ageing population.  
HELPING PATIENTS ENJOY THEIR FOOD 
Despite dietary restrictions, the chefs believe hospital food doesn't have to be boring. 
For one, not every patient is on a therapeutic diet. Some are, for instance, admitted for a broken arm or leg and still can "eat anything", said Mr Tan.    
"So we ended up telling ourselves not to be so stiff. We built a menu with many other dishes, like pizza for children and a burger … Mentally, we modify the patient's thinking: 'I'm not in a hospital. I'm having a normal meal with some medicine.'"    
Making food tasty also helps the patient to enjoy their meal, aiding a quicker recovery. 
"A lot of medicine needs to be taken after a meal. So if we don't customise the meal properly for the patient, how will the patient recover?" added Mr Tan.  
"We have to (remind) ourselves how important we are. It's not only the medicine or medical care; we are as important because food is actually part of the recovery journey. That nutrition … will help you to get energy to fight back and return to normal life." 
Wanting to further enhance patients' experience with hospital food, Mr Tan then turned to his friend, chef Sam Leong, an Asian culinary stalwart in Singapore's food scene, to helm the Guest Chef Project. 
The second run of the initiative by IHH Healthcare Singapore offers patients a curated menu of five dishes by Mr Leong, who is also a cancer survivor.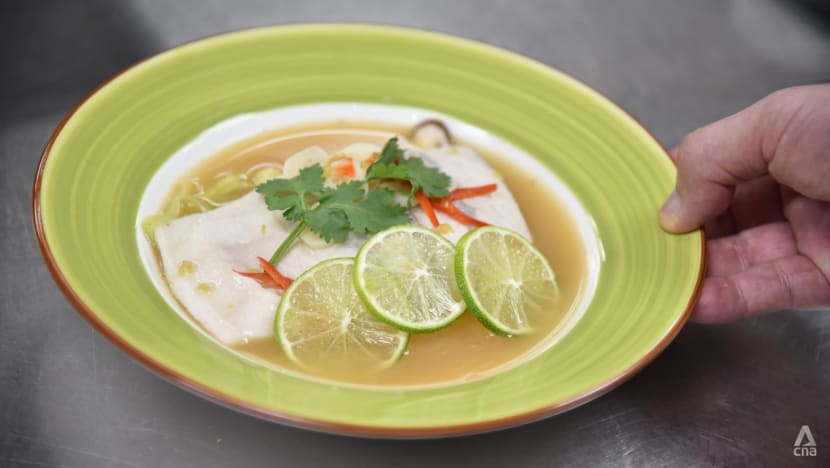 Even though Mr Wong enjoyed serving hotel guests, he "saw a challenge in a hospital to make my career more meaningful", he said. 
"It's a different kind of fulfilment. Hotels have happy guests. Hospitals have patients … sometimes it's a life-and-death (situation). It's like giving back to society by using your skills."
FINDING MEANING
These skills – some from international experience – also came in handy when serving various patients. 
Due to the cultures Mr Wong was exposed to while working abroad, he "sees things from a different angle" and understands what to look out for when caring for patients from myriad cultures.  
Mr Tan, too, has used his knowledge of various spices and herbs from his international experience to "reform all the recipes for hospital patients". 
For young aspiring chefs who crave such challenges and who are "very detailed people", he usually advises them to become a pastry chef – or work in a hospital. 
"Pastry is very detailed, very disciplined. You cannot anyhow put how many grams of flour, cannot cook sugar to any temperature. It doesn't work that way; it has to be very precise.
"Likewise in a hospital, if the person cannot eat this amount of food and he's a diabetic, you need to follow," he said. 
"People who love that kind of discipline, I encourage them to come to a hospital." 
And what of his peers who regarded his role as a retirement job? They "now know it's more challenging", said Mr Tan.  
Perhaps, however, the best testament of how he has changed mindsets is that all the chefs currently under him hail from hotels. 
"Now they feel the difference. They feel more passionate," he said. "You do end up enjoying your cooking more."
Read this story in Bahasa Indonesia here.