How 2 Singaporeans got back on the 'right track' after 'dark path' of radicalisation
One wanted to take up arms in jihad, the other was ready to die fighting ISIS - but after being detained, they now see themselves successfully rehabilitated and reintegrated into society.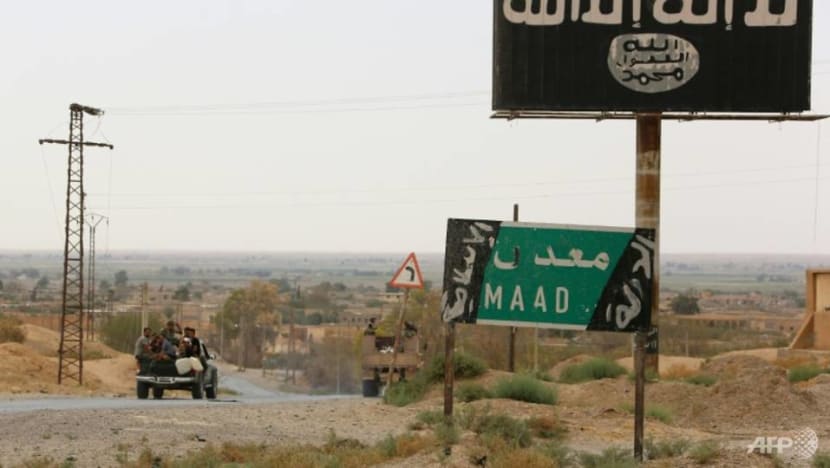 SINGAPORE: "Is there no humanity in people anymore?" he asked his mother, after watching yet another YouTube video on the civil conflict in Syria. "Don't you feel like someone must do something?"
If nobody would help them, thought "Irfan", then he would. He would take up arms in jihad to protect and free the Muslims there. If it came down to it, he would die a martyr and go to heaven.
"I wanted to do something meaningful in my life," he said.
So too, did fellow Singaporean "Kenny", who saw himself joining a militant group to save women and children in Syria.
"I was just thinking to do my part, do as much as I can to help the people over there," he explained.
And Kenny was similarly prepared to die - except, in his case, while battling Islamic State in Iraq and Syria (ISIS), the ubiquitous terror group that is one of several factions in the ongoing war.

Neither Irfan nor Kenny ever reached Syria. They were picked up by the authorities under the Internal Security Act (ISA) - which detains or restricts radicalised individuals for up to two years, before the order is renewed or allowed to lapse.
Since 2002, close to 90 individuals have been detained for terrorism-related activities with about three-quarters released since, said the Ministry of Home Affairs. As of Jun 20, there were 21 detained and another 21 issued with Restriction Orders (RO).
There have been several cases in recent months - for instance, a local parking warden was detained in April and a Malaysian airfreight driver repatriated in January.
In a series of interviews facilitated by the Internal Security Department (ISD), Channel NewsAsia and other selected local media met with former ISA detainees. Aliases were used and information that could give away the identities of the formerly radicalised Singaporeans was protected.
"I NEVER REALLY THOUGHT IT THROUGH"
One of them, Irfan, described his descent down a "dark path" as originating from a teenage quest for internal peace. 
The undergraduate, who is studying a creative discipline, was raised in a deeply religious Malay-Muslim family with his mother urging him to pray.
But 18-year-old Irfan was young and in love with music and his social life. "I'd go for gigs and festivals, and being in that kind of crowded environment, enjoying music, there's bound to be things you're not supposed to do, that's considered un-Islamic … I wasn't too proud of myself," he recalled.
He would "engage in vices" such as alcohol - while wrestling with the conflict between wanting to please his parents and have fun at the same time. The solution - the road to redemption, he figured, was to seek more religious knowledge.

"So I started searching online and eventually that led me down a spiral, looking through religious videos and watching lots of conspiracy videos, and from then on things just went out of control," said Irfan, now in his late 20s.
Over the years as he delved deeper into tinfoil theories on the likes of 9/11 and Afghanistan, he began distancing himself from his party-going friends, eventually opting to stay home and share his views on social media.
"Friends noticed, but no one really reached out or said anything," he said. "Further down the path, some close friends were concerned, but the more I shared ... the more people saw me as odd."
The trigger was his emotional response to the Syrian situation. "I felt very sad because no one was doing anything," Irfan said. "In my mind if I went there, I'd figure a way out … I was mentally prepared, and that's about it. I never really thought it through physically, like in terms of what to bring."
Kenny, similarly, had no specific plans beyond a one-way ticket to Syria: No point of contact, no hotel booked, no currency changed, no nothing.
"I just made up my mind and bought a ticket on the same day," said the 26-year-old, who is furthering his studies in the construction industry. "I didn't tell anybody, I didn't pack a lot of clothes, I just left."

All he knew was he wanted to run from his financial problems - five-figure sums he owed to various institutes and individuals alike. It was the same thought he'd kindled for months, since he first randomly came across news of the war in Syria.
"I was thinking, since I have so many troubles in Singapore, maybe if I go to Syria to do something great - greater than what I can do here, maybe it'll make my life more meaningful in a way," said Kenny, who is a free-thinker.

"And anyway my life was miserable - not much different to their lives. I could understand how they feel … People calling me for debts, it's not easy."

"100 PER CENT CHANGED"

Kenny made it as far as the transit area of a "third country" before authorities caught up, put him on a flight back to Singapore and straight into investigations.

"I didn't know what to say to my parents, I couldn't find a way to explain to them," he said.

While in detention, Kenny grew to appreciate sessions with psychologists who helped work through his problems. "I got to know myself better by telling my stories - like a reflection, I could see myself better, see what went wrong in my life, and know how to do it better next time," he said

MHA said that each detainee will be assessed individually and the rehabilitation approach tailored according to specific needs.

Irfan, for instance, said he felt at ease with the religious counsellors assigned to him, as he was able to clarify Islamic concepts with them.

"The ustaz (religious teacher) made me see that at this point in time, the world is what it is, and that we as Muslims cannot just declare jihad - we need someone of religious authority, like a mufti … to lead the Muslim community."

A key factor in both his and Kenny's rehabilitation was their eventual willingness to embrace the people around them - specifically family.

"I used to keep everything to myself," said Kenny, an only child. "Nobody knew about my issues - it was an ego thing, I thought I could solve all the problems by myself.

"Now I realise if I talk to parents and relatives, they can help me out … After this incident my parents and I have been closer, our relationship is better."

While Irfan did air his radical views with his family, it only led to him clamming up further. "They were being very Asian parents, just brushing it off and saying 'don't watch this kind of thing'," said the eldest son. "If my parents could see their son was interested in learning, then maybe we could all go to the mosque together to find religious knowledge and that would be better."

Upon his release they had dinner together at home, and Irfan remembers it as a special one. "It felt like we haven't had that in a while - it's like they're not really present when you're young and trying to share all those things … Then you make a mistake and they start to take notice and reach out to you."

Both Irfan and Kenny also expressed confidence in their ability to reintegrate into society, though the latter admitted to initial concern his identity would affect his job hunt.
"I won't say it was easy, but … I'm on the right track now," he stated. "I'll need to do more consideration for my actions in future, in the past I had a lack of planning, lack of everything actually."

Irfan said he was "100 per cent changed" in heart and mind. "I still like to enjoy music, go out, have fun, have a social life - but there must be a balance to it in terms of religious identity," he stressed. "I accept both sides, it doesn't mean either/or."

He added that the officers from his detention stint remain "like brothers" to him. "In terms of rehabilitating and going back into society, they're always reaching out … If I need help, they'd be there."

"I've started thinking of bigger ideas like how I want to open a business, do things I always dreamt of as a kid, and create something of a legacy for myself," Irfan continued.

"The setbacks propelled me forward and I've become stronger internally. If I can go through this and survive, I can go through anything."

Anyone who is aware of a person becoming involved in terrorism-related activities, including planning or taking steps to travel to conflict zones to take part in an armed conflict, or who observes suspicious activities or signs of radicalisation, should promptly inform the Internal Security Department (1800-2626-ISD) or the Police (999).