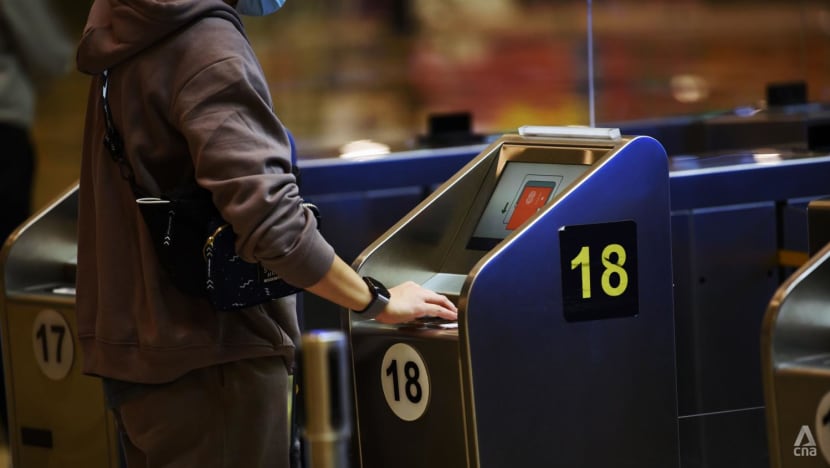 SINGAPORE: Singapore will gradually allow visitors to enter the country using an electronic visit pass (e-Pass) instead of having their passports stamped at all checkpoints.
The announcement was made as part of the Immigration and Checkpoints Authority (ICA) annual statistics report 2021 released on Tuesday (Feb 15).
The e-Pass was introduced in phases at Changi Airport since Oct 10 last year and will be rolled out at other checkpoints, ICA said. The pass is issued via an email notification to the address declared in visitors' electronic arrival card.
It will also be complemented by an online enquiry portal that allows the retrieval of e-Pass records, it added.
"The introduction of the e-Pass not only provides for safer immigration clearance with reduced contact between officers and travellers, but is also a crucial building block for ICA to make automated clearance a norm from 2023," the authority said.
TRANSFORMATION EFFORTS
This is part of ICA's efforts to transform immigration and cargo clearance.
Its new clearance concept aims to give Singaporeans, permanent residents and long-term pass holders the ability to clear immigration without needing to present their passport, and for foreign visitors to do so at automated lanes without prior enrolment.
All immigration lanes at passenger halls – both automated and manual – have also been equipped with iris and facial scanners since July 2020.
"The use of iris patterns and facial features as primary identifiers for immigration clearance not only provides more robust and reliable identity authentication of travellers, but more hygienic, convenient, and efficient immigration clearance," it said.
In addition to this, ICA also aims to "leverage automation and digital technologies to move cargo securely and efficiently, which bolsters Singapore's position as a global port".
Since Oct 1, it has implemented the "on-the-fly" clearance concept at Tuas Port, in which cargo clearance is conducted while the vehicle is still on the move.
"Cargo clearance permits (CCPs) will be cleared automatically after ICA's image analysts assess that there are no anomalies in the scanned images of the cargo consignment," the authority said.
ICA officers at cargo checkpoints have also started using mobile tablets to clear permits on the spot at checking bays in October last year, to minimise the time to clear those flagged for secondary checks.
"We have ceased the manual endorsement of CCPs since February 2022, thereby reducing the turnaround time for vehicles and cargos passing through the checkpoints," ICA said.
ICA added that it aims to fully digitalise the cargo clearance process where drivers will no longer be required to present hardcopy permits and supporting documents for both containerised and conventional cargo.
IMPROVING SERVICES
ICA is also stepping up its service capabilities with a new initiative.
The authority said it is committed to providing a "No Fuss, No Visit, No Waiting" experience – using digital, robotic, biometric and automation technologies that will allow customers to make transactions at their convenience.
Since the end of last year, ICA has implemented 23 e-Services covering 99 per cent of public transactions, reducing the need for members of the public to make physical trips to the ICA building.
"We will continue to redesign our processes and deliver more seamless and efficient digital experiences to our customers," it said.
The authority will also "digitise ICA-issued documents so that customers will be able to access and retrieve them remotely via a secure platform".
"By end-2022, ICA will launch digital versions of birth and death certificates, student's pass and long-term visit pass," it said.
To reduce footfall at its premises, it also implemented measures such as increasing the validity of Singapore passports from five to 10 years and offering free collection of passports and identity cards (ICs) at post offices.
SUPPORTING THE REOPENING OF BORDERS
As Singapore reopens its borders, ICA has rolled out initiatives to "provide a safer, more secure and more seamless immigration process for travellers".
This includes providing a single government touchpoint for travellers with the SafeTravel website and contact centre and expanding the SafeTravel application portal to facilitate entry applications.
Last year, the portal processed more than 500,000 entry applications, ICA said.
Additionally, the authority also implemented the digital authentication of vaccination certificates for travellers and redesigned manual immigration counters to allow travellers to scan their own passports, making "immigration clearance safer for travellers and ICA officers alike".
"As Singapore takes steps to gradually reopen its borders, ICA will make efforts to stay on top of the prevailing border control policies and effectively discharge its role to ensure both the security and public health of our nation," it said.
"We will continue to innovate to enhance ICA's services to secure our borders as well as to provide greater convenience and secured services to our customers."