'I'm not a superstar, just the kid who beat Phelps that one time': Joseph Schooling
Singapore's first and only Olympic champion reflects on his race which shocked the world and also reveals his future plans.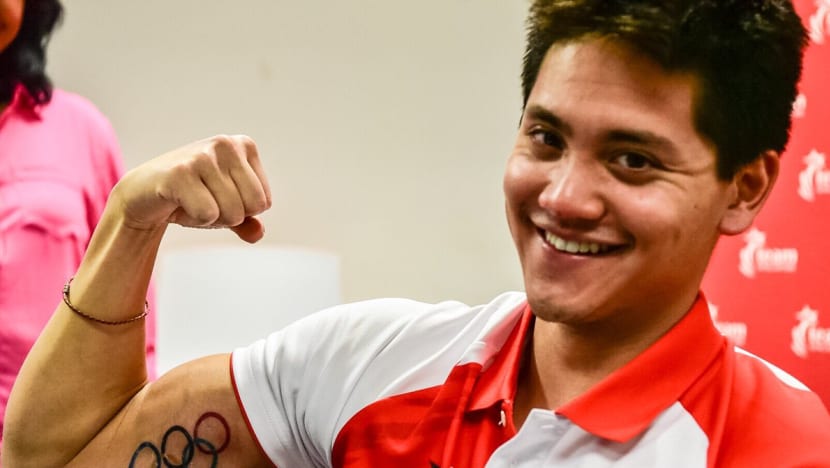 SINGAPORE: Since his arrival back home, Joseph Schooling has been the epitome of the smiling, obliging, consummate professional when faced with the blinding glare of the public spotlight - but Singapore's first Olympic champion finally displayed weariness during a media session on Tuesday (Aug 16).
"I haven't had any downtime ... There hasn't been a place I've been to where no one asked for a photograph, autograph or stopped me," said the 21-year-old swimmer, his brows furrowing momentarily before returning to his trademark, sparkle-eyed grin.
Schooling touched down in Singapore a day after he won a gold medal at Rio 2016 in spectacular, stunning fashion, and has hogged headlines since, from being mobbed at the airport to receiving a congratulatory Parliamentary motion.
Yet throughout it all he has maintained a level of grace and humility belying his young age. "I'm not a superstar. I'm just that kid who beat (Michael) Phelps that one time," he insisted, referring to the American great who had surrendered to the young Singaporean his three-time Olympic 100m butterfly title as well as Games record time.
Behind Schooling, Phelps was relegated to a novel joint-silver medal along with longtime rivals Chad le Clos and Laszlo Cseh. "It was funny seeing three people stand up on the podium together, you don't see that every day," Schooling chuckled.
"But I just felt better that day. It doesn't mean I'm a better swimmer than them. I was just on my game that day ... I felt like I could have won, and I did."
It started with him heading to Rio "wanting to win", he recalled. Only after surging through the heats and semi-finals, and during the bus ride to the swimming venue on the day of the final, did he feel his emotions get the better of him as it dawned on him that "everything was on the line".
"But when I stepped up to the blocks, I could focus and clear my mind," said Schooling. "I was nervous but relaxed at the same time. I was calm, but there was a storm brewing inside, ready to be released. It did when I jumped in... And the rest is history."
The University of Texas student also said he glanced to the side before he touched the wall in a blistering 50.39 seconds. "I hoped I had won and when the (results) board lit up, I saw the 'number one' dot ... I was more excited about breaking the Olympic record than winning - that's why I reacted that way," Schooling explained.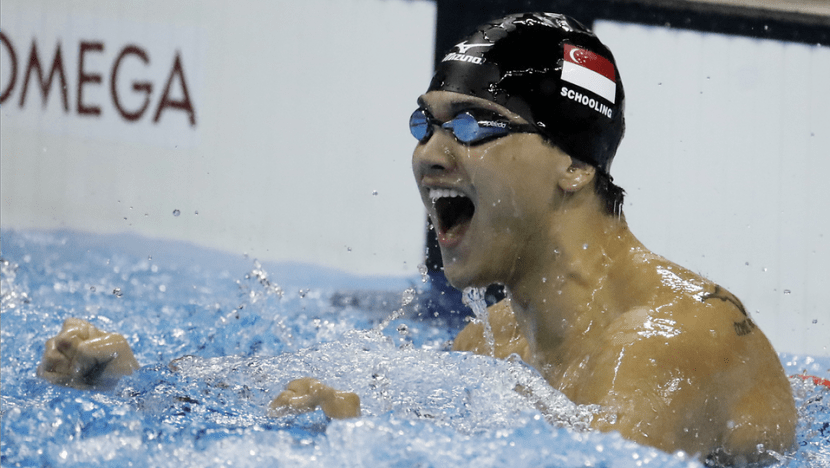 "I had no backup plan for if I didn't get deferment," said Schooling. "I just tried to achieve my goal."
HIGHS AND LOWS
Asked to delve into the reasons for his success, Schooling again pointed to parents Colin and May - stating that he was "forever in debt to them".
"My parents sacrificed a lot for me to get here. The things they do for me are crazy, I don't want to go into it but if you ask a lot of parents to do it they wouldn't," he said. "Huge props to them. All I know is I'm very lucky to have parents like that."
He also credited his university swim team, coached by the decorated former US Olympic head coach Eddie Reese. "We have the best team in the world," Schooling stated. "We kill everyone in and out of competition, and we train stupid crazy. That's why I went there. To be the best ... You need to be among the best."
But he also opened up to media on the struggles in his career, the lowest of which he said was his debut Olympic campaign at London 2012. He made headlines then when his goggles and cap were rejected before a race, resulting in a poor outing and failure to qualify for the semifinals.
"I sucked a lot ... I was horrible," he said. "I didn't want to swim anymore; hurt my ankle; I had a bad attitude; said nasty things to (coach) Sergio (Lopez)."
Schooling also took the blame for Singapore not having a medley relay team compete at the 2016 Olympics. "It was my fault, I botched the butterfly leg," he admitted, referring to the qualifiers at the 2015 World Championships, after he won a landmark bronze medal in the 100m butterfly. "If I did my world (championships) time, we would have made it. It was on me, and we were two seconds slower because I was all caught up with winning bronze."
"But it's all been part of a journey and I wouldn't change anything," he added. "It's made me a better person; a more mature being."
EYES ON THE HORIZON
Schooling said that Singapore would "most likely; most definitely do a relay in Tokyo 2020".
"We were so close - 17th, 18th in the world. Now we have young guns coming up and I think we'll have a great shot," he said.
Fellow national swimmer Quah Zheng Wen would figure alongside in the relay team, he said, adding that Quah - who qualified for the semifinals in the 100m and 200m butterfly at Rio - could "definitely medal or even win in 2020 if he keeps to his path".
As for himself, Schooling had earlier revealed plans to compete in more events, and here stated his belief that he had yet to reach his full potential.
"I'm still young, give me four to five more years and I'll be in my prime," he said. "To expand my horizons and bring back more than just one medal (at future events) - that's the next step."
"It's going to be different - more pressure, more expectations for myself," he acknowledged. "I'll have to approach meets differently. Usually I gun for Michael (Phelps) or someone ahead, right now I've to maintain position."
Quizzed on his plans after Tokyo 2020, he was non-committal and joked about taking up golf instead. "I'll see if I continue swimming till 2024. Eight years is a long time!"
Schooling was, however, optimistic about the potential to groom more success stories in his wake - although he also cautioned against subscribing to "a 'Schooling' way of going overseas".
"We have the resources. And we have the talent, for sure. I think we do have what it takes," he declared. "Now, especially, we have the exposure and the belief to develop Olympic champions."