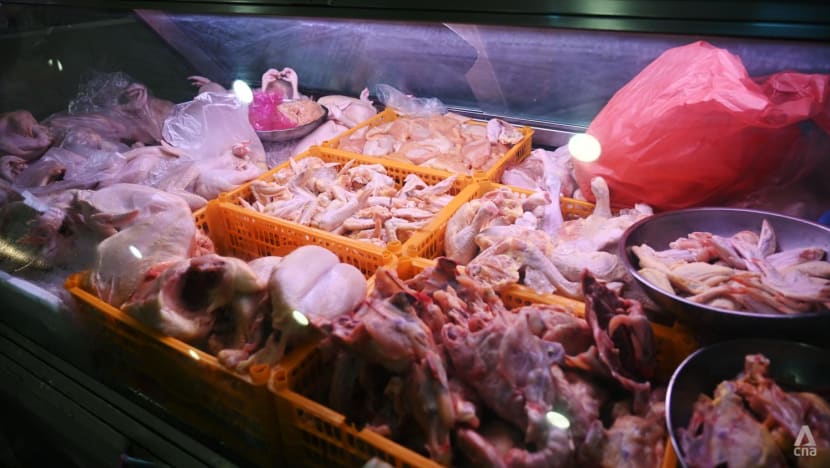 SINGAPORE: Singapore has added Indonesia as a new source for the import of chilled, frozen and processed chicken, said the Singapore Food Agency (SFA) on Thursday (Jun 30).
"Chickens from approved Indonesia establishments can now be imported in addition to existing sources such as Brazil, Thailand and Australia," said SFA in a Facebook post.
More than 20 countries are now accredited to export chicken to Singapore, which has been working to secure additional supplies after Malaysia's decision to impose an export ban on Jun 1.
About one-third of Singapore's chicken supply came from Malaysia. 
The decision to approve Indonesia as a new source for chicken imports came after a Singapore team visited the country to audit its food safety and animal health controls.
SFA said the team visited various facilities such as farms, quarantine stations and laboratories to better understand the regulatory systems in place.
It added that individual establishments and farms needed to be evaluated and approved, with detailed documentary evaluations and on-site audits for verification.
"The consignments would also be subjected to SFA's inspection, sampling and testing upon import. This ensures the continuity of SFA's source diversification strategy without compromising food safety," said the agency.
In a Facebook post on Thursday, Minister for Sustainability and the Environment Grace Fu noted that global supplies will continue to face uncertainties and Singapore must be psychologically prepared for more disruptions and price volatility.
"While the Government undertakes long-term planning and proactive actions to safeguard Singapore's food supply, consumers and the food industry also have an important part to play," she said.
"By being flexible with our food and ingredient choices, and switching to alternative products or sources when necessary, we can all help to increase Singapore's resilience."
Indonesia, Southeast Asia's biggest and most populous country with more than 270 million people, has a surplus in chicken production. The country produces 55 million to 60 million birds per week, with a surplus of around 15 to 20 per cent after domestic consumption.
After Malaysia's export ban on Jun 1, Singapore moved to import more chilled and frozen chicken products from other countries such as Thailand, Australia, Brazil and the US.
Other countries that Singapore currently sources frozen and processed chicken from include Denmark, Finland, Ireland, Russia, Switzerland, Ukraine, Chile and Japan.
Malaysia has since partially lifted its ban, allowing Singapore to resume importing live kampung and black chickens from Jun 14. However, a ban on exporting commercial broiler chicken - which makes up the majority of Singapore's chicken imports from Malaysia - remains.
Diversification has been a "cornerstone" of Singapore's food security strategy, said SFA.
"The Government has been undertaking long-term planning and proactively taking action to safeguard Singapore's food supply," it added.