Cricket smoothies, anyone? Insect farming industry abuzz as Singapore looks to regulate bugs for human consumption
A 100g serving of crickets contains 65g of protein, more than twice in a similar serving of chicken breast.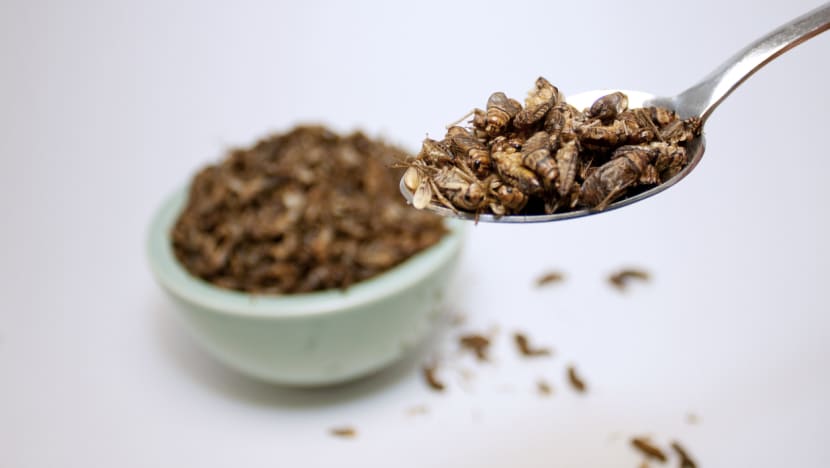 SINGAPORE: Crickets could be available as snacks in Singapore.
New laws in the works to regulate insects for human consumption in Singapore means Asia Insect Farm Solutions can one day bring its cricket powder - currently only available for sale in Europe - to market here.
The firm is looking at venturing into the snack market because there is a perception that such foods are not healthy, said its co-founder Yuvanesh T S.
"We thought with edible insects being high in protein and other vitamins and minerals, we can also create products that are nutritious but still tasty," he told CNA.
A 100g serving of crickets contains 65g of protein, more than twice in a similar serving of chicken breast.
While people may find the insects off-putting in their whole form, they may be more comfortable with them in powder form, said Mr Yuvanesh.
"We are trying to think of ways where we can introduce edible insect-based products in a way that people are comfortable," he said, citing smoothies as an example that people may find acceptable.
CNA journalist Chloe Choo, who tasted a peanut butter and kale smoothie made with the powder, said that people are unlikely to taste the alternative protein's presence in their drink. 
BANKING ON ALTERNATIVE PROTEIN
The Singapore Food Agency may soon allow the import and sale of insects and insect products for human consumption and animal feed.
The agency said in October that 16 insect species have been reviewed for human consumption, including some types of crickets, grasshoppers, beetles, mealworms, moths, silkworms and honey bees.
The commercial farming of insects for human consumption and animal feed has been promoted by the United Nations' Food and Agriculture Organization in recent years, SFA noted.
In Singapore, home-grown cricket farm Future Protein Solutions is ready for alternative protein to be the next big thing.
At the farm located in Lim Chu Kang, crickets are frozen, boiled, cleaned and dried. To do that more efficiently, the farm is eyeing nearly full automation, as it scales up operations.
Labour is the biggest cost when it comes to production, said the company's chief executive Christopher Leow.
"We're trying to automate the feeding process by working with technologies that will help us to feed (the crickets) ... We're also incorporating machine learning and artificial intelligence to help us to understand the crickets' behaviour," he added.
A vertical layout to save space and automation to feed and harvest the crickets – so less manpower is needed – is expected to boost efficiency at the farm by more than 50 per cent.
THE VALUE OF INSECTS
Insects provide easy access to protein and are a cheaper source, said medical nutritionist Sheeba Majmudar.
"If you go to look at it, gram to gram you actually need to eat less, not more," she said.
"The interesting thing about insects is that so far there are no real allergies," she added.
She said that insects are a "really great choice" from not just the health perspective, but also in terms of sustainability.
Professor William Chen, director of the Food Science and Technology Programme at Nanyang Technological University (NTU), said that insect farming tends to be environmentally friendly in terms of water and land usage.
"We can actually grow insects in a vertical way, so the land needed for insect farming is much lower compared to agriculture and livestock farming," he told CNA's Singapore Tonight. However, in some cases, insect farming could require more energy, he said.
"Some of the edible insects are cold-blooded. For example, mealworms, we may need to consider heating up the insect farm so that they can grow normally," he said.
There are about 1 million different species of insects in nature, and around 2,000 of them are considered edible, he noted.
Prof Chen said that insect farming will be useful in other areas, such as biomedical applications.