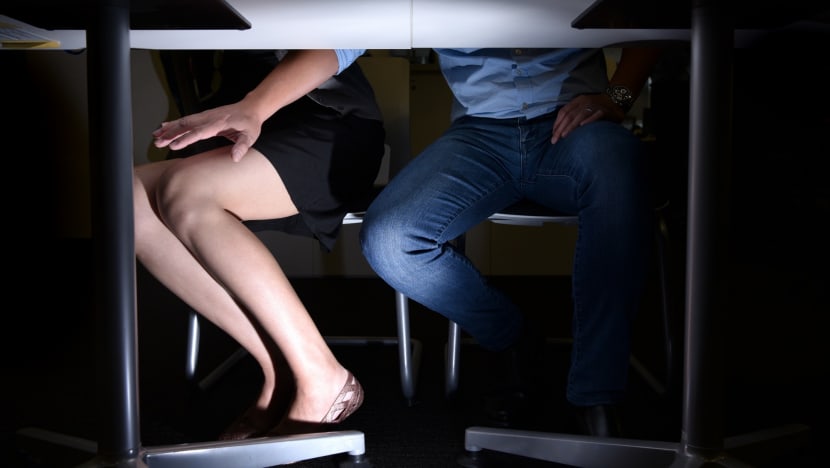 SINGAPORE: A company director who molested his subordinate and sexually harassed her over a period of about five months was sentenced to a year's jail on Thursday (Apr 13).
Tan Chee Beng, 57, was initially acquitted by a district court, but the High Court overturned the acquittal following an appeal by the prosecution.
He was convicted in December of three charges of molestation and one charge of insulting a woman's modesty between August 2018 and January 2019.
Across three separate occasions in the office, he pulled the victim's hand towards his groin, slid his hand along her back and up the side of her chest, and swiped his hand on her groin area twice and told her he was aroused.
The victim, whose identity is protected, lost her job after making a police report against Tan. This was attributed to her taking 14 days of unapproved unpaid leave.
On Thursday, the prosecution asked for 12 months' jail for Tan, saying this case was one of persistent workplace sexual misconduct, in which Tan repeatedly preyed on his employee.
Deputy Public Prosecutor Joshua Phang said victims in such cases often refrain from lodging police reports for fear of losing their jobs, and this was what happened here.
He also pointed to the psychological and emotional toll on the victim, who testified at trial that she was very scared.
Mr Phang also highlighted Tan's lack of remorse. Tan called the victim a liar who concocted evidence and accused her of conspiring with other witnesses to frame him.
The court found "not one iota of evidence" to support this accusation, he added.
Mr Phang also pointed to other aggravating acts by Tan, such as how he commented on how short the victim's dress was, smiled at her and asked her to delete an incriminating message.
Tan had also blamed the victim, by remarking when confronted that he was "only joking" and that it was the victim's fault for dressing in a "sexy and seducing way".
Defence lawyer Chooi Jing Yen asked for not more than five months and three weeks' jail, along with a fine of S$2,000 (US$1,500). He asked for the fine instead of a jail term for Tan's offence of insulting the victim's modesty by telling her he had a "hard-on".
He cited past cases that said a jail term for such an offence was not warranted unless certain aggravating factors were present - these were absent in this case, said Mr Chooi.
Justice Vincent Hoong agreed with the defence that the victim did exaggerate her financial circumstances in her victim impact statement.
There was also doubt as to whether she was a single mother at the time of the offences, he said.
However, he accepted that there was some degree of psychological and emotional harm suffered by the victim. This was consistent with her evidence in court, when she said she was very scared and very upset, such that she started crying after the second incident.
Justice Hoong said Tan had shown a lack of remorse and had no significant mitigating factors.
Before swiping his hand on the victim's groin area, he told her that her dress was so short, and this remark was "clearly to sexualise her", he said.
Tan will begin his sentence immediately.