Jail for business owner who caught COVID-19, but left isolation to work
Wang Shaowei was one of those who tested positive for COVID-19 in the period that Pasir Panjang Wholesale Centre was closed down for deep cleaning last year due to COVID-19 cases.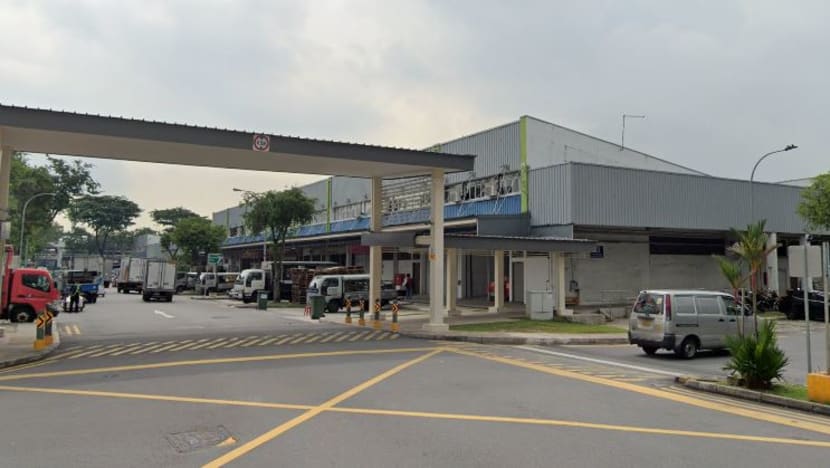 SINGAPORE: A wholesale business owner who went to work despite testing positive for COVID-19 was jailed for 12 weeks on Tuesday (Oct 4).
Wang Shaowei, 38, left his place of isolation on 15 occasions for his business, including collecting order forms and visiting a car park in Ubi that served as a vegetable wholesale centre. 
He pleaded guilty to one charge of leaving his place of isolation without authorities' permission. Another 14 charges of a similar nature were considered for his sentencing. 
The Singaporean was the sole proprietor of a wholesale trading business dealing with goods such as beverages, fruits and vegetables. 
As part of his business, Wang would regularly visit Pasir Panjang Wholesale Centre to pack food items that would be loaded onto lorries for delivery to clients. 
In September last year, a significant number of COVID-19 cases were detected at the centre, resulting in its closure for three days for cleaning and disinfection. 
As Wang frequented the centre as part of his business, he was made to take a polymerase chain reaction (PCR) test on Sep 29 last year. He was informed the next day that he tested positive for COVID-19. 
Wang was then issued an isolation order under the Infectious Diseases Act, which required him to remain and be isolated at his residence from Sep 29 to 12pm on Oct 8, 2021. 
While Wang was offered a second PCR test to ascertain whether he could end his isolation earlier, he chose not to take this test. 
The court heard that despite the isolation order, Wang left his residence on 15 occasions between Oct 1 and Oct 8, 2021.
This included leaving client order forms in a plastic bag at the staircase landing near his home, which one of his siblings would subsequently collect. He also met his siblings on one occasion to pack customer orders. 
Calling it an egregious breach of his isolation order, Deputy Public Prosecutor Dhiraj G Chainani said Wang acted in "his own selfish interests" and placed members of the public at risk.
"The accused's actions were reckless and irresponsible and they occurred at a time where every Singaporean was expected to be socially responsible in order to curb the spread of COVID-19," added Mr Dhiraj, who argued for four months' jail. 
The court heard that on one occasion Wang left his residence, he intended to address some complaints about the quality of goods supplied by his business. 
He asked his brother to drive him to an open-air car park along Ubi Avenue 3 next to Block 2014 Ubi Industrial E Estate, which served as a vegetable wholesale centre at night. 
There, Wang checked on his goods and packed fruits and vegetables for deliveries. He remained at the car park from 10.18pm on Oct 2 to 5.14am on Oct 3. He then returned home. 
In the seven hours he was outside, Wang interacted with his siblings and was around other importers and suppliers of vegetables.
"The accused proceeded to act in a selfish manner that created a significant risk of him spreading COVID-19, both to his loved ones as well as other members of the public present at the Ubi car park," said Mr Dhiraj. 
For leaving his place of isolation without permission, Wang could have been jailed up to six months, fined up to S$10,000, or both.