Jolovan Wham convicted over unlawful assembly outside court asking for Terry Xu's charges to be dropped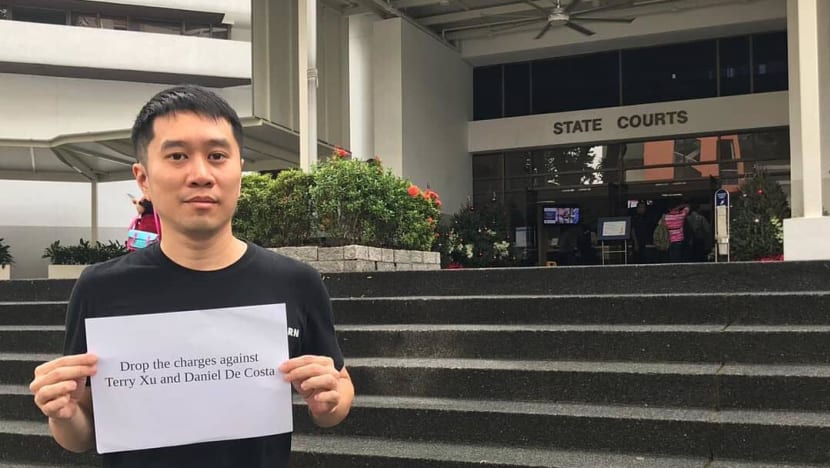 SINGAPORE: Activist Jolovan Wham Kwok Han has been convicted of taking part in an illegal assembly outside the State Courts in 2018. He was seen holding up a piece of paper that asked for the charges against Terry Xu and another man to be dropped.
Wham, 42, was found guilty on Friday (Jan 7) of one count of taking part in a prohibited assembly under the Public Order Act by demonstrating opposition to the Attorney-General's Chambers' (AGC's) prosecution of Xu and Daniel De Costa.
Xu, the chief editor of the now-defunct website The Online Citizen, was charged alongside De Costa in the State Courts with criminal defamation on Dec 13, 2018. That was also when Wham stood outside the court building holding the piece of paper. 
Wham, who has been in and out of court for multiple offences over the past few years, denied the charge and claimed trial, but "offered no evidence and chose to remain silent", noted District Judge Eugene Teo.
He found that the prosecution had proven the charge beyond reasonable doubt, and dismissed the arguments by defence lawyer Eugene Thuraisingam. Mr Thuraisingam had argued that "the act of holding a sign for a few seconds for a quick photoshoot" did not cross the threshold required to constitute an assembly.
Instead, the judge said Wham's actions of holding up the sign in front of the main entrance to the former State Courts building clearly demonstrated his support for the views and actions of Xu and De Costa, as well as his opposition to the state in prosecuting them.
Even though CCTV showed that "no one in that immediate vicinity paid any particular heed to Wham", he "undoubtedly sought the attention of everyone when he took steps subsequently to broadcast his exploit publicly on his Facebook account that he had taken those demonstrative actions at that location in broad daylight with that message", said the judge.
The defence argued that the interpretation of the law by the prosecution would result in "absurdity", as it meant that individuals wearing shirts publicly with slogans advocating certain positions would potentially run afoul of the Public Order Act as well.
"That sartorial direction appears to be what Mr Wham has since taken to doing as well," said the judge. "In that regard, it really should not come as a surprise if there have been such individuals who were taken to task for those actions in the past, or that there may be others in the future."
He added: "I would agree though that it would certainly do very little good for every instance to end up in court – more pressing matters await. This is why there are steps in place to ensure balance."
The judge said that whether certain actions result in prosecution depends on various factors, and that there is "nothing wrong in principle with all of this, and with those steps in place no patent 'absurdity' as claimed either".
He added that any claim that Wham was being prosecuted for merely taking a photo would be intentionally misleading.
"Rather, this case was for his demonstrating his opposition to the actions of the AGC in prosecuting Mr Terry Xu and Mr Daniel De Costa by publicly holding up that sign in that area which he knew was prohibited. The photo merely constituted evidence of his having taken part in that assembly, and he was not being prosecuted for arranging and supplying that evidence of his wrong-doing," said the judge.
Wham stood in the dock wearing a shirt that read "Not a public assembly just an individual in a T-shirt". He was flanked by a handful of supporters in court, including writer Kirsten Han and actors Lim Kay Siu and Neo Swee Lin.
He will return to court for sentencing in February.
The penalties for taking part in a prohibited assembly are a maximum fine of S$5,000. 
In 2019, Wham was given a fine of S$3,200 by a district court for organising a public assembly without a permit and refusing to sign a police statement, but chose to serve jail time in default instead.
He faces one more charge under the Public Order Act for holding up a piece of cardboard with a smiley face on it outside a police station and community club in 2020, in support of a cause. The case is currently pending.
Xu and De Costa were convicted of criminal defamation in November last year and are awaiting sentencing.