'Joseph in his natural form': Photo book shows Schooling behind the scenes
"It's not like 'Joseph is always winning'. There are struggles. There are pictures of him waking up early and going through the motions. It will show him being tired," says Schooling family representative Hafidz Ja'afar.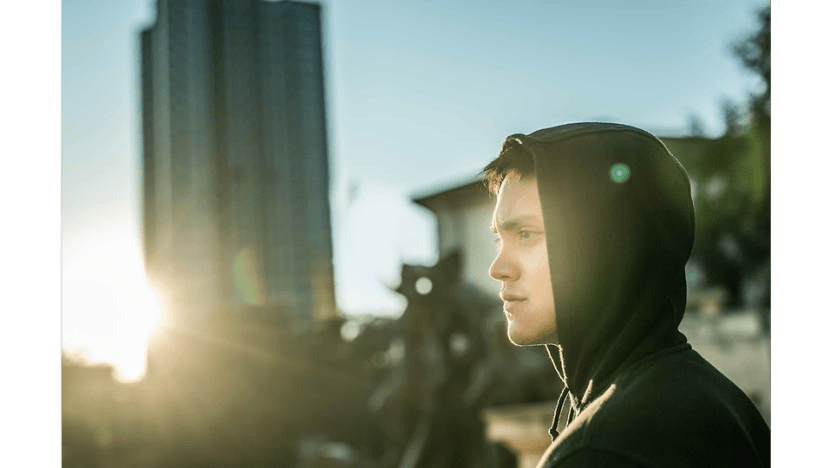 SINGAPORE: A book of previously unseen and unpublished images of Olympic gold medallist Joseph Schooling is expected to hit major bookstores by the end of next week.
Speaking to Channel NewsAsia on Thursday (Sep 29), Schooling representative Hafidz Ja'afar said that the photos will tell a story of Schooling's Olympic journey and show "Joseph in his natural form".
The book, titled Hello, My Name is Joseph Schooling, will also kick off a social media pledge, #TheSchoolingEffect to "inspire kids to dream" and achieve their goal in any field.
Joseph Schooling and his father in a private moment at home (Photo: Alvin Toh)
"It's not like 'Joseph is always winning'," said Hafidz. "There are struggles. There are pictures of him waking up early and going through the motions. It will show him being tired. It will show him in his home environment, where his mum cooks for him. It will show him spending time with family. Usually they'll watch movies, or football. What you'll see is what a normal family would do.
"People might be thinking that Joseph trains in the US, he's different from the other kids. But what we want to show is that he is normal, like us. What makes him different - and you are able to see the difference in him - is the determination and the people that support him and the people that are behind him. His parents play a big part."
The pictures were taken by photographer Alvin Toh, who began work after Schooling's SEA Games outing last year, and documented the swimmer's training sessions in Austin, Texas as well as his Olympic homecoming.
Joseph Schooling and his Texas Longhorn tattoo (Photo: Alvin Toh)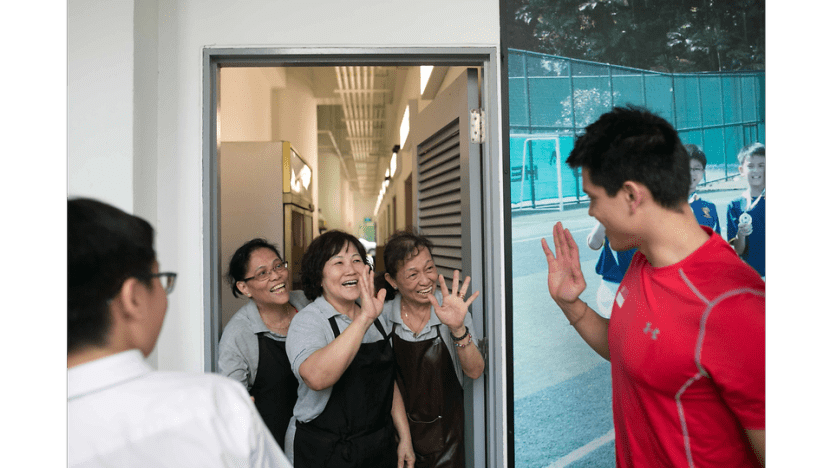 She added that it was important for her to have photographs of Schooling's journey, and recounted how she struggled with capturing photos of him at swim meets, but never managed to get anything more than the water.
In addition to the photographs, the book will also feature text written by the Olympic medallist himself.
Channel NewsAsia understands that Schooling is expected to hold a book-signing session when he returns to Singapore in November.
In a Facebook post about the book's launch, Schooling said that he was still learning to deal with the media attention. "A big part of being an athlete means accepting the fact that I will always be scrutinised, in and out of the pool," he said.
"Having a photographer tailing me for an extended period of time is something I am still trying to get used to, but I believe and hope that these previously unseen images of me, and of the people dear to me, will bring all of us closer together."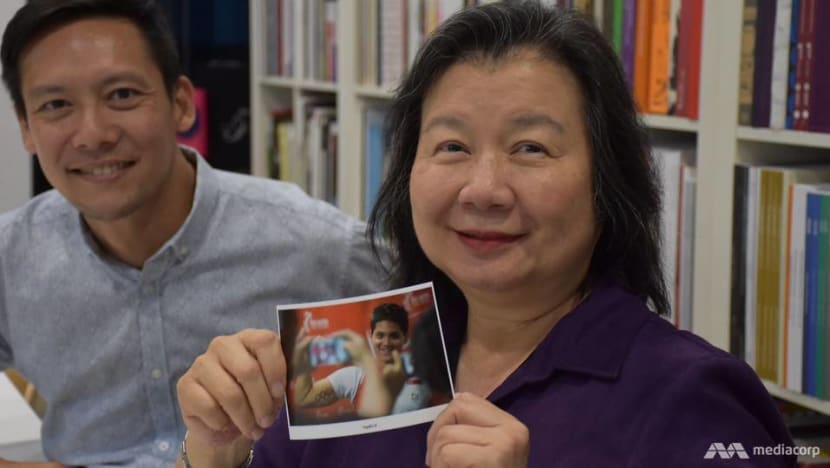 May Schooling holds one of the many photos that will be published in the book. (Photo: Winnie Goh)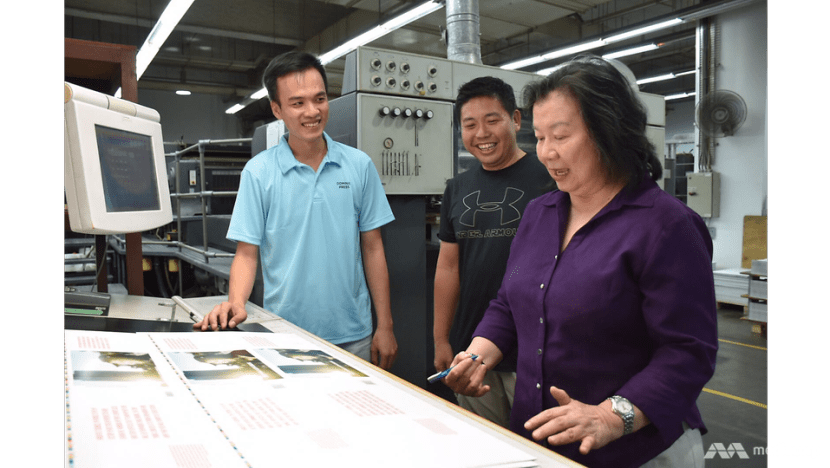 They also confirmed that #TheSchoolingEffect pledge is a big part of the book. It is based on Joseph's 50.1 sec target for the 100m fly at the Rio Olympics.
"It is a commitment between somebody and Joseph Schooling as a witness," said Hafidz. "So you can share the picture on social media to show that you want to achieve this. We want you to share and hashtag #TheSchoolingEffect. It could be something that parents and their kids can do. Like a goal-setting exercise."
May Schooling hopes the pledge will "inspire the younger ones to go for whatever they feel they want to go for, like art or music.
"Joseph has shown that an ordinary boy can do it with a lot of support. We want to encourage parents to support what the kids want. We're not asking parents to be pushy, but sometimes when the kid is young, you push them in the right direction by supporting them in what they want to do."
On whether there will be more photo books or an autobiography about Schooling in the near future, she simply said: "Maybe? He's still so young."