Singapore increases private housing supply, earmarks large Jurong Lake District sale site for mixed use
Private housing supply on the Government Land Sales Programme's Confirmed List has gone up from 3,505 units in the second half of 2022 to 4,090 in the first half of 2023.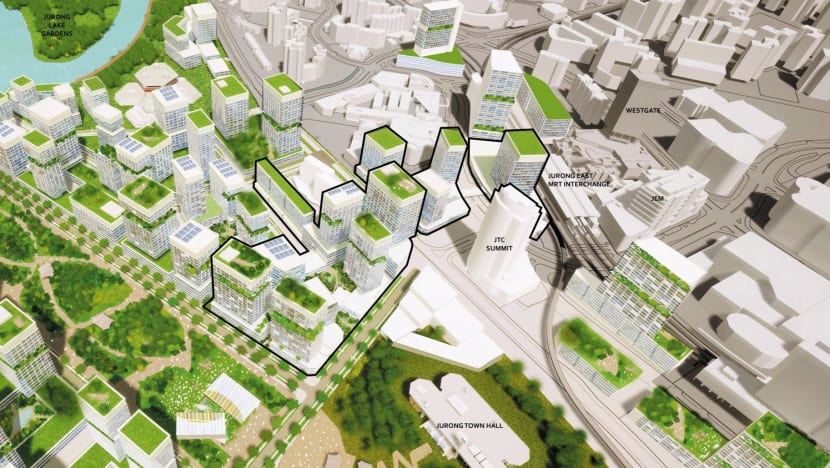 SINGAPORE: Singapore has increased private housing land supply on the Confirmed List under its Government Land Sales (GLS) Programme from 3,505 units in the second half of 2022 to 4,090 for the first half of 2023.
Also on the Confirmed List is a mixed-use site at Jurong Lake District spanning 6.8ha - almost 10 football fields - and three plots of land linking Jurong East MRT interchange and a future Cross Island Line station.
The Confirmed List, released by the Urban Redevelopment Authority (URA) on Thursday (Dec 8), comprises five private residential sites, including one executive condominium (EC) site yielding 700 units.
URA noted that the supply of private housing on the Confirmed List has been progressively ramped up over the past two years to "cater to strong demand from homebuyers".
"With private housing demand remaining resilient, the Government has decided to increase the supply of private housing on the Confirmed List further," said URA.
"The increased Confirmed List supply for 1H2023 will add to the existing pipeline supply to meet the housing needs of the population."
Out of about 65,000 units in the total pipeline supply of private housing, about 33,600 units will be completed in the next two years - compared to 11,500 units being completed since 2021.
"These housing completions will help meet owner-occupier and rental demand in the near term," said URA.
OrangeTee & Tie CEO Steven Tan said the 4,090 private housing units constituted "the largest tranche of land to be released", according to data compiled by the real estate agency since 2016.
PLANS FOR JURONG LAKE
Of the sites on the Confirmed List, Champions Way, Media Circle, Marina Gardens Crescent and Jurong Lake District are new.
The Jurong Lake District site, expected to launch in June 2023, will cater to market demand for office space and private housing in the medium term, said URA.
"The intention is for a single developer to comprehensively master plan the site and use district-level urban solutions (such as a district cooling system) that will be integrated within the mixed-use development," said URA.
The agency said the new site will be progressively developed over the next five to 10 years, and potentially yield about 1,760 private residential units, 150,000 sq m of office space and 75,000 sq m gross floor area for retail, hotel or community uses.
CBRE's head of research for Southeast Asia Tricia Song said that based on the site's targeted launch date and assuming three to six months of tender period, "earliest office completion" would likely be in 2028.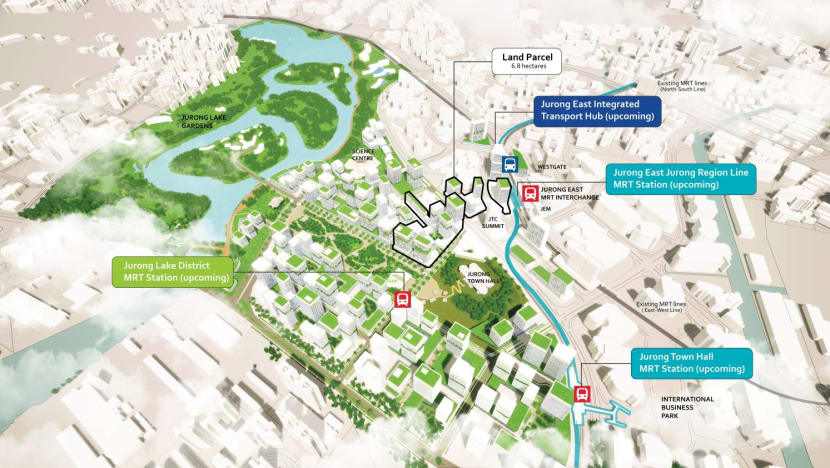 Plans for the development of Jurong Lake District, envisioned as Singapore's largest business district outside the city centre, were previously announced in 2019.
The district will also aim to achieve net-zero emissions for new developments around 2045.
By 2028, a new Jurong Region Line station and an Integrated Transport Hub comprising offices, community spaces and retail amenities will be built next to Jurong East MRT interchange station, said URA.
Mr Tan noted that due to the site's three plots of land being interlinked, they would need to be developed at the same time and "time of construction and cost involved will be high".
"Therefore a consortium involving larger developers will likely take place," he said.
Huttons Asia's senior director of research Lee Sze Teck said Jurong East was "shaping up well" as a second central business district.
"Depending on the proposal, the estimated bid could be in the range of S$3 billion to S$4 billion," he said of the sale site. "This is a very huge quantum and has considerable risks ... The returns are also higher as the master developer gets to control the supply and pricing for the area." 
Ms Catherine He, director and head of research at Colliers, said that with more complex requirements and planning needed, the Jurong Lake District site "will attract the more established and experienced developers with strong balance sheets and expertise".
"With the wider options of sites available, more developers might look to GLS sites instead of the collective sales market to replenish their land banks," she added.
"However, for those looking to develop higher-end products from freehold/999-year sites in prime districts, they will still need to turn to the private market."
Mr Lam Chern Woon, head of research and consulting at Edmund Tie, said the GLS Programme for the first half of 2023 "reflects the Government's optimism in the overall health of the residential and commercial real estate sectors".
"Two new sites at Champions Way and Media Circle aim to meet pent-up housing demand in the Woodlands and one-north areas," he added.
The Marina Gardens Crescent and Jurong Lake District sites are likely to attract keen bidding interest, said Mr Lam, noting that they also showcase the Government's intention to give developers a greater hand in adapting and meeting market demand needs.
"The injection of these sites and the associated space quantums are well calibrated to avoid an oversupply situation."
RESERVE LIST
Planned and announced every six months, GLS Programmes release state land for private development. 
Land on the Confirmed List is launched for sale at pre-determined dates, with most land parcels sold through tenders.
Land on the Reserve List, meanwhile, is not released for tender immediately, but is made available for application. A Reserve List site is put up for tender when a developer indicates a minimum price which is accepted by the government.
The Reserve List for the first half of 2023 comprises nine sites, which can yield an additional 3,625 private residential units (including 855 EC units), 93,350 sq m gross floor area of commercial space and 530 hotel rooms.
These include a hotel site at River Valley Road and a mixed-used development site at Woodlands Avenue 2 carried over from the 2H2022 Reserve List.
A new short-term 30-year lease commercial site at Punggol Walk was also added to the Reserve List, "as part of the Government's efforts to support decentralisation and cater to demand for workspaces near homes", said URA.
"The release of such sites on shorter lease allows our land uses to be refreshed in shorter cycles to support businesses in adapting their operations more nimbly to changing economic trends," the authority added. 
"The Government will continue to monitor economic and property market conditions closely and adjust the supply of future GLS programmes as necessary, to help meet demand and promote market stability," said URA.