SINGAPORE: United States Vice President Kamala Harris landed at Paya Lebar Air Base on Sunday (Aug 22) morning, kicking off a three-day visit to Singapore.
Ms Harris disembarked from the blue-and-white Air Force Two and gave a short wave.
She was greeted on the tarmac by Singapore Foreign Affairs Minister Vivian Balakrishnan. The receiving party included Singapore's Ambassador to the US Ashok Mirpuri and Permanent Secretary for Foreign Affairs Chee Wee Kiong.
Chargé d'Affaires at the US Embassy in Singapore Rafik Mansour was also at the airport to welcome Ms Harris. 
In a statement on Sunday afternoon, he said the past 55 years of partnership between the US and Singapore are "just the beginning".
"Through our defence and security agreements, our first free trade agreement in Asia, and the deep ties between our people, our enduring relationship brings strength and stability to the United States, Singapore, and the entire Indo-Pacific region," he added. 
Ms Harris chatted with the delegation from Singapore and was soon ushered into one of two armoured sports utility vehicles belonging to the US Secret Service.
The extensive motorcade, comprising vans, buses and a police motorcycle then rumbled off, making a U-turn around Air Force Two before leaving the air base.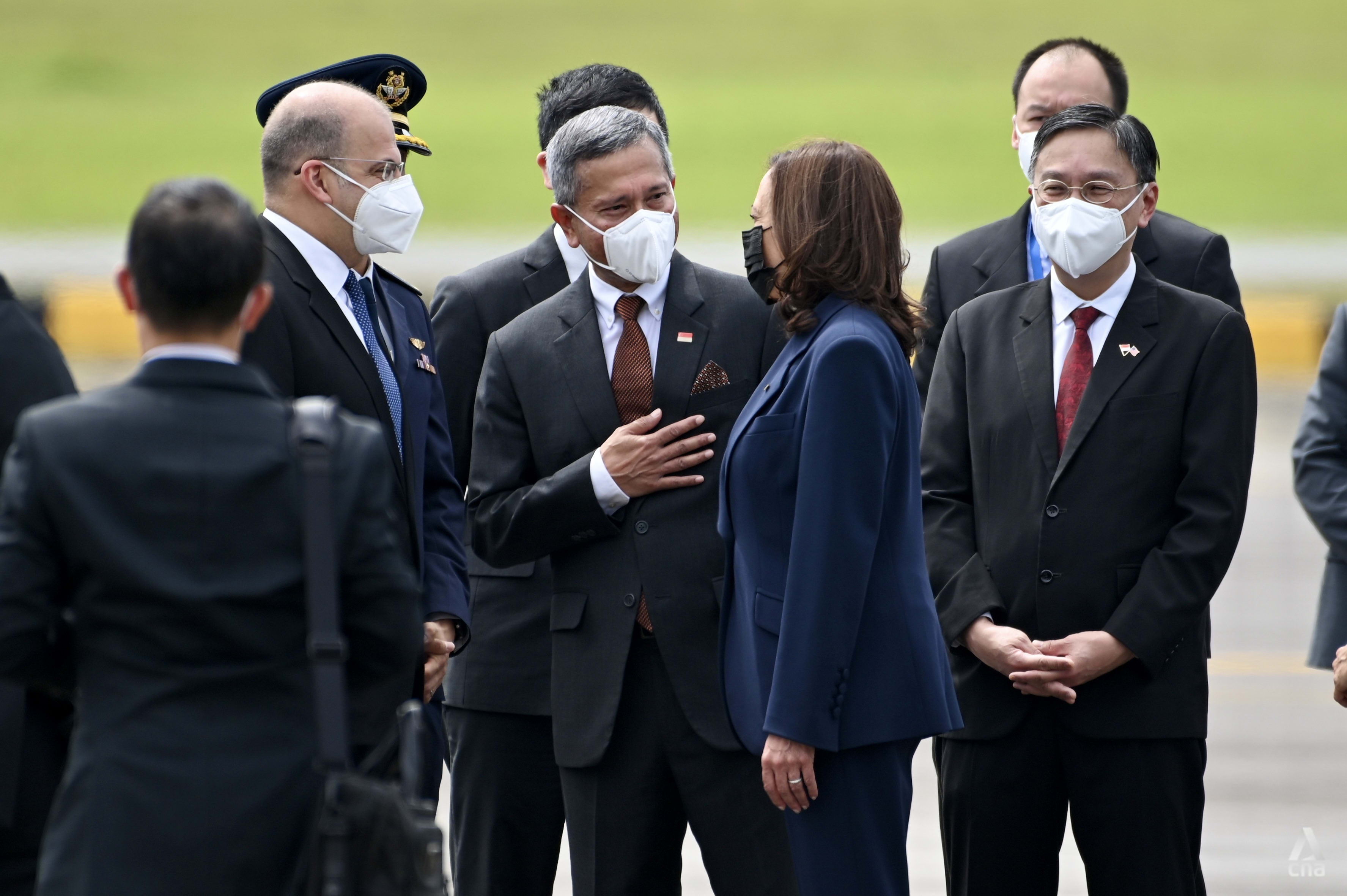 On Monday, Ms Harris will call on President Halimah Yacob and meet Mr Lee, before a joint press conference with the Prime Minister.
Ms Harris will also visit Changi Naval Base, where she will board the US Littoral Combat Ship USS Tulsa.
On Tuesday, Ms Harris will deliver a policy speech and participate in a roundtable with the business community involving Minister for Trade and Industry Gan Kim Yong, before departing for Vietnam for the second leg of her Asia trip.