Kranji water reclamation plant, NEWater factory to be redeveloped to raise treatment capacities
The redevelopment will cater to an expected increase in used water from upcoming developments in the north, such as Tengah and Sungei Kadut.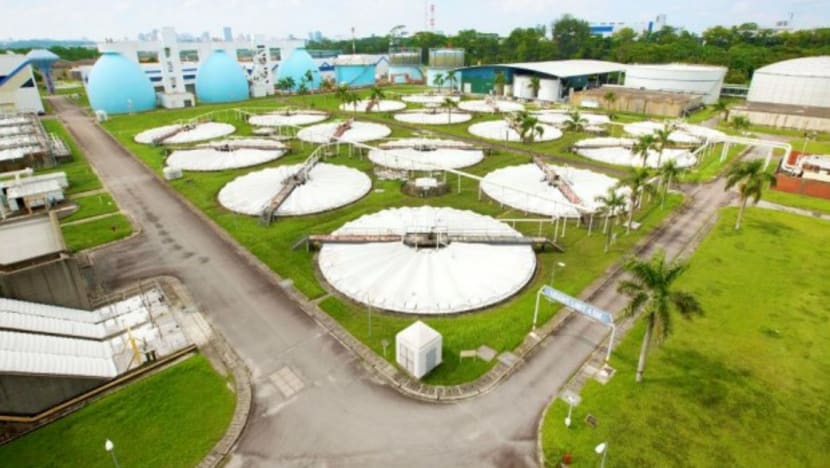 SINGAPORE: Kranji Water Reclamation Plant and Kranji NEWater Factory will be redeveloped by around 2035 to increase their treatment capacity, amid upcoming developments such as Tengah.
Announcing the plan on Thursday (Mar 2) alongside other measures, Minister for Sustainability and the Environment Grace Fu said during the Committee of Supply debate that the preliminary design of the Kranji facilities will start this year. 
Kranji Water Reclamation Plant was constructed in the 1980s and serves developments in the north, such as Woodlands, Sungei Kadut and Choa Chu Kang. The plant treats used water for further reclamation at Kranji NEWater factory to provide NEWater or for discharge to the sea. 
The redevelopment of both facilities will cater to an expected increase in used water to be collected and treated due to upcoming major residential and industrial developments in the north, such as Tengah and the Sungei Kadut Eco-District. 
The new plant will have a membrane bioreactor – a combination of conventional bioreactors, secondary sedimentation tanks and filtration into one single step, according to the Ministry of Sustainability and the Environment (MSE) and water agency PUB in a joint media release. 
The technology uses a smaller footprint than conventional treatment, while producing a higher quality effluent that can cut short the existing NEWater treatment process. 
It will also adopt thermal hydrolysis process technology, which improves sludge management for disposal and increases the biogas for energy recovery.
The plant will be connected to the Deep Tunnel Sewerage System, completing Singapore's three-node system for water reclamation, with Changi Water Reclamation Plant in the east and Tuas Water Reclamation Plant in the west. 
The sewerage system is currently under construction in phases, with phase 1 - conveying used water from the eastern part of Singapore to Changi Water Reclamation Plant - completed. 
PUB said it is "making good progress" on phase 2, which will serve the western part of Singapore. Tunnelling works are expected to finish by the second half of this year. 
NEW RECYCLING REQUIREMENTS FOR WATER-INTENSIVE INDUSTRIES
From Jan 1 next year, water-intensive industries – wafer fabrication, electronics and biomedical – will have to meet new water recycling requirements. "They are water-intensive and have high potential for water recycling," Ms Fu said in announcing the mandatory requirements. 
A minimum 50 per cent recycling rate will be set for wafer fabrication plants involved in front-end semiconductor manufacturing. The median recycling rate among existing wafer fabrication plants is currently at 43 per cent, according to PUB. For electronics and biomedical plants, the recycling of specified wastewater streams will be made compulsory.
According to PUB, the three industries are among the largest water users in Singapore, accounting for 17 per cent of non-domestic water demand, or water consumption not by households. The new recycling requirements will enable Singapore to achieve water savings of 9 million gallons of water per day - the equivalent of 15 Olympic-sized swimming pools daily - from 2035, said the PUB.  
The requirements apply to new projects that consume at least 60,000 cubic metres of water annually, and that submit planning applications from January 2024. Ongoing projects and those that have already submitted or will submit applications before 2024 will not be affected.
Companies implementing water recycling projects to meet the new mandatory recycling requirements have until end-2025 to apply for financial support from PUB's Water Efficiency Fund and Industrial Water Solutions Demonstration Fund. 
PUB is also reviewing its funding framework and looking at providing more incentives for companies to achieve recycling rates above the minimum 50 per cent, with details to be made available in the coming months. 
S$125 MILLION RESEARCH PROGRAMME FOR COASTAL PROTECTION, FLOOD MANAGEMENT 
Separately, Senior Minister of State for Sustainability and the Environment Koh Poh Koon announced the launch of a new research programme to tackle the issue of rising sea levels due to climate change.  
The S$125 million Coastal Protection and Flood Management Research Programme – to be funded under the Research, Innovation and Enterprise 2025 Plan – is Singapore's first and aims to strengthen coastal protection and inland flood management capabilities by advancing knowledge in these areas. 
Sea levels around Singapore are projected to rise by up to 1m by 2100, with more extreme storms and higher rainfall resulting in an increase in flood risks.
PUB was appointed national coastal protection agency in April 2020 and the statutory board has since been conducting coastal protection studies to prepare Singapore for the impact of sea-level rise. 
Under the programme, a new Centre of Excellence will be set up at the National University of Singapore. It will conduct research in the areas of advance coastal science; enhance capabilities in monitoring, prediction and digitalisation of Singapore's coastal environment; and develop an effective framework to support integrated and adaptive planning. 
The centre also aims to grow the local pool of research scientists and engineers.