'We've waited for this for 2 years': Teo Heng, Zouk among nightlife businesses raring to reopen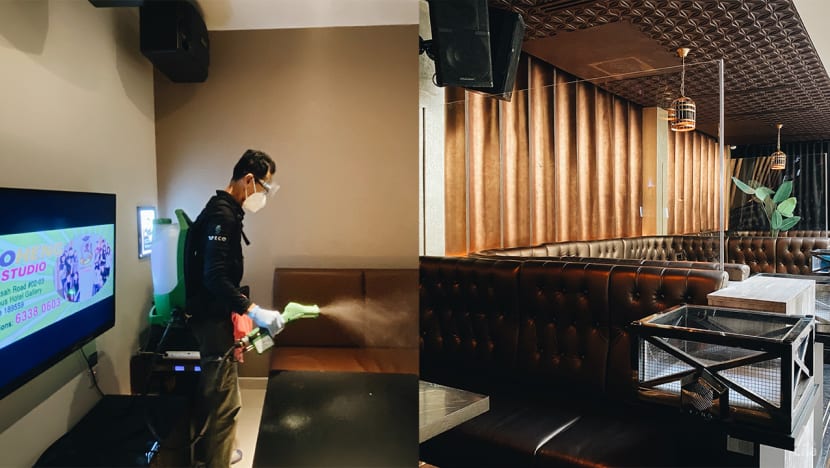 SINGAPORE: When Teo Heng KTV reopens its doors on Tuesday (Apr 19) at noon, it would have been a "very difficult" 753 days since they were forced to shut in late March 2020. 
But as the family karaoke chain gets ready to welcome back its customers who have missed belting out hits over the last two years, its managing director Jean Teo said she's been unable to sleep since she first heard the news. 
Authorities announced earlier in April that all nightlife businesses, including clubs and karaoke establishments, will be allowed to fully reopen from Apr 19.  
"It's not because we're too anxious. But it's like, finally. Your feelings (go up) from rock bottom, like taking a rollercoaster. The news came out so suddenly. All of our operators didn't expect it," said Ms Teo.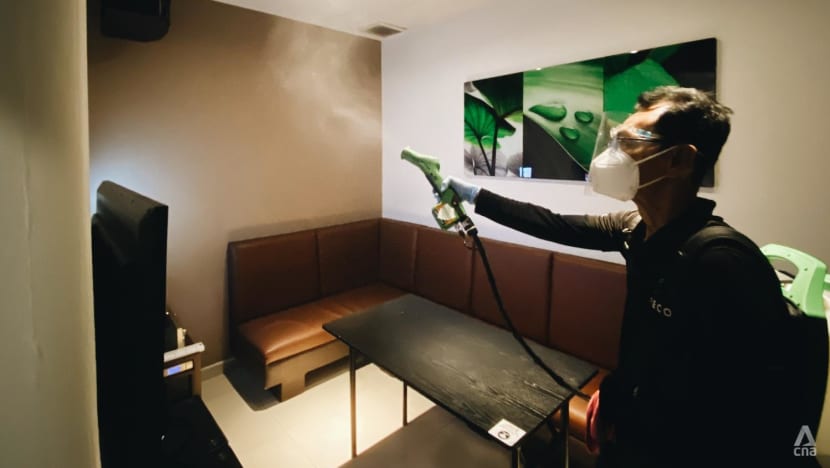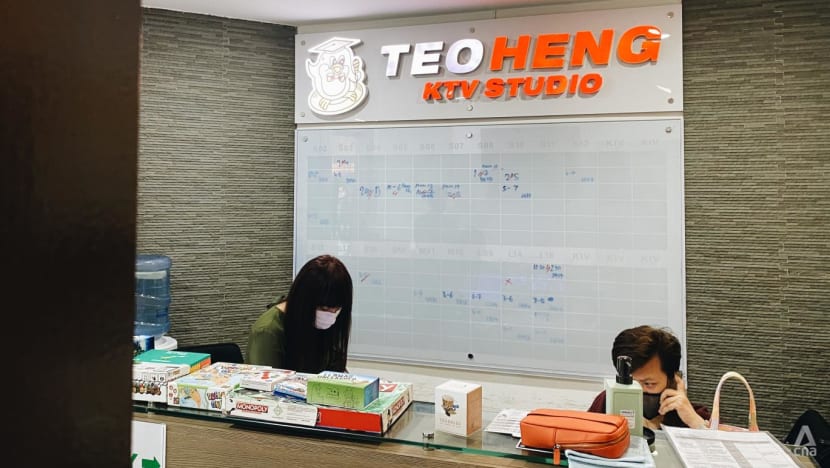 SANITISING MICROPHONES, UPDATING SONGS
At the moment, the cleanliness of the rooms and safety of its customers are Teo Heng's priorities. 
To this end, it has collaborated with local business Speco, a company specialising in antiviral coatings. 
Speco will sanitise the rooms before the reopening date and provide a portable spray in each room, the company's CEO Benjamin Chua told CNA. 
"For every coating that we've done, the nanotechnology will bind onto the surface, and this will actively protect the surface from bacteria, germs, viruses – including COVID-19 – for up to six months," he said. 
"We also understand that there will be a high turnover of customers, so we are providing a special nanospray in every room for customers who might want to sanitise their microphone themselves. They can sanitise the table and the screens as well using the spray." 
Mr Chua added that this spray will give Teo Heng's customers "peace of mind", as it takes the surface coating that his company has done "one step further". 
"Right now, everybody wants life to (go) back to normal. I think this is very important. Singapore is a hub; there needs to be nightlife in order for the city to be vibrant," he said.
"But I think we cannot let our guard down. Hygiene will still play an important role in leading life normally." 
Aside from sanitising the rooms, Ms Teo added that Teo Heng will test the karaoke system in every room to ensure the equipment is in working order. 
"My audio engineers are going round branch by branch to do soundchecks to ensure the rooms are perfect, and that the songs work well. We are also updating whenever (songs) we have missed out during these two years," she said. 
"Based on the feedback we get from our social media, some customers are looking for certain songs. So it's very busy for our different departments." 
The "silver lining" over the last two years, however, is that Ms Teo realised how much Teo Heng meant to Singaporeans. 
"I have customers writing in saying: 'Thank you Teo Heng for hanging on so that we have a place to sing,'" she said, welling up with tears.
"We didn't know that people can feel what we have been doing (all along) and they appreciate it. That's why they want us to be around. That's why we kept hanging on and praying hard."
CLUBS THRILLED TO REOPEN, SAFETY MEASURES IN PLACE
Similarly, clubs are ramping up preparations to ensure customers get as normal an experience while maintaining safety standards. But manpower issues are a hurdle they face. 
"We are hiring for many positions but due to the short timeline towards the reopening and foreign quota limits, it may be a challenge to fully staff the team," said Zouk Group CEO Andrew Li. 
"As such, we are rallying office staff to assist with the operations on the opening weekend and may reallocate staff from other businesses to assist temporarily."
Just a few doors over at Yang Club, many of its employees were redeployed to other jobs within the parent company, 1-Group, over the last two years of the pandemic. 
But with the club set to reopen on Wednesday, they plan to "pull them back" as this is where their "experience and strength" lie, said Sherpa, the club's music director and business manager, who wanted to be known by his stage name as 1-Group's DJ.   
"We have about four of them coming back, and back then the clubs used to run a lot on part-timers. So those guys are coming back as well. We do have about 60 to 70 per cent of the original Yang team," he said. 
"Some of them even messaged us first, saying they wanted to come back to work."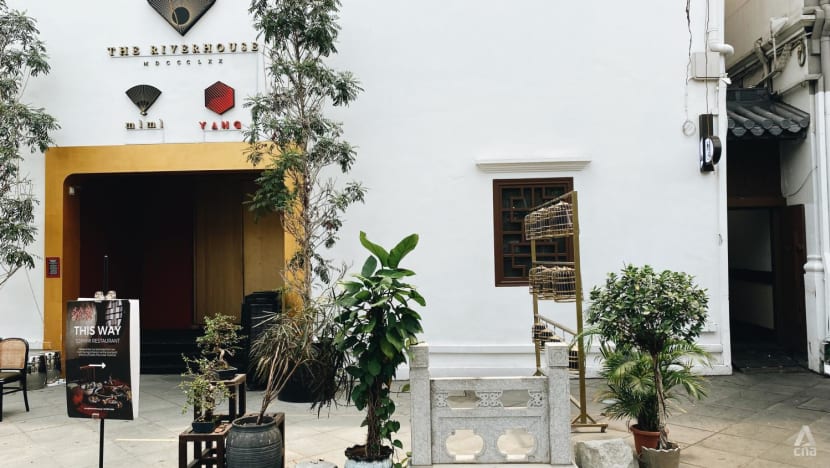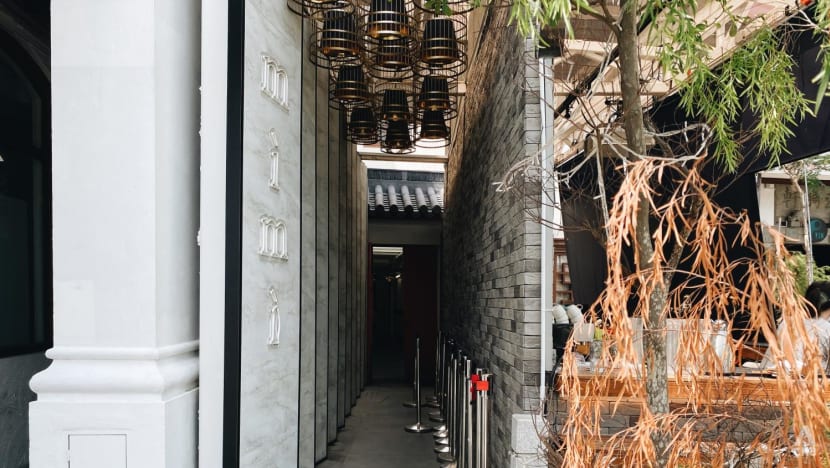 As the clubs open, safe management measures will also be implemented. 
At Zouk, Mr Li said that safety measures will be posted on "various social media platforms and on marketing collateral in the club" leading up to its reopening on Wednesday.
Both clubs have chosen not to open on Tuesday as it's "traditionally" not a clubbing day.  
As for the negative antigen rapid test (ART) that customers need to provide before they can enter the club, he shared that Zouk will provide both "on-site and tele-ART testing through various partners". 
"Once the tests are completed, patrons will receive the status on their mobile phones and our security team will check before patrons are allowed entry into the club," he said. 
Yang Club has similar measures in place to welcome customers back to the dance floor. 
A dedicated ART queue will lead customers from Yin Bar, which faces the Singapore River on the other side of Yang Club, to the entrance of the club. The dance floor also occupies a smaller area than it did pre-pandemic. 
The club will also only take reservations, and scale down its capacity to 75 per cent, said Mr Sherpa. 
Additionally, it will raise the age limit for entry to "be more exclusive", which ensures easier crowd management. Now, every customer has to be at least 21 years old to enter, he added.  
Moreover, at the end of the night, "a crew will come in after closing to clean everything and sanitise (the place) to get ready for the next day". 
Despite the rush to prepare to reopen their doors, the clubs are relieved and raring to go. 
"The news on the reopening of night businesses is huge relief to us. We've been waiting for this announcement for over two years now," said Zouk's Mr Li.
"We've had the industry closed for probably longer than most other countries and cities around the world, and to finally be able to operate the business that we are so passionate about again is just the best news ever. I'm just so happy."
Yang Club's Mr Sherpa could hardly contain his excitement too. 
"It's like asking a blind man if he wants to see. I'm really, really happy. I'm glad the Government finally understood this is the timing (to reopen nightlife businesses). It's kind of a therapy (after two years of being in the pandemic) ... the music can help," he said. 
"After the Government allowed us to resume live bands, our outdoor courtyard has been packed every night. This shows the effect of music on the people. You're coming from your workplace; you need to release. We haven't been dancing for two years."