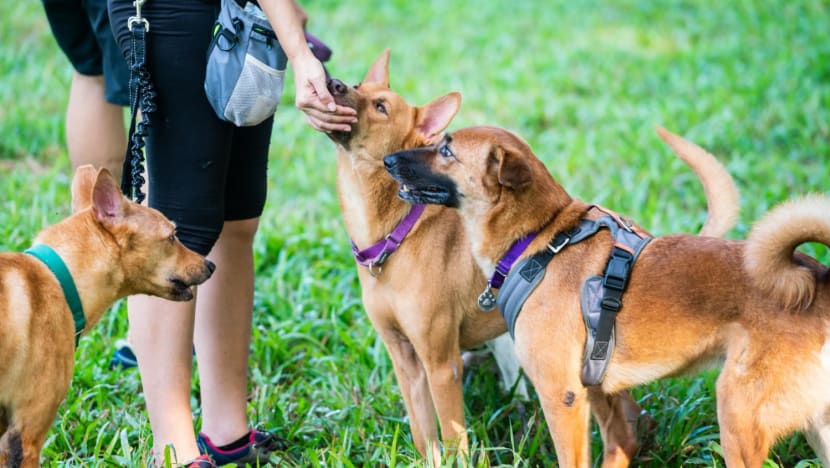 SINGAPORE: Larger mixed-breed dogs can be rehomed in Housing and Development Board (HDB) flats after the expanded criteria for Project ADORE was formalised on Saturday (Jun 18), said the Animal and Veterinary Service (AVS).
It comes after a two-year pilot programme for revised size limits for dogs and the extension of the K9 adoption scheme. 
Project ADORE is an adoption and rehoming scheme that aims to rehome mixed-breed dogs in HDB flats. The expansion of the criteria for the scheme will allow more mixed-breed dogs under the Trap-Neuter-Release-Manage (TNRM) programme to be rehomed, said AVS.
K9 sniffer dogs will also be permanently included in the scheme for public adoption.
"The pilot began in March 2020 after AVS reviewed the adoption criteria given the success of Project ADORE and the higher public acceptance of larger-sized dogs in HDB estates over the years," said AVS.
Under the pilot programme, the height limit for dogs adoptable under Project ADORE was increased by 10 per cent from 50cm to 55cm, and the weight restriction of 15kg was removed.
From March 2020 to March this year, more than 260 dogs above 50cm were rehomed under the pilot programme, and 16 K9 sniffer dogs were adopted by members of the public, said AVS.
"This significantly contributed to the overall rehoming rate of animal welfare group partners, from an annual average of about 200 dogs before 2019 to over 300 mixed-breed dogs annually in 2020 and 2021," said AVS.
The formalisation of the expanded criteria was announced by Senior Minister of State for National Development Tan Kiat How during the 14th edition of Pets' Day Out at Bishan-Ang Mo Kio Park.
He said the results of the pilot programme have been positive.
AVS said it will "continue to monitor the programme and work closely with the rehoming partners to
ensure that there are minimal disamenities to the community".
"The same stringent conditions for the animal welfare group partners and adopters under Project ADORE apply," it said.
This includes the screening of potential adopters, a framework to encourage community acceptance of the dogs, such as through mediation channels for disputes, and dog obedience training.
All adopters will be required to comply with the ownership conditions and the Code of Responsible Behaviour.
Since the launch of Project ADORE, more than 2,000 dogs have been rehomed under the programme.
Mr Tan presented commemorative plaques to the six animal welfare group partners of the project to mark its 10th anniversary.
These partners are the Action for Singapore Dogs, Causes for Animals, Exclusively Mongrels, Mercylight Animal Rescue and Sanctuary, Society for the Prevention of Cruelty to Animals, and SOSD, an organisation for the welfare of street dogs.