In wake of FTX collapse, Lawrence Wong says Singapore 'not open to crypto speculation at all'
Even before FTX's implosion happened, Singapore had been looking at tightening rules on crypto trading and retail investors' access to crypto, says the Deputy Prime Minister.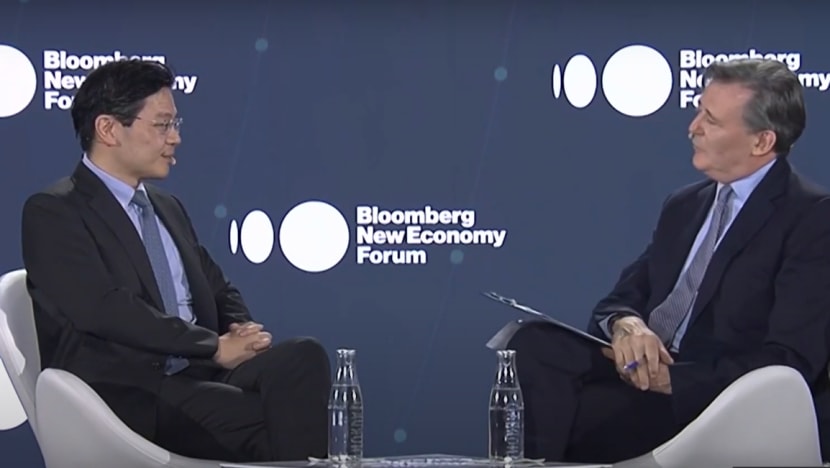 SINGAPORE: Singapore may want to go big on the "tremendous potential" of digital assets, but it is not open to crypto speculation at all, Deputy Prime Minister Lawrence Wong said on Thursday (Nov 17).
Digital assets are an "important enabler" that could transform financial markets, cross-border payments, settlements and capital markets, Mr Wong said during a panel discussion at the Bloomberg New Economy Forum.
"But - and we've said this for a long time, even when people criticised us for saying (it) ... We need to take a strong stance against crypto speculation and trading, especially by retail investors," he added.
Mr Wong, who is also Finance Minister, was responding to a question from Mr John Micklethwait, editor-in-chief of Bloomberg editorial and research, on whether the recent collapse of crypto exchange FTX has caused any concern for Singapore - which is seen as one of the "biggest crypto centres" in the world.
Industry darling FTX filed for bankruptcy on Nov 11, leaving an estimated 1 million customers and other investors facing losses in the billions of dollars. Its fall sent ripples across the crypto world, resulting in bitcoin and other digital assets plummeting.
TIGHTENING REGULATIONS
Even before FTX's implosion happened, Singapore had put out a consultation paper on tightening regulatory rules on crypto trading and retail investors' access to crypto, Mr Wong pointed out..
"We plan to tighten ... We will review the rules that are necessary. But we will continue to embrace innovation around digital assets which we think has tremendous potential," he said.
When asked if the collapse of FTX was a necessary "shake-out" of the crypto industry and a sign of the sector maturing, Mr Wong said this was "partly" the case.
"In the FTX case, there are very serious allegations that amount to potential fraud even," he said.
"So it's not just about its governance. It's a whole range of issues ... But I think there was a bit of a bubble and now you're starting to see some shaking out."
US-CHINA RELATIONS
During the wide-ranging discussion, Mr Wong also spoke about the meeting between Chinese president Xi Jinping and United States president Joe Biden at the recently concluded G20 global leaders' summit.
The Singapore minister said it was an important and constructive meeting and a "good start" to a "long and difficult journey".
"We shouldn't have any illusions that this one meeting will change things overnight because there has been such deep suspicions and distrust built up over so many years," said Mr Wong.
"So now begins the long journey of building trust, step by step, and recognising that there are still major differences between both sides, making sure that neither party takes any actions that will cause trust to be eroded very quickly."