'Minimalist' Cabinet reshuffle cements Lawrence Wong's position as PM-in-waiting: Analysts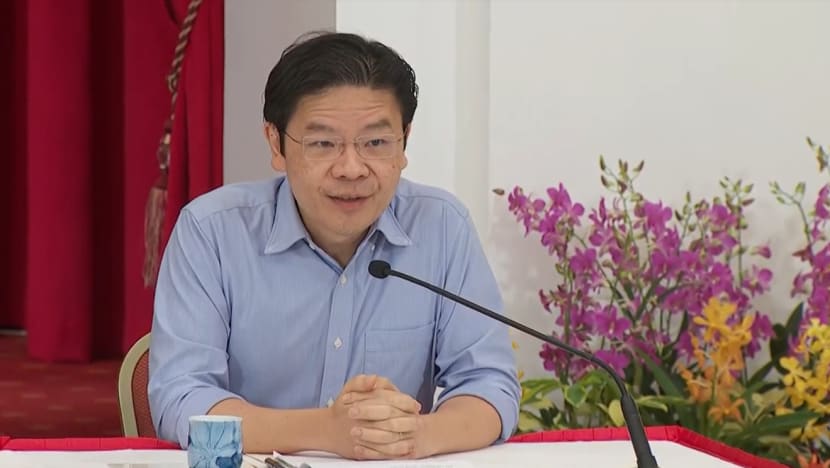 SINGAPORE: The Cabinet reshuffle on Monday (Jun 6), in which Finance Minister Lawrence Wong was promoted to Deputy Prime Minister, cements his standing as Singapore's next Prime Minister, political watchers told CNA.
No other major movements were announced in the reshuffle, which came two months after Mr Wong, 49, was named leader of the People's Action Party's (PAP) fourth-generation or 4G team.
Associate Professor Tan Ern Ser of the Department of Sociology at the National University of Singapore (NUS) called it a "minimalist reshuffle" but said it was "very significant".
"It officially designates Lawrence Wong as the heir apparent, the one who will lead the next administration," said Assoc Prof Tan.
"The objective of this reshuffle is primarily to designate the heir apparent, and to get the transition process started in earnest."
He added that it "cuts out the uncertainty and speculation".
Associate Professor of Law Eugene Tan from the Singapore Management University (SMU) said that while this confirms Mr Wong as leader of the 4G team, it offers "no hints" on when he will take over from Prime Minister Lee Hsien Loong. 
The final step in the "succession anointment process" would be the PAP's Central Executive Committee (CEC) elections where Mr Wong is expected to be appointed assistant secretary-general of the party, said Assoc Prof Tan. 
Deputy Prime Minister Heng Swee Keat is currently First Assistant Secretary-General in the CEC, while Education Minister Chan Chun Sing is Second Assistant Secretary-General.
Mr Wong's promotion "cements his standing as prime minister-in-waiting", said Mr Andrew Yeo, Asia Practice Director at public policy advisory firm Global Counsel.
"Significantly, his promotion and the expected runway he will have until Singapore's next elections means voters will in effect be voting with an administration led by him in mind, regardless of whether he is formally the Prime Minister by then or not," he added.
NO MAJOR CABINET CHANGES
Given that there were major changes in the previous reshuffle in April 2021, it might be too disruptive to dislodge any of the leaders who were given ministries to helm just over a year ago, said Dr Gillian Koh, Deputy Director of Research at the Institute of Policy Studies (IPS), when asked why there were limited changes in this reshuffle.
And with the world going through much disruptive change, it seemed "sensible" that key portfolios of defence, foreign affairs and security continue to be helmed by experienced hands, she said.
Defence Minister Ng Eng Hen has held that portfolio since 2011, and Dr Vivian Balakrishnan has been Foreign Affairs Minister since 2015. 
Mr K Shanmugam has been Minister for Law since 2008 and has been the Second Minister or Minister for Home Affairs at various times since then. Since 2015, he has helmed both ministries.
But analysts noted that some fourth-generation leaders have been promoted or shifted into different roles.
"There seems to be a rhythm of announcing Cabinet reshuffles once a year so we can expect more changes before the next General Election is called," said Dr Koh. 
"We know that East Coast GRC, Pasir Ris-Punggol GRC and Jurong GRC - just to name three - will necessarily see the emergence of heavy-weight ministers if there is going to be significant renewal among the 3G Senior Ministers and Coordinating Ministers when the time comes for that election."
She noted that Mr Tan Kiat How who is in East Cost GRC has been promoted, as has Ms Rahayu Mahzam of Jurong GRC.
Mr Tan was promoted to Senior Minister of State and will continue in the Ministry of Communications and Information and the Ministry of National Development.
Ms Rahayu was promoted to Senior Parliamentary Secretary and is taking up a new appointment in the Ministry of Law, while continuing in the Ministry of Health. She will relinquish her appointment in the Ministry of Communications and Information.
"They will need time to demonstrate their policy and political chops to become part of the core 4G team and anchor some of the GRCs which may be due to see leadership renewal," said Dr Koh.
SMU's Assoc Prof Tan said that there were no real surprises in the reshuffle, with Mr Lee still wanting to rely on "tried-and-tested steady hands" as the crisis of a generation was still not over.
"Even as political renewal is in an advanced stage, the Government will want to emphasise change amid continuity and to also capitalise on younger 4G and fifth-generation (5G) leaders coming to the fore with their own style of political engagement and mobilisation."
NUS' Assoc Prof Tan said that this allows for exposure to different portfolios at the level of junior office holders, without reshuffling the Cabinet.
"The latter would be best left to the incoming PM, since it is the team he would have to work with, and therefore his prerogative to decide how he would like to configure the team," he added.
FUTURE DPMS?
Health Minister Ong Ye Kung and Mr Chan remain core members of the 4G team and "have their plates full in their portfolios", said SMU's Assoc Prof Tan. The two ministers were previously seen as contenders for Prime Minister.
"It is PM's intention that they continue with their good work in their ministries for which they have been there for only slightly more than a year. There is still much for them to do," Assoc Prof Tan added.
Assoc Prof Tan Ern Ser said they could serve perhaps as Deputy Prime Minister or as Coordinating Ministers in the future.
He added: "I believe with the 4G fully in place, it wouldn't be too early to talk about 5G.  For the latter, I see Desmond Lee as being in a good position to rise higher in the Cabinet."
Dr Koh felt it was interesting that there was another swap of political office holders embedded with the National Trades Union Congress (NTUC). 
"Perhaps there is an effort to expose more of the 4G leaders to the labour movement," she said. "This time around, it is a relatively new leader at the Minister of State level and former SAF general – Mr Desmond Tan – who will head out to NTUC to allow Senior Minister of State Chee Hong Tat to return to full-time work in mainstream government."