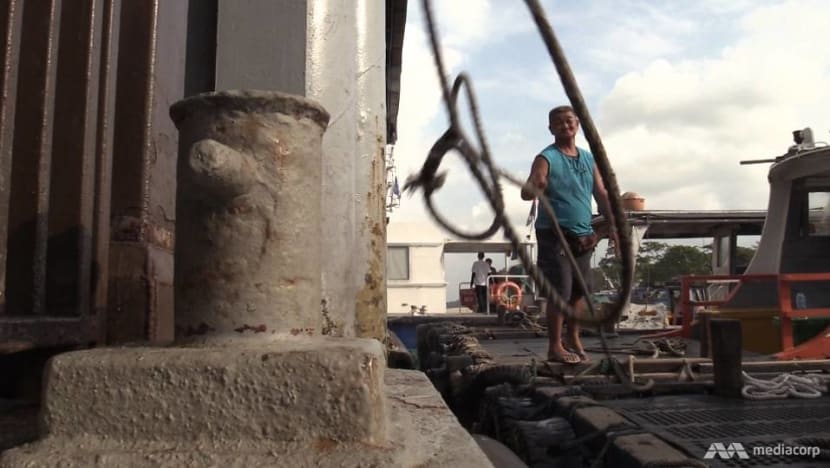 SINGAPORE: "$30, $33, $36," he counted under his breath, thumbing through the wad of notes in his hand before cramming them into his waist pouch.
The passenger roll call was rudimentary at best – for a boat with a maximum capacity of 14, including two crew members.
Satisfied, Vincent Chew settled into his worn leather seat and gunned the engine, with the ease of a man who has done this his entire life.
But it's only been seven years since Vincent took the helm. The former islander previously ran a provision shop on Pulau Ubin, and commuted weekly to the mainland to bring in his stock.
"It takes years before you will really know how to handle a boat," he confessed, explaining that most of the 33 other Pulau Ubin boatmen have decades of experience under their belts.
Even so, he says the route is direct enough, come night or day.
"This line? Even with my eyes closed, I know the direction. When a big ship comes at night, we need to see where the red and green lights are to know how wide the ship is," Vincent said, explaining that the lights are navigational aids required for visibility in the dark.
His boat, which is varnished in orange and grey, is distinct among the bobbing fleet at Changi Point Ferry Terminal, with a large fishing net slapped across the roof.
"Sometimes when we drive in the middle of the sea, we can see wild boars swimming. Other times you can see big fishes. So I keep a fishing net on my boat. But depends on whether you're lucky or not," he said.
As someone who grew up on the shores of Pulau Ubin, amongst fishermen and boatmen, sailing came naturally to Vincent, even though he entered the profession late.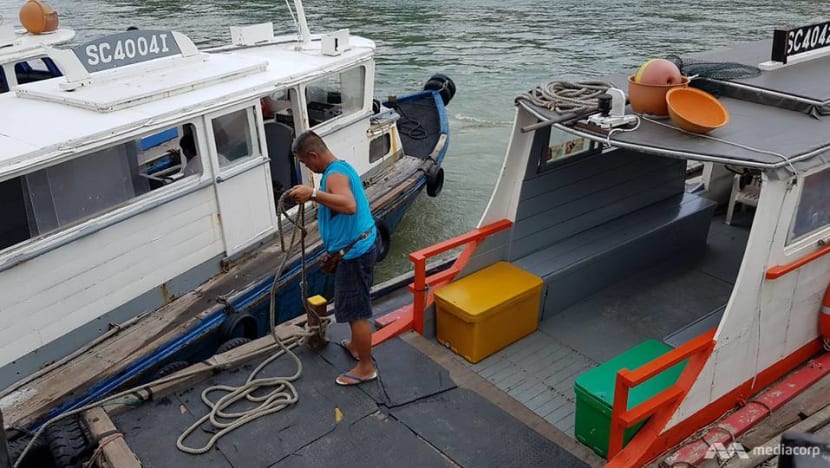 But steering a boat takes more than keeping an eye out for choppy waves, it also means adapting to the elements.
"Just imagine, every day the tide is different. The wind is different, so when you want to come alongside a jetty, you must see how the current runs and where the wind blows. If you don't know how to read the tide and the wind, big problem for you," Vincent said.
Kit Kau Chye, 70, is a veteran who has plied the waters for over 50 years. He is now the chairman of the Changi Point Ferry Association.
The former islander has a wiry frame, and is quick on his feet, side-stepping over tangled mooring ropes to add his boat number to the growing row of digits on the makeshift board.
The boatmen here take turns to ferry passengers across to the island, and the list serves as a queue of sorts.
"Some come down as early as 4am, just to be first in line," Mr Kit said, even though the passenger service officially starts at 6am.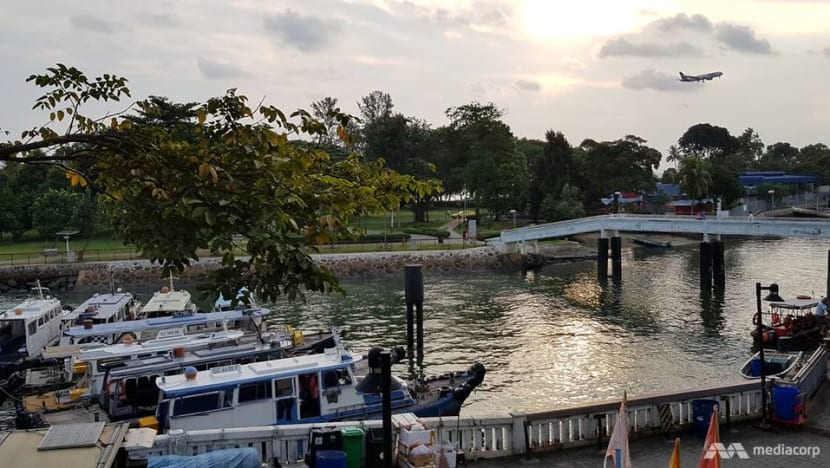 He's been sailing ever since he picked up the trade at 18.
"When the boat moves, we need to see how to park. Last time there was no proper structure, no teachers to guide us, we had to observe and learn by ourselves," Mr Kit said. 
"No choice, if you don't have much of an education then you have to pick up a skill, a trade, to live by. Last time when we were young, we were quite carefree - we plucked fruits, climbed trees - and the older folk criticized us and told us to learn something to survive," he chuckled.
Mr Kit had to commute daily to the mainland for classes.
"Those of us who grew up in the 40s and 50s on Pulau Ubin, attended a primary school on the island. But once we graduated, we had to take a boat to the mainland, before taking a bus to secondary school. For those who live further away, they need to wake up at 5am to cycle to the docks or walk," he said.

Today, getting around the island is much faster, with a taxi service and bicycle rental shops at the entrance of the jetty.
Island taxi driver Azman Hamid is among a handful to own a Pulau Ubin-registered van. Vehicles registered for island use are identified by PU on the license plate.
"Last time when we started, there were around 17 vehicles, but now there's only nine left. So we just rotate automatically. No need for queue numbers anymore," Mr Azman said.
A round-island tour costs up to $35 an hour, while a short trip amounts to about $6. But the biggest payday for the drivers is when film productions take place on the island. The vans, Mr Azman revealed, would be booked on a long-term basis to ferry the crew to various locations.
With no car repair shops on the island, these drivers have to do everything themselves – until they hit a particularly bad bump on the road.
"If it's something minor like changing the engine oil, we will do it ourselves. There is also a friend who can do help with it. But when it comes to major things such as the replacement of the air-conditioning system, we have to bring in a mechanic from the mainland," he explained.
Bicycle shop owners like Koh Bee Choo echo the same sentiment.
"If any bicycles are defective, we repair them ourselves. When you stay here, you need to do everything yourself. The carpentry job, the mechanical job, those electrical problems, we need to know them all. We must know how to take care of the property and the land here," she said.

Her shop is the first visitors see as they stroll towards the town square. Quirky signboards touting road safety are nailed into the wooden frames that prop up the shop's exterior.
Ms Koh was born on Pulau Ubin, and counts among the remaining few who still live on the island.
"I moved to the mainland for a period. But the atmosphere is totally different. In the urban area, so many buildings are taller than the trees. On Pulau Ubin, the trees are taller than the houses," she said. 
"This has been my shop for the last 24 years, and my life for as long as I can remember. I know everyone here, so why should I leave?"
The population on the island peaked around 2,000 in the 1970s, but it has since dwindled to just over 30 today.
Yet the community continues to thrive, kept on their toes by some 300,000 visitors annually.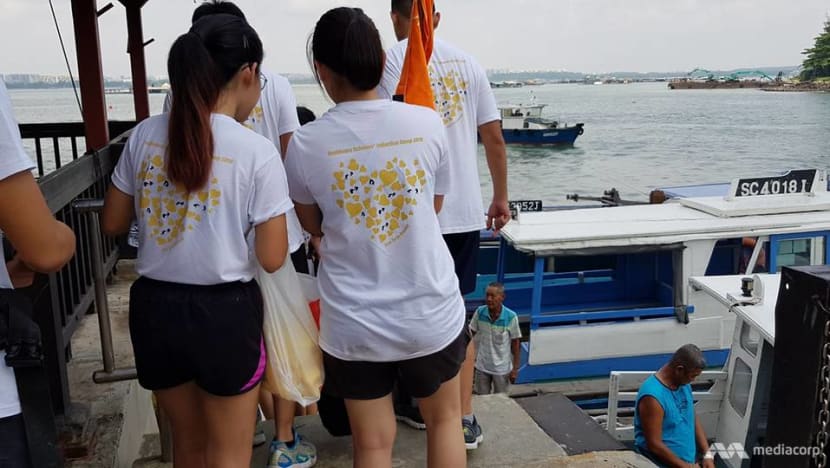 "Life is good here, easy to earn money, not tough. When we have nothing to do, we will just chit chat. No need to be so stressed out working non-stop like you. We will walk around, rest and wait for our turn to drive the boat," Mr Kit said. 
His weather beaten hands are lined with callouses, from years of sailing.
But for islanders like him, it's also a mark of a self-made person, and a promise – that no matter how the tides turn, their ties to the island will never fade.