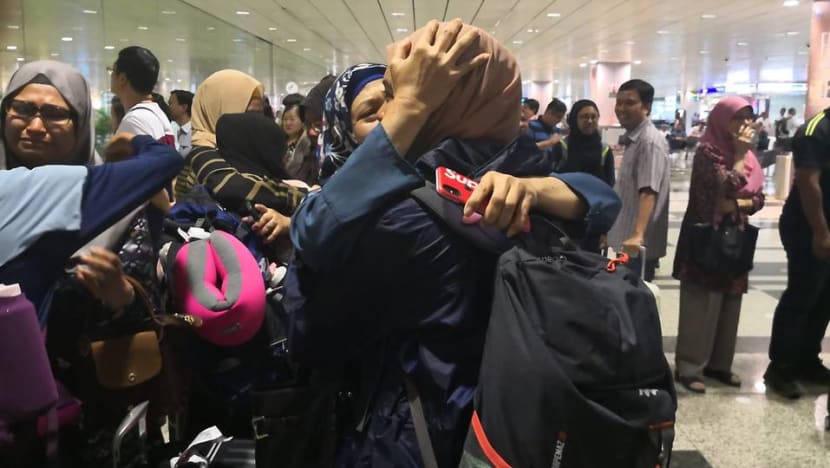 SINGAPORE: Madam Nur Syamsiah was sleeping when she received a call on Sunday (Jul 29) morning with news that made her freeze. Lombok, where her 20-year-old daughter was, had been hit by an earthquake.
Ms Ruhil Imani, was in Labuan Pandan on the Indonesian island with 19 others as part of a National University of Singapore (NUS) Muslim Society trip to provide environmental and social aid. They had left Singapore on Jul 23 and were due to be back on Aug 5.

Her 51-year-old mother turned on the television and called relatives in Surabaya, Indonesia to find out more, but she heard no word on her daughter.
"I could not do anything - want to eat also cannot. I just cried and prayed. I was holding my phone and took it everywhere," she said.
At least 16 people have been killed and more than 330 injured in the 6.4 magnitude quake on Sunday.

It was only when her daughter called about three hours later that Madam Syamsiah calmed down. The group cut short their trip and returned to Singapore on Tuesday.

CHEERS, TEARS, HUGS

There were cheers, tears and hugs as the group emerged from the Changi Airport arrival area at about 3.30pm.
While Madam Syamsiah was in touch with her daughter before she returned home, she continued to be anxious until she saw Ms Ruhil in the flesh. 
Her relief was visible, as she repeatedly hugged and kissed her daughter.
Ms Ruhil and her team members were also in tears as they embraced their family members.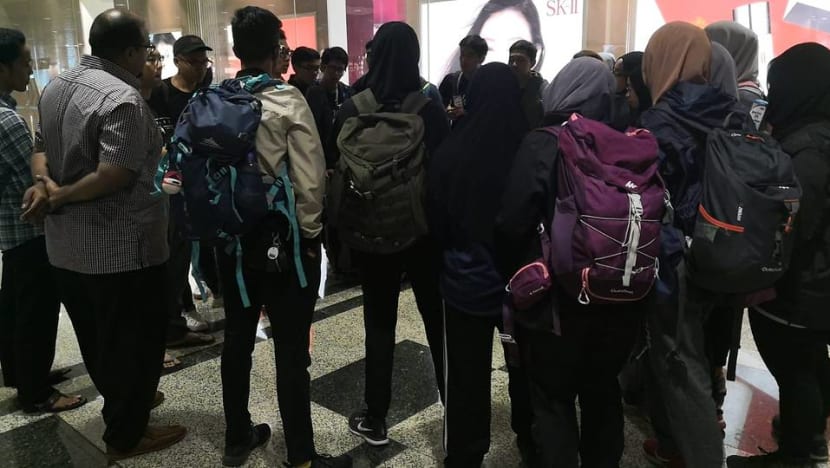 "WE JUST SAT DOWN DURING THE EARTHQUAKE"
Recounting the experience, which she described as "scary", Ms Ruhil said that she and the rest of the members were sitting on the beach, after catching a magnificent sunrise.
"I was watching children throwing pebbles into the sea. It was peaceful," she said.
Then there was a rumble and for about 10 seconds, Ms Ruhil and her friends were trying to make sense of what was happening, she said.
"We were clueless until we saw the villagers running away from the beach," she said. They followed suit and were advised to stay outdoors in case any roofs collapsed.
They continued to experience aftershocks.
"Every aftershock was a mental trauma," said team leader Mohammad Azfar Sa'ari, 23. 
Guided by Mr Mohamad Tahar Jumaat, 50, the facilitator of the trip, the group made their way to Sembalun in the northeast of Lombok, where many relief agencies are based. 
It was only when they reached Sembalun that they managed to call their families.
When they were given a choice whether to stay on, team leader Mohammad Azfar Sa'ari decided against it.
"Parents kept asking their kids to go home, and they wanted to go home as well, so I made the call," he said.

CROSSING A DAMAGED BRIDGE 
The journey to Sembalun was not without obstacles. 
Apart from seeing collapsed roofs and debris, the group had to cross a damaged bridge on foot, as its structural integrity had been damaged, and driving across it in their van might have made things worse.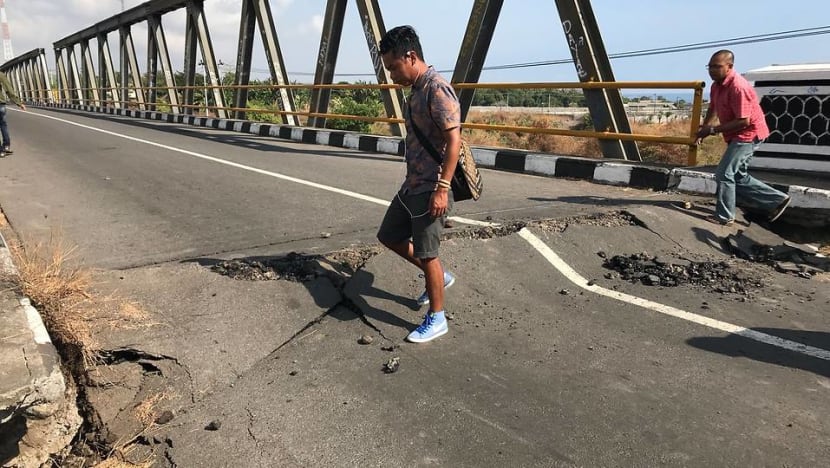 That was when the instincts of safety officer Raihan Mohamad kicked in. Mr Raihan, 21, a first-year mechanical engineering student, had served as a medic in the Singapore Civil Defence Force during his National Service and attended a one-day workshop to prepare for the expedition.
Mr Raihan stood in the middle of the 200m-long bridge and guided his teammates across. At one point, the area he stepped on shook a little, and he advised the rest not to walk there.

"I was able to respond faster because of the training," he said.
When the group got to Sembalun, they sang songs to distract themselves as they waited for information on flights. They found out about the flight on Monday, and left for Singapore on Tuesday at 6.50am Indonesia time.

They counted themselves lucky.
"It's a great relief that everyone is back and well," Mr Azfar said.