No queues, panic buying or lack of chicken: A quiet first day of Malaysia's export ban for some wet markets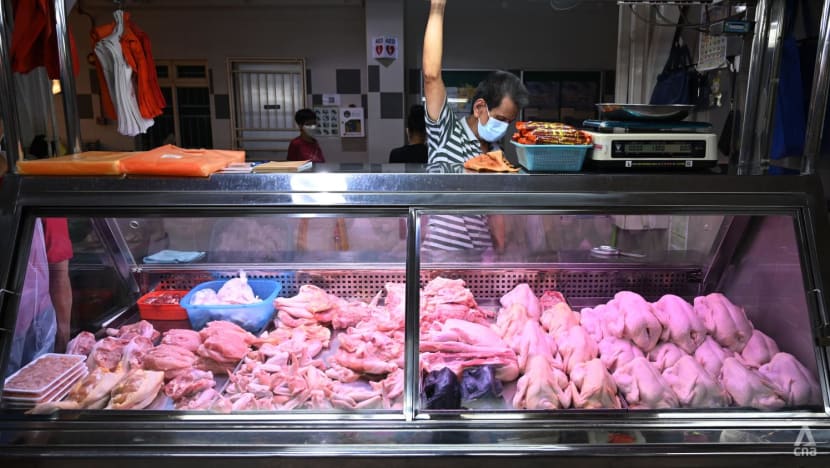 SINGAPORE: Well-stocked displays and a lack of queues at some wet market stalls selling fresh chicken marked the first day of Malaysia's chicken export ban on Wednesday (Jun 1).
This was unlike the long lines at several chicken rice stalls just a day before, amid worries of a looming shortage of the nation's favourite dish. 
Malaysia's Prime Minister Ismail Sabri Yaakob had announced last week that his country would curb the export of chickens from Jun 1, among other measures to address the domestic supply shortage.
It is "a short-term measure" to halt the export of up to 3.6 million chickens per month, until domestic prices and production stabilise, he said. 
According to the Singapore Food Agency (SFA), about one-third of Singapore's chicken supply is imported from Malaysia. Other major sources include Brazil (49 per cent) and the United States (12 per cent).
Following Malaysia's announcement, SFA also said that it would work with stakeholders to activate supply chains to increase imports of chilled and frozen chickens from alternative sources, or draw from poultry stocks.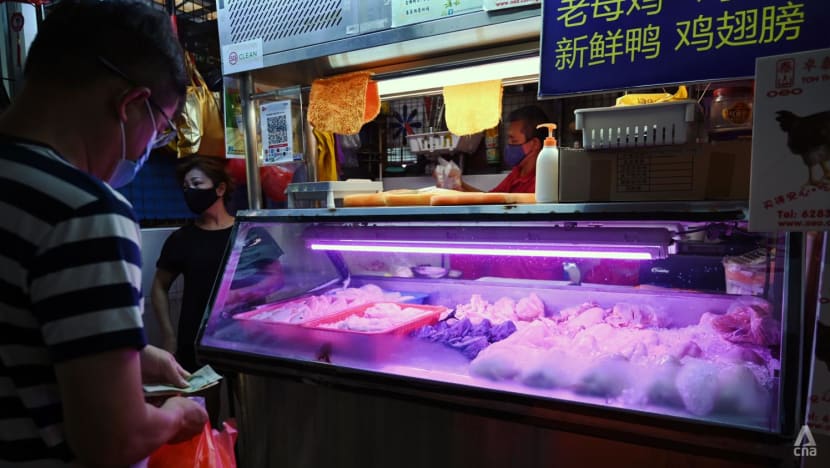 "NO POINT REMAINING OPEN"
When CNA visited the wet markets last week, some stallholders expressed concern about the impending export ban, especially with chicken prices having already increased over the last month. They were worried that the ban would result in prices shooting up even further, chasing customers away.
According to data from the Singapore Department of Statistics, the average price for a whole chilled chicken cost S$7.21 per kg in April this year, up from S$6.60 per kg in March. Chilled chicken wings also rose from S$8.75 per kg in March to S$9.45 per kg in April. 
As a result, some stallholders even said they might have to put business on pause without supply.
One such stallholder was Mdm Ng Kwee Huey from Swee Heng Fresh Chicken Shop at Beo Crescent Market. On Wednesday, however, Mdm Ng still had a full display of fresh chicken around 9.30am. 
CNA also visited her stall a day before and observed a similar situation. She suggested that there were not many customers on Tuesday, as they already stocked up on chicken on Monday. 
But she reiterated to CNA that once her existing fresh chicken supply sells out, she will close her shop temporarily.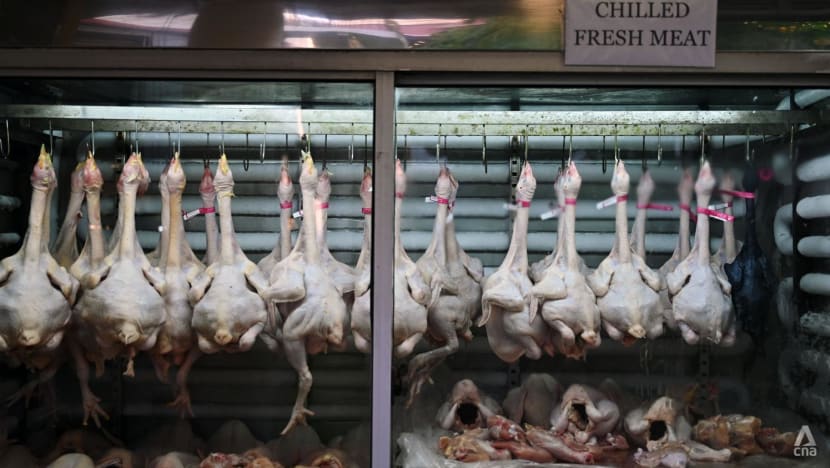 Several more stallholders at Tiong Bahru Market echoed Mdm Ng, even though their displays were almost fully stocked when CNA passed by on Tuesday and Wednesday morning. 
"We will wait for stock from our supplier for tomorrow. If they have fresh chicken, then we will sell," the stallholder at Fresh Chicken, who did not give his name, added in Mandarin. 
"We can't say customers are kiasu (Hokkien for fear of missing out). There's no harm stocking up anyway, you can always keep it if you're not eating it now."

At a stall named Sin Huat that sells chilled fresh chicken, its stallholder agreed that they would close for the meantime if their fresh chicken supply sells out. 
"Usually people who buy fresh chicken won't buy frozen (chicken). So there's no point remaining open," said the stallholder, who declined to be identified.
Likewise at the Chicken King stall located at Bukit Merah View Market, its stallholder said they would "most likely" not resort to selling frozen chicken. 
He also said the lack of queues on Wednesday morning could be due to people assuming the chicken had all been snapped up.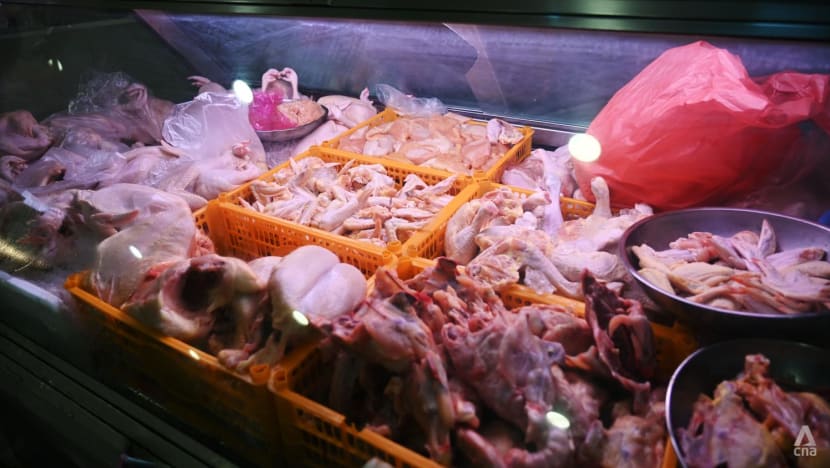 "NO CHOICE" BUT TO SELL FROZEN CHICKEN
On the other hand, some stallholders said they might have "no choice" but to sell frozen chicken once their supply of fresh chicken runs out. Their suppliers have told them there is still enough for the next two weeks at the moment.
"If they have frozen ones, then we will also sell. No choice. Yesterday, we asked the (owner of the market) if we can sell frozen ones once the fresh supply runs out. He said we can, otherwise it would be a bit (unfair to us)," said 49-year-old stallholder, Mdm Linda Wati Tjong, who runs Fu Lai Fa at Bukit Merah View Market with her husband. 
When CNA visited their stall last week, her husband Mr Peh Ah Lai had said there was "no way (they) can make a living" if they did not increase prices. 
A few stalls over at Halnaz Frozen Goods in the same market, which sells halal meat, stallholder Mohamed Basheer told CNA that his supplier informed him that there would still be fresh chicken supply for 15 more days. 
Customers were sparse on Wednesday for his stall too, but he shared that Mondays and Wednesdays tend to be "quiet days" at the market as some of the stalls selling fish are closed.
His customers came over the weekend to buy chicken, as they were "scared" about the potential shortage, he said on Tuesday when CNA visited his stall to observe the crowd in the leadup to the first day of the export ban.
Nonetheless, Mr Basheer has tried not to increase his prices too much, even if his supplier might do so. He has even ramped up his services offered with free home delivery to customers living around the Bukit Merah area. 
He also added that some of his customers have "changed their mindset" about frozen chicken, which he also sells. 
"Some customers don't like, but others (have) changed their mindset. They accept frozen chicken now."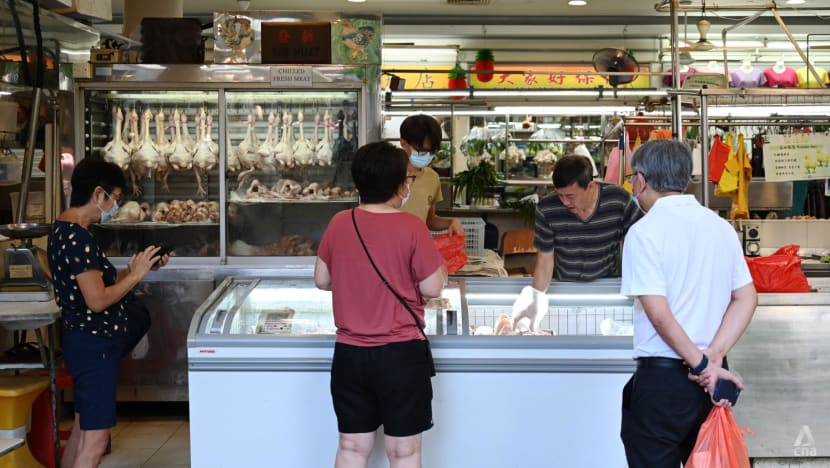 NO EMPTY SHELVES AT SUPERMARKETS
Over the last two days, CNA also visited a couple of supermarkets to suss out the availability of chicken.
In the early afternoon on Monday, shelves at FairPrice Finest at Tiong Bahru Plaza were half empty. There was also a lack of whole frozen chicken. But on Tuesday morning, the shelves were restocked.
Customers who walked by did not seem to grab the remaining packets of chicken. 
Nearby at the FairPrice outlet at Bukit Ho Swee, the display was almost empty around lunchtime on Monday. In comparison, the shelves with pork were fully stocked.
The next morning, a well-stocked display of chicken greeted customers. 
As a passerby at Tiong Bahru Market was caught uttering when she walked by a stall selling fresh chicken on Wednesday: "Still got so much (chicken). Why people say don't have?"