Wet market vegetable sellers in Singapore say prices up to 30% higher as heavy rain hits Malaysian crops
Vegetable prices from Malaysia have risen across the board. Stallholders in Singapore single out red chilli and coriander among affected crops.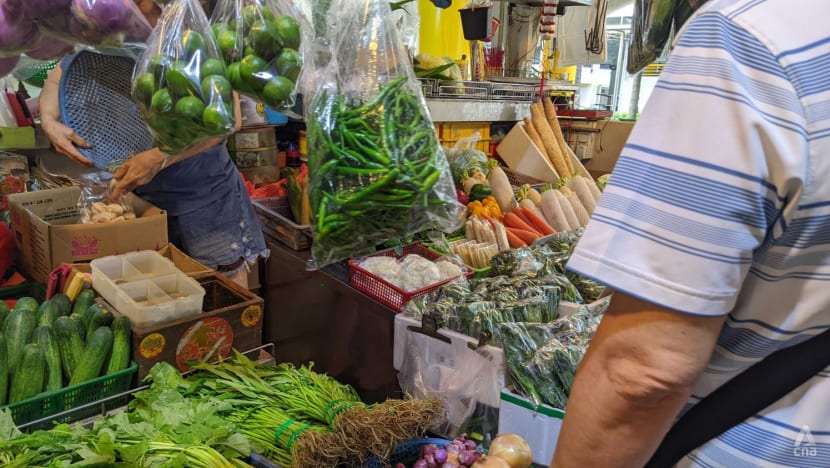 SINGAPORE: Vegetable sellers in Singapore have been affected by continuous heavy rainfall in Malaysia that has depleted vegetable crop yields across the country.
Stallholders at three wet markets told CNA on Wednesday (Sep 7) that prices of vegetables have risen by 10 to 30 per cent during the rainy season.
CNA has reported on prolonged rains in Malaysia over the last few weeks hitting crop-producing areas in Melaka and the Cameron Highlands, and vegetable markets such as in Kuala Lumpur.
The overall supply of vegetables has dipped 20 to 30 per cent, especially affecting crops like spinach, bok choy, long bean and okra that are grown in open farms, said the president of the Malaysian wholesaler vegetable association.
Wet weather is likely to continue in many parts of Malaysia until February 2023 due to the annual north-east monsoon, according to the Malaysian meteorological department.
Over in Singapore, at various stalls CNA visited on Wednesday, vegetables from Malaysia still formed a majority of the produce. Local sellers identified Malaysia's rainy season as the cause of the ongoing price spikes.
When asked which vegetables were most affected, some immediately pointed to red chilli, now going for S$7.50 to S$8.50 per kg, up from S$4 to S$5. One stallholder also pointed to coriander, which he said he has been buying at S$15 per kg over the past month. It used to cost from S$7 to S$8 per kg.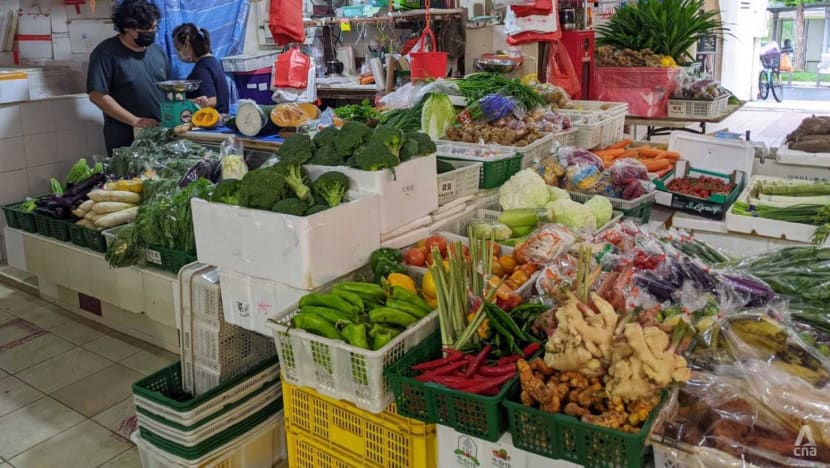 Leafy greens like kang kong and chye sim now cost S$3.50 to S$4 per kg, up from S$2.50 previously, according to multiple sellers.
Some said that prices have risen more in the past two to three weeks, while others said the upward trend has continued for a few months now. 
Hardier vegetables like cucumbers, bittergourd and eggplant rose to S$3 per kg last month because of the rain, although they fell back to S$2 this week, stallholder Lin Shi Fei told CNA at Redhill Market.
Heavy rain also meant that the vegetables importers managed to bring in were "not pretty" and turned bad more easily, said Ms Lin.
Many said they have been stocking smaller quantities. A stallholder at Redhill Market who only wanted to be known as Ms Lee said she was getting 2kg to 3kg of leafy greens daily from her supplier at Pasir Panjang Wholesale Centre, down from 4kg to 5kg usually.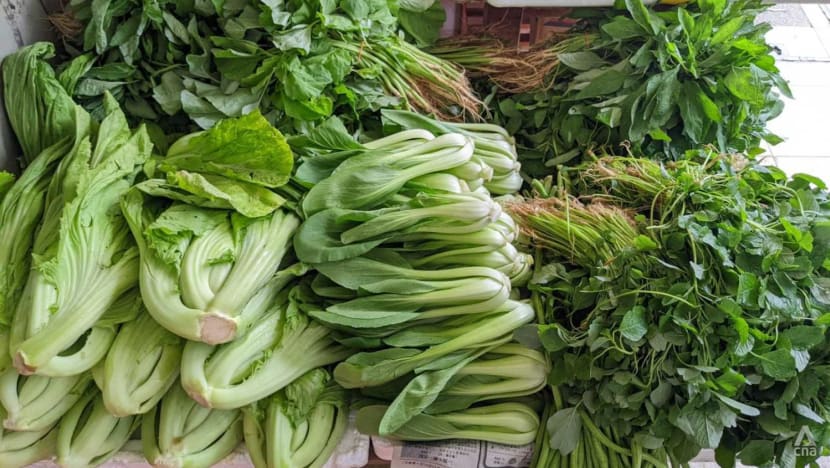 Price fluctuations precipitated by seasonal rains up north is not new to the long-time vegetable vendors.
But what makes the latest price leaps worrying is that they come on top of the difficulties sellers have experienced throughout the COVID-19 pandemic, a stallholder at Beo Crescent Market told CNA.
"Prices of vegetables have gone up incredibly, incredibly – very, very scary," said the seller, who only wanted to be known as Mr Ng.
Recent rains and floods "play a part", but Mr Ng's view was that the core issue was a manpower crunch in Malaysia affecting productivity and subsequent yields.
"It's constantly a problem, and then it doesn't help when the flooding comes," he said at his family-owned shop, Ah Har Vegetable Stall.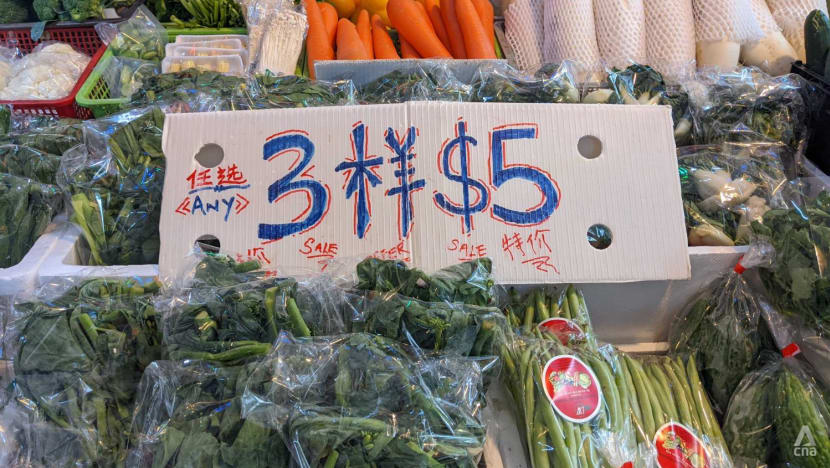 ALTERNATIVE SOLUTIONS
Like other stallholders, Mr Ng has been stocking smaller quantities of vegetables due to a combination of the higher costs and suppliers not being able to meet demand.
He said the situation has eaten into his profit margin, especially as he tries to keep prices stable for customers.
Citing calamansi as an example, he said that when the citrus cost about S$1 per kg, he could set his prices at S$2 to S$2.50 per kg.
But when the price recently rose to S$3.20, his profit margin fell to 80 cents as he capped the price at S$4 so as not to put off customers.
These factors have forced Mr Ng and other vegetable vendors to look for alternative sources in the region.
Red chillies from Vietnam have become a popular and cheaper alternative. But not all customers are willing to switch to vegetables from different origins.
One stallholder at Tekka Centre told CNA she continued to stock only Malaysia-grown chillies as her customers found that the Vietnam-grown variety was not as spicy and did not suit their palates.
Mr Ng said he was bringing in long beans, kang kong, okra and bittergourd from Thailand, adding: "These are things that we usually don't bring in from Thailand, but no choice."
Those grown in Thailand can be about S$1 cheaper than those from Malaysia, he said.
He has also started to try out marketing promotions at his stall, such as bundle deals of S$5 for three packets of vegetables.
Asked whether he thinks prices from Malaysia will come down any time soon, Mr Ng expressed doubt and frustration.
He said: "What I think is that when things go up, it will never go down. It's very difficult to go down. Because people already know, you are able to pay this price already. So why would they need to go down?"