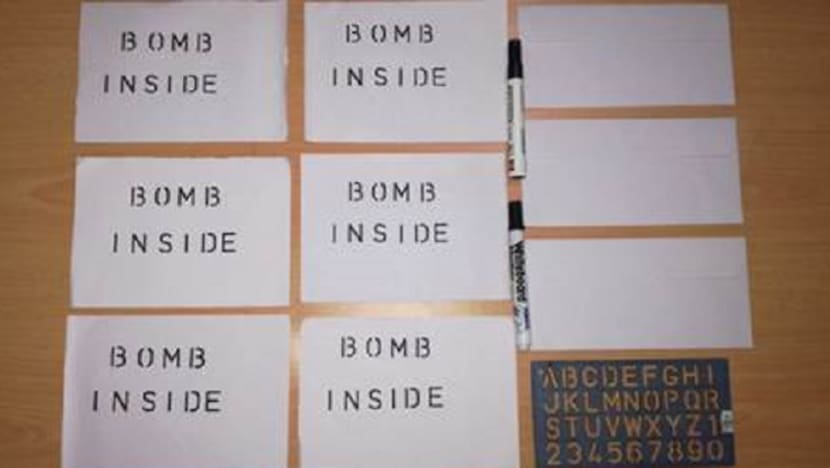 SINGAPORE: A 46-year-old man who sent letters saying "bomb inside" to Parliament House and the Special Operations Command (SOC) in Queensway in April this year was on Monday (Jun 18) sentenced to six months in jail.  
Albert Pang, a part-time waiter at that time, was "unhappy about certain political issues in Singapore and thus he wanted to create chaos", according to court documents.
Pang bought A4-sized paper and used an alphabetical stencil and black marker to write the messages, the court heard. He then sent the letters by post. There were no bombs.
The letter sent to Parliament House was first opened by administrative staff who approached security staff for assistance. The matter was then escalated to the police.
At the SOC, which is an elite unit under the Singapore Police Force, the letter was opened by a member of the administrative staff who was shocked by the contents, the court heard. The matter was escalated to SOC's management, and a police report was made.
Pang knew that the information about bombs was false and he sent the letter with the intention of making people at Parliament House and SOC believe that a terrorist act would be carried out, the Prosecution said.
The Prosecution proceeded on two charges, One other charge for sending the same letter to a 7-Eleven outlet was taken into consideration.
As a result of the letters sent by the accused, about five police cars, each with two officers, had to be deployed to the various locations to deal with the letters sent by Pang, Deputy Public Prosecutor Haniza Abnass said.
"As the letters were anonymous without a return address, investigative efforts also had to be expended to trace the accused and his involvement with the current offences," she said.
Pang was diagnosed with a personality disorder by an Institute of Mental Health psychiatrist, but was not of unsound mind during the commission of offences, the court heard.
For his offences under the United Nations Act, he could have been fined up to S$500,000, jailed for up to 10 years,or both.