Government to set up new corporate entity to manage its migrant worker dormitories
NEST Singapore Limited will manage both purpose-built dormitories at Tukang Innovation Lane in Jurong and Sengkang West, in partnership with the private sector.
SINGAPORE: A new corporate entity will be set up by the Government to manage its purpose-built migrant worker dormitories, the Ministry of Manpower (MOM) said on Saturday (Oct 1). 
It was previously announced that the ministry will build and own these dormitories, as part of efforts to improve living conditions and support for migrant workers. 
The new corporate entity, called NEST Singapore Limited, will manage the purpose-built dormitories, starting with two upcoming ones at Tukang Innovation Lane in Jurong and Sengkang West.
A ground-breaking ceremony was held on Saturday for the Tukang dormitory, which is expected to be operational by 2025 with 2,400 beds. 
The Sengkang West dormitory is targeted to be ready by 2028, housing 7,200 beds. 
NEST Singapore Limited will be set up in the fourth quarter of 2022 as a Company Limited by Guarantee under MOM with its own board. 
In partnership with the private sector, NEST will bring onboard expertise and insights from within and outside the dormitory industry, including from "non-traditional" operators such as those in hospitality and technology, said a ministry spokesperson at the event.
NEST's direct involvement in operating the new purpose-built dormitories will support "driving innovation and showcasing standards" in migrant worker housing, as well as allow MOM to grow its dormitory management capabilities, the ministry added in its press release.
It will also help the ministry better design policies, regulations and initiatives for migrant worker housing, said MOM.
Addressing concerns of potential conflict of interest, MOM's spokesperson said that the existing regulations that apply to all purpose-built dormitories will also be applicable to those operated by NEST. 
"NEST also has not and will not receive any privileged information of PBD (purpose-built dormitory) regulations and standards that will appear to give them an advantage in operating the PBDs. Over the operating period of the PBDs, NEST is also expected to be financially sustainable," said the spokesperson.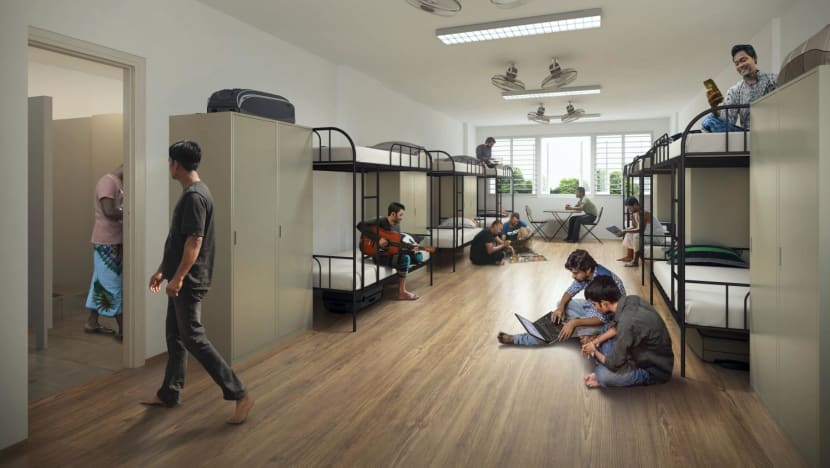 BETTER LIVING CONDITIONS WITHIN AND OUTSIDE DORMITORIES  
The Manpower Ministry announced in September 2021 that all new migrant worker dormitories will have to meet improved standards.
These efforts to improve living conditions, reduce the density in dormitories and boost resilience against future pandemics came after COVID-19 infected tens of thousands of migrant workers living in dormitories.
"Our vision is for these PBDs to be living environments which are conducive for the health and the well-being of our migrant workers," said Manpower Minister Tan See Leng on Saturday. 
"The PBDs will be built to the improved standards for new dormitories, in order to strengthen public health resilience and liveability." 
Dormitories will be required to have more spacious rooms with occupancy caps and en-suite toilets, improved ventilation, as well as "modularised and segmented" communal facilities, MOM stated in its press release.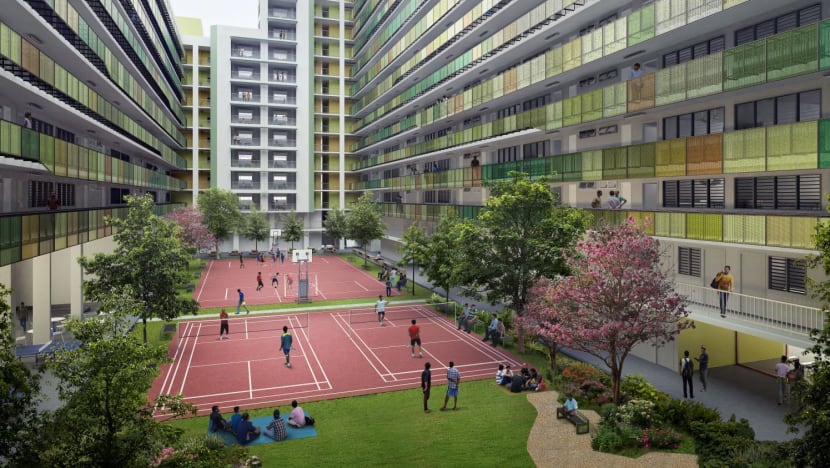 At Tukang purpose-built dormitory, migrant workers can look forward to green spaces and various outdoor recreation spaces in the form of multi-purpose courts to play sports.
These outdoor spaces will be "repurposed as medical facilities during future disease outbreaks", the ministry said.
Cricket enthusiasts will have two cricket practice lanes where they can hone their skills.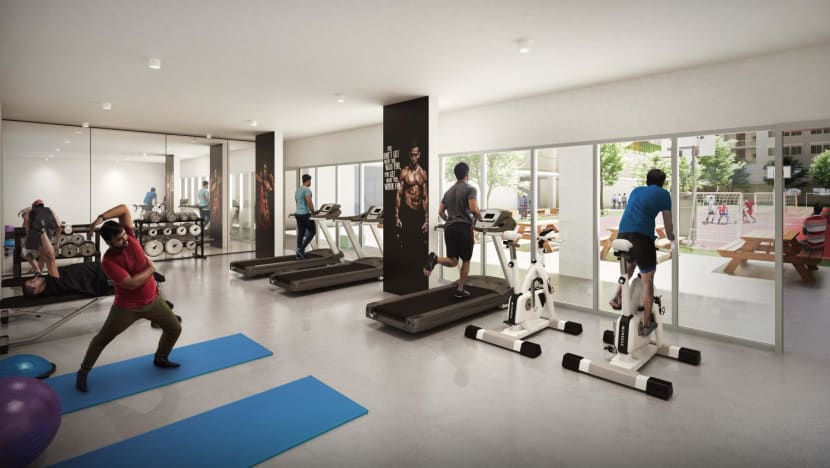 As for indoor recreation spaces, migrant workers at the Tukang dormitory will have access to an open void deck area where they can hold activities and events, multi-purpose rooms and an indoor gym. 
The gym will be larger than what is set out under the improved dormitory standards, given that gyms are "popular amenities" among residents, said MOM. 
And within the dormitory's surrounding area, commercial amenities like a minimart, canteen, barber, ATM corner and an outdoor refreshment area will cater to residents' daily needs. 
These amenities will also be accessible to migrant workers in the neighbouring community.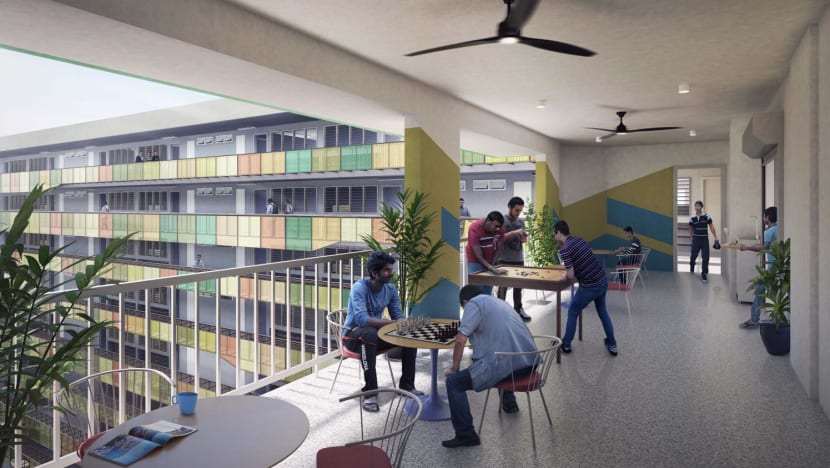 HARNESSING TECHNOLOGY, STRENGTHENING "HEARTWARE"  
MOM will also explore technological solutions to "innovate and pilot new ideas for dormitory living and management", said the ministry. 
These solutions include facilitating in-room access to services in the dormitories, virtual training and video conferencing. 
To foster better community support for migrant workers, MOM will encourage "greater co-development of recreational programmes and activities" within the dormitories by working with residents and non-governmental organisations. 
One example of innovation in community support is the "Dad in Dorms" group that has been set up by the operator of Tee Up Dormitory. It allows fellow fathers living apart from their families to get together, share advice and support one another. 
"The 'heartware' or 'software' of communal living lies in its people. Physical infrastructure alone cannot transform the communal living environment for our migrant workers," said Dr Tan. 
"We hope that this will create a living environment where residents can rest, where they can recharge comfortably after a hard day's work, and forge strong bonds with their fellow dormitory residents – a place that can be their home away from home."