CNA Explains: Should you switch off your phone while on a flight?
Signals emitted from mobile phones are too weak to have a substantial impact on flight equipment, aviation experts say. So why do airlines tell you to switch off your phone or put it on airplane mode?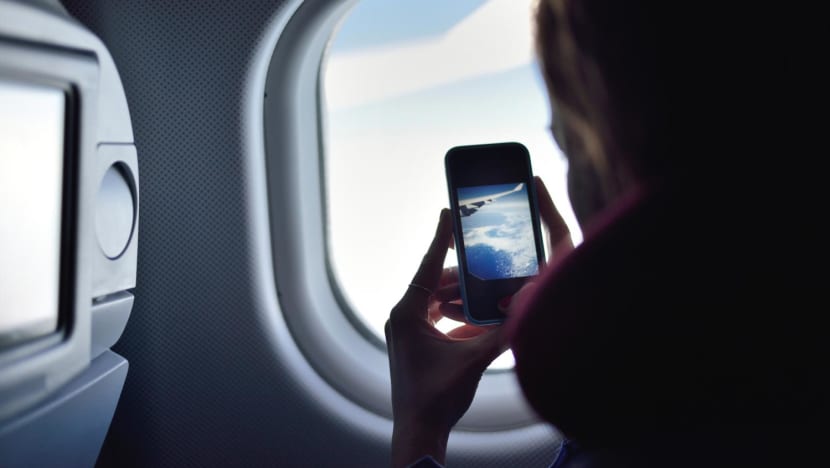 SINGAPORE: It has probably happened at some point to anyone who has ever been on a plane – forgetting to switch off your phone or put it on airplane mode before take-off and landing.
But a plane crash in Nepal on Sunday (Jan 15) that claimed more than 70 lives has brought this issue to the spotlight.
A passenger had livestreamed footage on board the aircraft moments before the crash, and netizens speculated that the use of the phone could have interfered with flight equipment. 
CNA put out a call for questions about using mobile phones on flights, and readers responded. Many asked if it was possible that phone signals could cause a plane to crash and whether it was necessary for phones to be switched off or put on airplane mode.
CNA spoke to aviation experts and took a look at different airlines' policies on mobile phones.
Could using your mobile phone affect flight equipment? How?
Minimally, according to two industry experts. 
Aviation safety consultant Michael Daniel said that modern technology has evolved to a point where the signals from a phone should not substantially affect the plane's functions. 
"Modern aircraft, the wiring is much, much better these days. They actually have wiring that reduces the HIRF (high-intensity radiated field) effect," said Mr Daniel, who sits on the panel of experts for the Association of Aerospace Industries (Singapore). 
The high-intensity radiated field is the radio-frequency energy that can affect another device. 
"Through all these years of testing, and with the HIRF standards ... it significantly reduced the risk and there's no tangible effect or tangible concern that would cause the planes to ... crash or something like that."
Passengers are also not seated near where aircraft systems are in the flight deck or cockpit, so any use of mobile phones is unlikely to cause interference, he added. 
In any case, plane equipment is designed to have a certain level of "immunity" to the signals emitted by phones and other electronic devices, said a Singapore Institute of Technology engineering professor. 
Mobile phones also have to comply with regulations and standards which limit the strength of their emissions, said Associate Professor Neelakantam Venkatarayalu.
Mobile phone services and avionics – aircraft electronic systems – are on different frequencies. This is regulated globally and substantially reduces the chance of any interference, he added. 
"There could still be interference, even though not as severe as when the frequencies were not separated."
Dr Venkatarayalu likened the interference to hearing static while listening to a radio that is not properly tuned to the station. 
Then why do airlines still require phones to be switched off or put on airplane mode? 
According to Mr Daniel, switching the mobile phone off or putting it on airplane mode reduces the high-intensity radiated field, especially during the critical phases of take-off and landing that require aircraft instrument sensitivity.
"The more passengers that turn off and reduce that HIRF effect, the better is for the aircraft avionics."
But there is a bigger reason for telling passengers to turn off their phones – to make them pay attention to the flight crew and not be distracted during the safety briefing, he said. 
What is the difference between using a phone during take-off and landing as opposed to cruising?
A mobile phone not switched off or set to airplane mode would actively send beacon signals, searching for a base station or cell tower in an attempt to connect to a cellular network.
At high altitudes, where a phone is unable to connect, the only consequence is that this would drain its battery faster, said Dr Venkatarayalu.
But during take-off and landing, the phone will likely connect to a cell tower. 
Take-offs and landings are the most eventful and critical phases of the flight, when pilots rely heavily on navigational and communication equipment, said Mr Daniel.
The chances of an adverse event happening at altitude are much lower, he added.  
Should you switch off your phone instead of leaving it on airplane mode? 
"The deal about the airplane mode is it doesn't necessarily turn off the Bluetooth or Wi-Fi, it just reduces the amount of signalling on the device," said Mr Daniel. Turning off the phone would completely block the signals. 
Dr Venkatarayalu explained that the emissions from a mobile phone are different in different modes. 
In airplane mode with Wi-Fi turned off, functions that cause "intentional emissions" are shut down, he said. 
"The leftover unintentional emissions during other usages such as, say, playing games, are so weak in strength that any other airplane equipment in the vicinity will have sufficient immunity, both by design and by requirement."
Even when using a phone with the Wi-Fi on, the signals emitted are still too weak to cause major impact to the functionality and operations of airplane equipment, added the associate professor. 
"While it may not be necessary to turn off entirely, it is certainly a good practice to follow all the in-flight announcements and instructions provided by the airline," said Dr Venkatarayalu.
Listen: If aviation experts say smartphone signals are too weak to impact flight equipment, why do we have to switch them off?
What are airlines' mobile phone policies? 
CNA checked the flight policies of a dozen airlines and all required mobile phones to be switched to airplane mode during flights.
The Civil Aviation Authority of Singapore (CAAS) allows the use of mobile phones under specific requirements and in accordance with airline policies. 
This is because some electronic devices transmit radio frequency signals that could interfere with aircraft equipment and may affect the safe operation of flights, it said on its website. 
Once all doors on an aircraft are closed, the use of devices for voice communication is prohibited. If the plane is landing, these devices can only be used after the aircraft has exited the runway, the CAAS added.
Singapore Airlines allows passengers to use their phones on mobile network service any time that the "switch off phone" cabin signs are not illuminated. 
When the signs are on, phones must be switched off or set to airplane mode. 
Most planes in Singapore Airlines' fleet now offer Wi-Fi but this is only in operation when the aircraft is at cruising altitude or flying over authorised countries or international waters, according to the carrier's website.
Its subsidiary Scoot says on its website that portable electronic devices, which include mobile phones, can be used during all phases of the flight with certain caveats.
All mobile phones must be switched to airplane mode before take-off and landing. 
The captain may also request passengers to turn off their devices during certain flight conditions to avoid affecting navigation communications. Local regulations of certain airports may forbid the use of electronic devices while the aircraft is on ground and the cabin crew will inform passengers in such situations, Scoot said.