MOE still considering through-train programmes from Primary 1 to Secondary 4, but several issues remain: Chan Chun Sing
"First, who gets to go to the through-train programme?" asked the Education Minister, adding that a student's interests and ability are difficult to determine at Primary 1.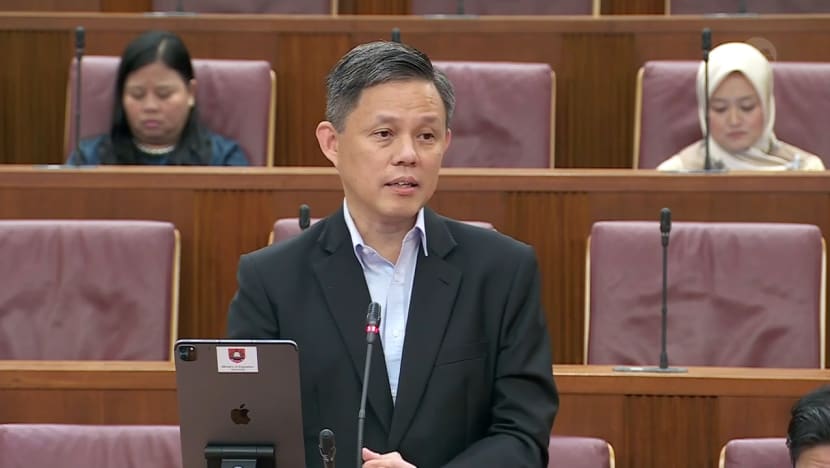 SINGAPORE: The Ministry of Education (MOE) is still considering through-train programmes from primary school to secondary school, but there are issues to be resolved, said Minister for Education Chan Chun Sing on Wednesday (Mar 1). 
He was responding to Workers' Party (WP) MP Jamus Lim and Progress Singapore Party NCMP Hazel Poa, who brought up through-train programmes in their speeches during the Committee of Supply debates. 
"We have thought about this - should we pilot a few schools for through-train?" said Mr Chan, in response to further clarification from Mr Lim. 
In her speech on Tuesday, Ms Poa called for MOE to consider piloting a through-train programme for primary and secondary school students that would bypass the Primary School Leaving Examination (PSLE). 
"There should be no sacred cows in education. The learner, especially the well-being of the child, comes first," she said. 
WP's proposal to introduce an optional 10-year through-train programme, first raised at the 2015 General Elections, would allow some children to learn at a pace that is more suitable to them, said Mr Lim in his speech on Tuesday. 
"Importantly, offering the extra room for children to blossom and to reach their full potential before they turn 16, could actually be more important than allowing them to skip a major test at the age of 16," he added, noting that some integrated programme schools already allow students to skip the O-Level exams. 
"This proposal merely suggests an extension of that programme to a different high-stakes standardised test." 
In his clarification on Wednesday, Mr Lim agreed that the PSLE serves as an important checkpoint and allows parents to choose the secondary schools their children go to. 
"But I wonder if he would not also agree that allowing a parent to choose for their child not to take the PSLE is yet another dimension of choice," said Mr Lim. 
"If so, then what are the inhibitions behind an optional through-train policy as the Workers' Party has proposed?" he added. 
In his response, Mr Chan noted several issues MOE considered. "First, who gets to go to the through-train programme?" he added. 
At Primary 1, it is difficult to know the abilities and interests of children, said the Education Minister. 
"If the through-train programme is to a very popular school, and you know which one I'm talking about, I'm sure there is no shortage of takers for this through-train programme," he added. 
"But what about those who develop a bit later and want the chance to go to some of these schools?" 
This could also affect the social mixing in schools, said Mr Chan. 
If parents decide that their children should go through a through-train programme, they might realise later on that their child is not suitable for it, he added. 
"If we have no checkpoint at all, then how do we help our students to get into the correct educational setting?" 
This leads to another issue - every secondary school that has a through-train programme must be able to cater to the diversity of learners, said the Education Minister. 
"How do we resource these schools with a complete suite of programmes for the students that we have taken in at P1 with the promise that regardless of their abilities … that we will be able to provide them with the full pathways?" 
Adding that MOE is not "ideologically closed" to good ideas, Mr Chan said: "We have considered this, and we are still considering this. And we have to step through the issues, non-trivial issues, systematically." 
Mr Chan shared with Channel 5's News Tonight the need for everyone, including industry partners, to play a part to improve Singapore's education system. 
"The basic message is that I didn't want people to think that one education minister by changing some policies or processes, we can change the education system," he added. 
"To change the education system, to evolve the education system, to bring about the results that we want, we need everybody to play their part."
There is a need to catalyse a change, said Mr Chan. "Not just in process and structures but importantly, to catalyse a change in our mindsets - how we see education, how we define success for the education system, how do we define success for our children not just in schools for the first 15 years, but also in their lives for the next 50 years beyond school."
He urged industry partners to step up and share with schools the future skillsets that are needed. 
"So we shorten the learning loop from frontier industry and business practices and bring it into the schools," he added.
"Our students will be able to get ready for the future market in a much shorter time."