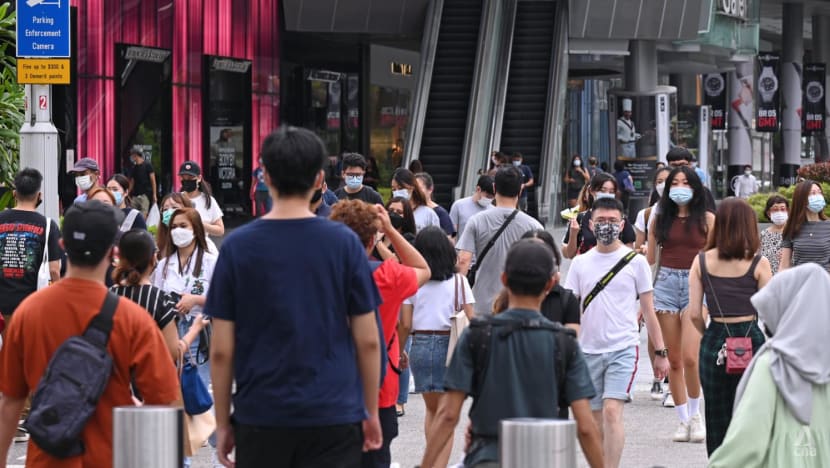 SINGAPORE: Singapore reported 12,784 new COVID-19 cases as of noon on Tuesday (Jul 5), comprising 12,248 local infections and 536 imported cases. 
The last time Singapore reported more daily cases than this was on Mar 22 this year, when 13,166 infections were logged.
There were two fatalities, taking the death toll from coronavirus complications to 1,421.
A total of 683 patients are in hospital, according to the latest infection statistics on the Ministry of Health's (MOH) website on Tuesday night. Seventy-seven patients require oxygen supplementation.
A total of 16 patients are in the intensive care unit.
The week-on-week infection ratio is 1.34. This refers to the ratio of community cases for the past week over the week before, with a figure above 1 indicating that the number of new weekly COVID-19 cases is rising. 
The week-on-week infection ratio has been above 1 since Jun 14. 
Singapore's recent spike in COVID-19 cases comes after Health Minister Ong Ye Kung said last month that the country can expect a new wave of infections in July or August, as people's antibodies from vaccinations and infections from the last Omicron wave start to wane.
Among the local cases reported on Tuesday, 11,446 cases were tested using antigen rapid tests (ARTs). These cases have been assessed by doctors to have mild symptoms and are of low risk, said MOH.
The remaining 802 local COVID-19 cases were confirmed via polymerase chain reaction (PCR) tests.
Of the imported cases, 499 were tested using ARTs and 37 using PCR tests.
Singapore has recorded 1,485,964 COVID-19 cases since the start of the pandemic.
As of Monday, 96 per cent of Singapore's eligible population have completed their full vaccination regimen under the national vaccination programme.
About 78 per cent of the total population have received their vaccine booster shots.
Cases tend to increase on Tuesdays, with Mr Ong flagging in Parliament earlier on Tuesday that the day's COVID-19 caseload would be about 10 per cent higher from the previous Tuesday.
Mr Ong also said that the current COVID-19 wave would not be as severe as the Omicron wave earlier this year. 
At the peak of the earlier Omicron wave, Singapore saw about 18,000 new COVID-19 cases daily.