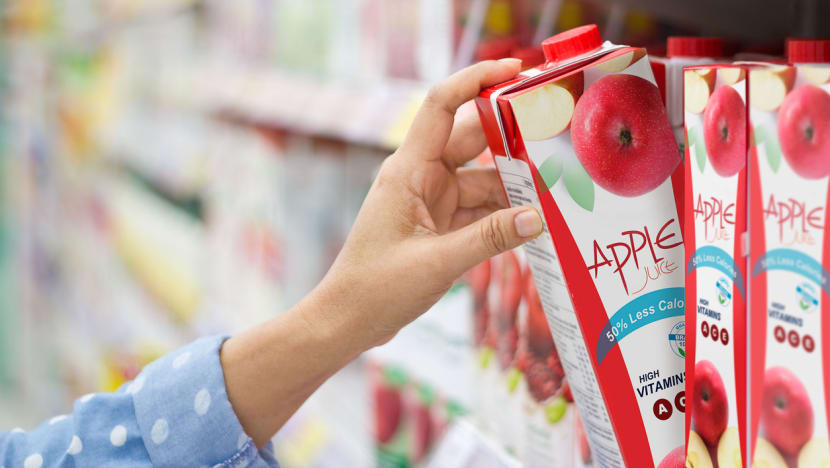 SINGAPORE: More people are purchasing healthier drinks in Singapore, ahead of the roll out of Nutri-Grade labels for pre-packaged beverages on Friday (Dec 30).
The four-level Nutri-Grade system is based on the sugar and saturated fat content in beverages. It is colour-coded: A (dark green), B (light green), C (orange) and D (red), with A being the category with the lowest sugar and fat thresholds.
Drinks that are graded C or D must have their labels on the front of the package, said MOH. If sold online, or from a vending machine or a buyer-facing automated beverage dispenser, the image of the Nutri-Grade mark must be displayed according to the regulations.
Advertisements are also prohibited for grade D drinks in most cases.
The Ministry of Health (MOH) said on Thursday that it has noted an "encouraging increase" in the sales of beverages which would have been given A or B grades, rising from 37 per cent in FY2017 to 71 per cent in FY2021. 
"There are now more healthier alternatives such as low- and zero-sugar options for sodas, Asian drinks and ready-to-drink teas. Some higher sugar juices have been reformulated through mixing with lower-sugar fruits and vegetables, or reconstituted to become a juice drink."
The ministry added that the range of healthier all-in-one coffees and teas with lower saturated fat has also increased from 24 per cent in FY2017 to 36 per cent in FY2021.
Beverages that will bear the Nutri-Grade labels include those prepacked in bottles, cans, cartons or packets; powders or concentrates such as 3-in-1 instant coffee beverages and cordials, as well as drinks dispensed from automated beverage dispensers such as fountain drinks and automated coffee machines.
Since the announcement of the grading system in 2019, manufacturers have progressively labelled their products with Nutri-Grade marks, reformulated their beverages and introduced more lower-sugar and lower-fat choices ahead of the implementation date, said MOH.
"The median sugar level of prepacked Nutri-Grade beverages has reduced from 7.1 per cent in FY2017 to 4.6 per cent in FY2021 and close to two-thirds of these beverages in the market are now graded A or B," it added.
"This is more than double compared to FY2017, where only about 30 per cent of prepacked Nutri-Grade beverages in the market would have been graded A or B."
One in five beverages in the market currently bears the Healthier Choice Symbol, said MOH. These beverages are also graded A or B.
A similar system will also apply for beverages freshly prepared by food and beverage outlets, coming into effect by the end of 2023.
This will also affect freshly brewed drinks from coffee shops, freshly squeezed juices and bubble tea.