Pre-packaged drinks must have new nutrition labels by end-2022, reflecting sugar and fat levels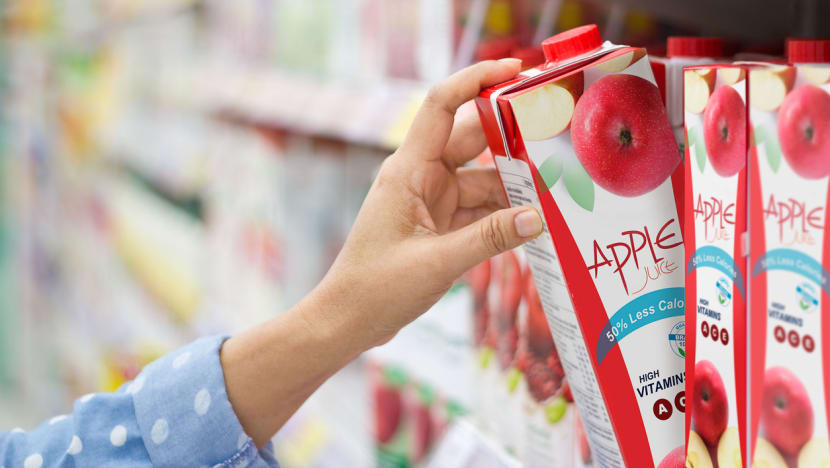 SINGAPORE: Pre-packaged beverages like soft drinks, juices and milk must carry labels reflecting a new grading system from Dec 30, 2022.
The four-level grading system, announced last year, is based on the sugar and saturated fat content in the beverages.
It is meant to help consumers make more informed choices, the Ministry of Health (MOH) said in a media release after the amended regulations were published on Thursday (Dec 30).
Called Nutri-Grade, the labels will be colour-coded - A (dark green), B (light green), C (orange) and D (red), with A being the category with the lowest sugar and fat thresholds.
The new labelling requirements will also apply to cultured milk or yogurt drinks, as well as 3-in-1 or 2-in-1 instant-powdered beverages, MOH said.
Drinks that are graded C or D must have their labels on the front of the package. If they are sold online, or from a vending machine or a buyer-facing automated beverage dispenser, the image of the Nutri-Grade mark must be displayed according to the regulations.
Advertisements are prohibited for grade D drinks in most cases.
The beverages must also carry a nutrition information panel specifying the energy value, as well as the amounts of protein, carbohydrate, fat, total sugar and saturated fat they contain.
The industry is given a year to comply with the new regulations "and reformulate their products to increase the range and variety of healthier choices for Singaporeans", said MOH.
From Dec 30, 2022, those who breach the regulations face a fine of up to S$1,000. This may be doubled for repeat offenders. 
"The new labelling requirements and advertising prohibitions complement MOH's and the Health Promotion Board (HPB)'s public education efforts to shift the market towards healthier product offerings, as part of a sustainable long-term approach to reshape consumer behaviour and choices," the ministry added.
Singaporeans consume 12 teaspoons or 60g of sugar daily on average, MOH noted. More than half of their daily sugar intake comes from beverages, of which pre-packed beverages contribute 64 per cent.
"This is a concern, and more needs to be done to reduce Singaporeans' sugar intake," it added.