Sembawang and Tampines North Polyclinics to open this year
The Ministry of Health says it is on track to have 32 polyclinics by 2030, up from 23 currently.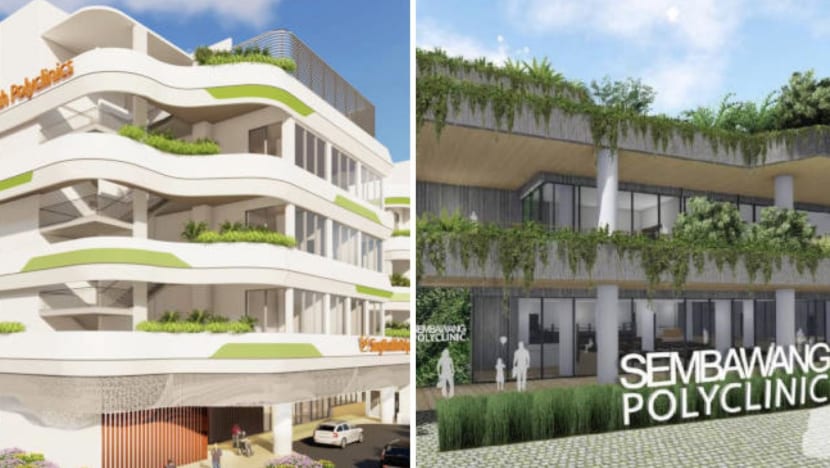 SINGAPORE: After delay, Sembawang Polyclinic will open its doors this year, along with a new polyclinic at Tampines North.
This was announced by the Ministry of Health (MOH) during its Committee of Supply debate on Friday (Mar 3).
Sembawang Polyclinic will be developed as part of the Bukit Canberra integrated hub and is located near Sembawang MRT station, while the new polyclinic in Tampines, will be located near the future Tampines North MRT station. 
In 2016, then-Health Minister Gan Kim Yong said a new primary care facility would open by 2020 in Sembawang. 
However, the opening of the polyclinic appeared to have been changed to "by 2021" in 2020, and again in 2021 to "by 2022", according to past news releases by MOH. 
In November last year, Health Minister Ong Ye Kung said Sembawang Polyclinic would be delayed by a year to open in 2023. 
In his written parliamentary response, he added that several healthcare projects had been delayed due to supply chain disruption and manpower shortages in the construction sector.
Khatib Polyclinic, which was supposed to be ready this year, was also hit with delays and is now scheduled to open next year.
In a news release, MOH said it is "on track" to have 32 polyclinics by 2030, up from 23 currently.
It also provided an update on new polyclinics as well as redevelopment plans for several polyclinics. 
Six polyclinics (Bukit Merah, Clementi, Jurong, Outram, Pasir Ris and Queenstown) will be redeveloped by 2030. The polyclinics at Bukit Merah and Outram will be consolidated into one polyclinic after the redevelopment. 
Four polyclinics (Kaki Bukit, Khatib, Serangoon and Tengah) are scheduled to be completed by 2026, while another four (Bidadari, Bishan, Taman Jurong and Yew Tee) are expected to be completed by 2030. Yew Tee was previously scheduled to be completed by 2026.