Video containing 'misinformation' about COVID-19 vaccination exercise 'a great disservice to our children': MOH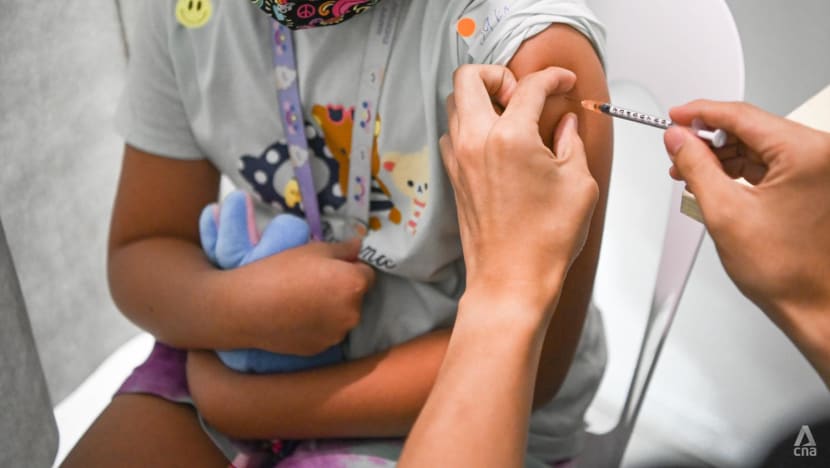 SINGAPORE: The Ministry of Health (MOH) on Friday (Dec 31) said it was aware of a video circulating on social media containing "misinformation" regarding the COVID-19 vaccination exercise for children aged five to 11. 
The video also contained "claims that the vaccine is experimental and unsafe for children", and that in the event of any severe adverse event post-vaccination, it is "not the Government's problem", said the ministry.
"This is a great disservice to our children, who need to be protected against COVID-19, especially with the impending emergence of an Omicron transmission wave," said MOH in a Facebook post. 
Singapore approved the Pfizer-BioNTech vaccine for children aged five to 11 earlier this month and began administering jabs on Monday. 
MOH added the vaccine has been approved by several regulatory authorities around the world, based on data collated through "comprehensive international clinical trials". 
It said that during Phase 3 of these trials, the vaccines were administered to more than 2,000 children of the age band, with no serious vaccine-related adverse events observed. 
"Since then, millions of children have received the vaccination, with a recorded incidence rate of about 1 in a million for myocarditis, which is one of the serious adverse events of greatest concern," said MOH. 
Myocarditis is a type of inflammatory condition that affects the heart muscles. Occurrences of myocarditis after the second dose of mRNA COVID-19 vaccines have been observed in Israel and the United States, as well as a small number of cases in Singapore. 
Other side effects such as fever, chills, fatigue and headache were reported less frequently and were milder in children aged five to 11 than in adults and adolescents, said MOH on Friday.
VACCINATION "VERY EFFECTIVE" IN PREVENTING ADVERSE COVID-19 OUTCOMES
MOH said while the great majority of children infected with COVID-19 experience mild symptoms and recover well, a small number suffered from multisystem inflammatory syndrome in children (MIS-C), a serious and life-threatening condition. 
"Vaccination for children will be very effective in preventing such adverse outcomes from COVID-19 infection," said MOH. 
The Health Ministry added that these are some of the key considerations that led to the authorities to conclude that the vaccine is "safe and efficacious", after reviewing international studies and clinical data, and that the benefits of vaccination for children outweigh the risks.
In the "unlikely" event that a child experiences serious side effects that are assessed to be related to the vaccine, the child will be eligible for the Vaccine Injury Financial Assistance Programme, so long as they are Singaporeans, permanent residents or long-term pass holders.
VIDEO "DISTORTED" PURPOSE OF VACCINATION CONSENT FORM
The video also distorted the purpose of the vaccination consent form, said MOH.
The consent form is to obtain the informed consent of the parent or guardian for the child or ward to receive the vaccine, after having reviewed and considered the risk of the vaccination as outlined in the accompanying vaccination information sheet. 
"This practice of obtaining informed consent is consistent with what is done for other medical procedures, including childhood vaccinations, such as Measles, Mumps, Rubella (MMR), Diphtheria, and Tetanus," said the Health Ministry. 
It added that the video also "falsely exaggerates" the dangers and potential long-term side effects of COVID-19 vaccines for young children, and seeks to discourage parents from having their children vaccinated. 
Parents were strongly encouraged to have their children vaccinated if they are medically eligible, so as to reduce the risk of COVID-19 infection and severe illness, as well as to keep their families and the wider community safe. 
"Remember, COVID-19 does not make you sign consent forms, does not inform you of the risk of infection, nor offer injury assistance. It will just infect and harm us.
"The fact that the Government is taking all these steps does not mean vaccines are therefore dangerous. They are good and correct policy and administrative practices," said MOH. 
"It is up to us as a society to implement and support the right public health policies, and as individuals, to take care of ourselves and of one another, to keep our society and children as safe as possible," the Health Ministry added.
Members of the public were advised to not speculate or spread misinformation which may cause public alarm, and to refer to credible sources of information instead. 
They can visit the MOH website for the latest information on COVID-19 and COVID-19 vaccinations. More information on the vaccination exercise for children aged five to 11 is also contained in this FAQ.