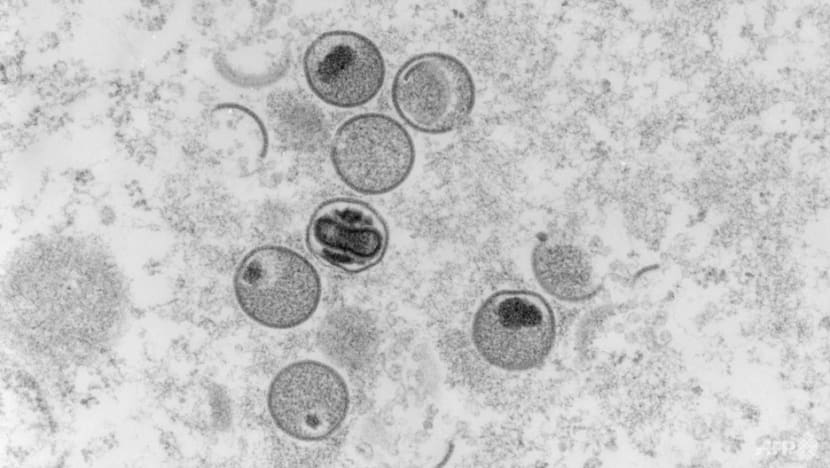 SINGAPORE: The Ministry of Health (MOH) is evaluating the need for monkeypox vaccination for some healthcare and laboratory workers who are at higher risk of exposure to the virus due to their jobs, but it is not recommending inoculation for the general population.
Senior Minister of State for Health Janil Puthucheary said this on Monday (Jul 4) in a written reply to parliamentary questions about the disease, which has been spreading around the world. 
In Singapore, the Health Ministry confirmed one imported case of monkeypox last month in a British national who works as a flight attendant.
MP Ng Ling Ling (PAP-Ang Mo Kio) asked how the Health Ministry is planning to step up preventive measures, and whether it will consider encouraging limited vaccination for more vulnerable groups such as frontline staff and elderly residents. Two other MPs also asked about prevention measures and vaccination.
Dr Puthucheary said that those who may directly and frequently work with infectious monkeypox cases or specimens can effectively reduce the risk of transmission through the proper use of personal protective equipment and taking infection control practices.
"For this group, MOH is also evaluating vaccination for protection before potential exposures on a case-by-case basis," he added.
Unlike COVID-19 vaccination, mass population-wide vaccination with the smallpox vaccine is not recommended as a preventive strategy for monkeypox, Dr Puthucheary said, adding that this is in line with international recommendations and the global response thus far.
Although the smallpox vaccine is up to 85 per cent effective at preventing monkeypox, it has potentially severe side effects. 
"For the general population, the risks of complications outweigh the benefits, because they are at low risk of being infected," Dr Puthucheary said.
"Exercising personal responsibility to avoid high-risk activities, especially when symptomatic, and practising good personal hygiene remain effective at reducing the risk of transmission in the general population."
He advised the public to monitor their personal health and maintain good hygiene, especially during travel. They should also avoid close contact with people known or suspected to be ill with monkeypox infection.
In response to a question from MP Zhulkarnain Abdul Rahim (PAP-Choa Chu Kang) on the risk factors of being infected, Dr Puthucheary said that from Jan 1 to Jun 22 this year, the World Health Organization (WHO) has reported more than 3,400 confirmed cases of monkeypox from 49 countries, including the one imported case in Singapore.
However monkeypox is unlikely to become a global pandemic like COVID-19, as transmission requires close or prolonged physical contact with infectious persons or contaminated material, said Dr Puthucheary.
The WHO has also determined that this outbreak is not a Public Health Emergency of International Concern.
Dr Puthucheary explained that monkeypox is typically a "self-limiting illness" where patients recover within two to four weeks. A small percentage of those infected can fall seriously ill or even die, and those particularly vulnerable to complications are young children, pregnant women or immunocompromised individuals.
Data from the current multi-country outbreak indicated that in Europe, where the majority of recent cases were reported, 99 per cent of the cases were men, and many have self-identified as men who have sex with men. 
"Given that sexual contact with infected individuals appeared to be the main driver of the current monkeypox outbreak, and that transmission requires close physical or prolonged contact, the risk to the general public remains low," he said.
To further supplementary questions on this raised by Mr Zhulkarnain in Parliament on Tuesday, Dr Puthucheary said that there is no current evidence to suggest that the disease is sexually transmitted.
"While the reported population does appear to be disproportionately men, and men who self-identify as men having sex with men, there is no specific advice for that community over and above the general advice," he said.
"As with all similar diseases, the personal responsibility around hygiene and your own state of health continue to apply and are extraordinarily important in preventing further spread of this disease."
Dr Lim Wee Kiak (PAP-Sembawang) asked what measures are in place to detect the disease at Singapore's borders and what else Singapore will be doing if the virus spreads here. 
MOH has developed protocols and processes to manage monkeypox, and these have been applied to the recent imported case reported on Jun 21, said Dr Puthucheary in the written reply.
He added that similar to the management of other emerging infectious diseases, the key to controlling the spread of monkeypox is early diagnosis and isolation of the case, contact tracing and monitoring of close contacts, and placing them in quarantine if necessary.
Travellers have to declare relevant symptoms using the electronic Health Declaration Card on arrival for early detection of cases and those with symptoms will be referred for further assessment. 
To reduce spread, cases are isolated in hospital. Their close contacts will be quarantined for up to 21 days from the last date of exposure and offered smallpox vaccines to reduce their risk of infection or severe symptoms. 
MOH has also provided regular updates to all medical practitioners and healthcare institutions on the monkeypox situation, including guidance and protocols on the criteria for identifying suspect cases as well as the subsequent management of confirmed cases.
Dr Puthucheary urged individuals to see a doctor promptly if they develop symptoms, and to isolate themselves from others.
"MOH will continue to monitor the monkeypox situation closely and calibrate our preparedness and response measures as needed," he said.
"Members of the public are encouraged to keep up to date with the Government's advisories."