Tudung-wearing Muslim nurses must keep forearms bare for patients' safety, says MUIS in fatwa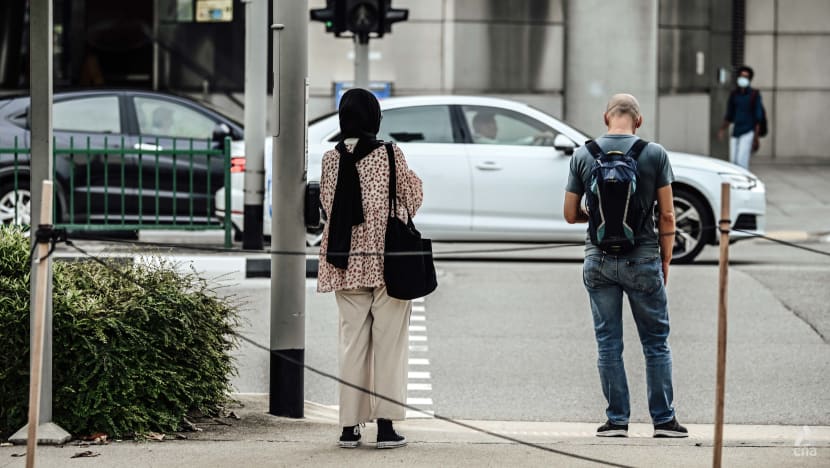 SINGAPORE: Muslim healthcare workers who choose to wear the tudung will have to comply with clinical and safety requirements at the workplace, such as keeping their forearms free from clothing to reduce the risk of infection. 
This is in accordance with a fatwa or religious guidance issued on Tuesday (Oct 26) by the Islamic Religious Council of Singapore (MUIS), ahead of changes that will allow Muslim nurses in the public healthcare sector to wear the headscarf at work from November. 
In the fatwa, MUIS said it had received several questions about the specifics of wearing the tudung in clinical settings.
It noted that all Muslims who have reached puberty are religiously obligated to cover their aurat, or modesty. For women, this typically includes all parts of the body except for their hands and face. 
It acknowledged, however, that there are situations in which Muslim women would not be able to fully cover themselves in such a way, especially in the uniformed services.
"In the healthcare sector, the COVID-19 pandemic has reinforced the dangers of infection which can cause widespread harm," said MUIS in the fatwa. 
"For nurses in particular, the risk of infection is very serious and poses a danger to both nurses and patients."
MUIS noted that the Health Ministry has put in place clinical guidelines for wearing the tudung on duty, including the "Bare Below the Elbow" policy.
"This policy states that hands and arms up to the elbow should be exposed and free from clothing or any jewellery. Sleeves should be short or rolled up securely up to the elbow in order to allow access to the wrist for good hand hygiene technique," said MUIS. 
All healthcare workers are required to comply with this policy when interacting with patients or when "likely to touch the immediate patient environment", it said. 
Healthcare authorities in other countries, including the National Health Service in the United Kingdom, have introduced similar policies that are aimed at preventing the spread of infection via contaminated clothing. 
MUIS also noted that there are religious views which allow for women's arms to be exposed when necessary.
"In situations when the headscarf is required to be replaced with other forms of head coverings (such as surgical caps worn in the operating theatre), or when it needs to be removed due to clinical or other safety-related requirements, this too is permitted," it said. 
"These considerations permit the flexibility for Muslim officers to make some adjustments without impacting work performance, whilst continuing to serve professionally, securing good and avoiding harm, and displaying positive work ethics in service."
"CONSIDERED JUDGMENTS" FOR OTHER SERVICES
Although Muslim nurses will be allowed to wear the tudung at work, restrictions will remain in other areas where uniforms are required - such as the Singapore Armed Forces and Home Team agencies including the police.  
Prime Minister Lee Hsien Loong had explained in August that these agencies must be seen to enforce the laws of Singapore without fear or favour, describing them as the "impartial and secular arms of the State". 
MUIS said that in these uniformed services, employees should make their own "considered judgments", based on work policies as well as reasons like the need to work and serve the community and the country. 
"They are in a much better position to weigh their specific circumstances, and form their own decisions based on the principles and values of the Shariah (religious law)," it said. 
MUIS said that certain religious principles allow for women to stay in jobs that enable them to sustain themselves and protect the stability of the country, even if they are unable to wear the tudung. 
"In view of this position, our community should not coerce Muslim women to wear the tudung whilst working or look down on those who do not do so. On the contrary, the community should pray for their well-being, and for them to be able to fulfil this religious obligation as best as possible," it said.