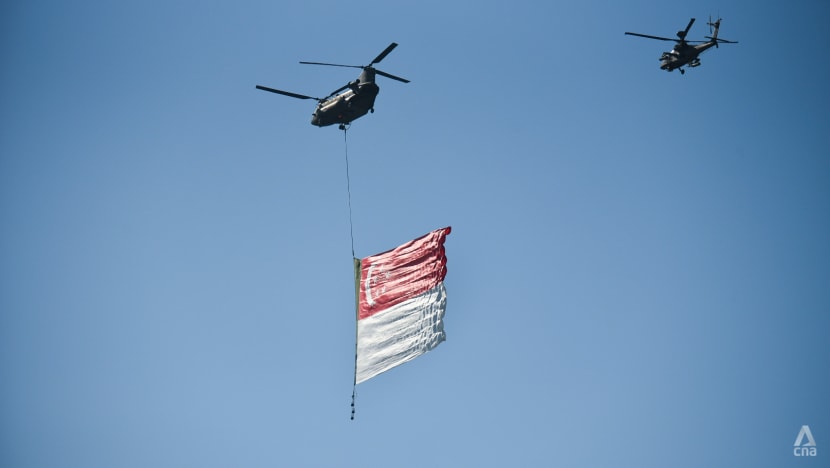 SINGAPORE: The National Day Parade (NDP) next year will be held at the Padang, Defence Minister Ng Eng Hen said on Saturday (Jul 9).
This year's NDP will be the final one to be held at the Marina Bay floating platform, with the National Stadium potentially hosting the celebration in 2024, Dr Ng told reporters after an NDP rehearsal.
"For next year, we're going to do it at the Padang ... following that, I would like to do it at the National Stadium. And now that management is more predictable and stabilised, I think we will be able to do it," said Dr Ng.
"I look forward to many more NDPs that Singaporeans can celebrate together."
The Marina Bay floating platform was built in 2007 as a temporary stage while the National Stadium was being reconstructed.
It will be replaced by the NS Square, a permanent space that will serve as the primary venue for future NDPs and also function as a multi-purpose space for community activities.
Works on NS Square were pushed back by a year due to the COVID-19 pandemic. They have been rescheduled to start in March 2023 and are expected to be completed by the end of 2026.
"I must say, I'm very nostalgic about the floating platform. If you look at it, it is a heaven's dream for any show producer," said Dr Ng, noting the venue's ability to incorporate Chinook helicopters, fighter jets and divers into the show.
"I don't think you can ask for a better location," he added.
The last time the NDP was held at the Padang was in 2019.
A downsized parade was also held there amid the COVID-19 pandemic. It was a smaller event dedicated to frontline workers. 
The National Stadium last hosted the NDP in 2016. It was announced last month that government agency Sport Singapore will take over the ownership and management of the Singapore Sports Hub, which includes the National Stadium, from Dec 9.
NDP celebrations this years will also extend to the heartlands, as they did in previous years when the COVID-19 pandemic prevented full-scale shows from happening.
"There will be Red Lions, there will be heartland celebrations," said Dr Ng, adding that fighter flypasts will also take place.
"I would like to continue to keep it because I think this is one way that we can reach out to more Singaporeans to celebrate National Day."