NDR 2021: More foreign investments among requirements for Singapore to sustain longer-term growth, says PM Lee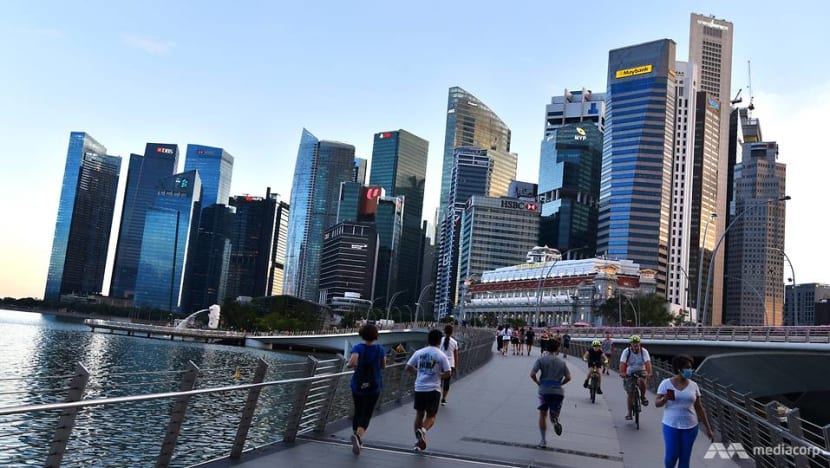 SINGAPORE: Singapore must preserve its business hub status, attract more foreign investments, and continue to develop local companies and entrepreneurs in order to sustain growth in the long run, said Prime Minister Lee Hsien Loong on Sunday (Aug 29).
In his National Day Rally speech in English, Mr Lee said Singapore has survived its worst economic crisis since independence by drawing on "every available resource to support workers and companies and emerge stronger".
The local economy shrank 5.4 per cent last year due to COVID-19, but has since been on the mend with gross domestic product expanding 7.7 per cent year-on-year for the first six months of 2021.
It is time to change gears now with the pandemic under control, and it must "refocus on the future".
"It is no longer about drawing down reserves to keep ourselves on life support. It is about generating new growth, new jobs and prosperity for the future," said Mr Lee.
He noted that the global economy is picking up, with Singapore's major markets like the United States and China growing strongly, as well as Europe seeing a recovery.
That is why the Ministry of Trade and Industry has raised the country's growth forecast for 2021 to a range of 6 to 7 per cent, compared with the previous projection of 4 to 6 per cent.
Moving forward, Singapore will need to focus on three things in order to sustain longer-term growth.
PRESERVING BUSINESS HUB STATUS
First, Singapore's status as a business hub must be preserved.
Mr Lee noted that many multinational corporations (MNCs) use Singapore as their regional base, with both local and foreign employees flying in and out of Singapore to visit operations in other countries.
The same applies to local businessmen, he added.
"If our borders stay closed for too long, MNCs will find us less useful. Singaporean businesses will also suffer and our economy will be permanently damaged," said the Prime Minister. 
"So it is important for us to open up soon and allow more people to travel in and out of Singapore in a safe way."
REMAIN ATTRACTIVE TO INVESTORS
Second, Singapore must remain attractive to investors and the Economic Development Board (EDB) has continued to persuade major companies to invest in the country even during the pandemic.
One of them is BioNTech, which partnered Pfizer to develop the COVID-19 vaccine that is used here. The German biotechnology firm has said that it will set up its regional headquarters and a manufacturing facility in Singapore.
Other companies include semiconductor manufacturer GlobalFoundries which is building its sixth wafer fab, as well as video-conferencing services provider Zoom that has opened a new research and development centre here.
EDB has more projects in its pipeline and all these investments will create many good jobs for Singaporeans, Mr Lee said.
GROWING LOCAL FIRMS, ENTREPRENEURS
Third, Singapore companies must make their mark in the new economy.
A few such as used car marketplace start-up Carro, gaming chair manufacturer SecretLab and online classifieds marketplace operator Carousell have become global names, said Mr Lee.
"Enterprise Singapore is supporting more entrepreneurs to follow in their footsteps, go out into the world, seize new opportunities and grow their businesses," he added.
Mr Lee also cited the example of Hegen, a home-grown company selling baby bottles and equipment.
Given the small market in Singapore, Hegen's founder Yvon Bock decided to expand overseas right from the start and the company has since gained traction in markets like China, Korea and even Israel, he said. When the pandemic meant that many of its physical retail channels had to be shut down, the company shifted to marketing online.
"(Ms Bock) improved her websites, conducted livestreams in multiple languages and hired more staff to fulfil orders," Mr Lee said, noting that online sales now form the company's main engine of growth.
"The Government will create the conditions for entrepreneurs like Yvon to start and grow their companies," the Prime Minister said.
But subsidies and grants can "only go so far". 
"Ultimately, it is their own resolve and resourcefulness which will secure their success," he added.