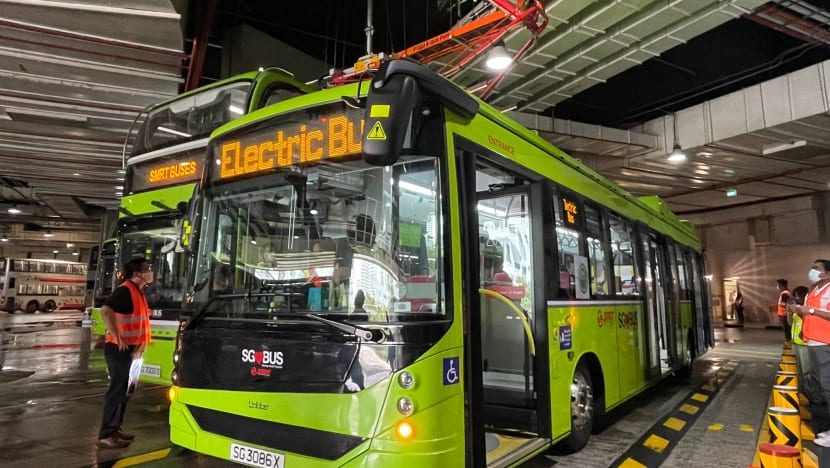 SINGAPORE: A new fleet of 20 fast-charging electric buses will be progressively rolled out for passenger service from Wednesday (Aug 25), amid a wider push towards greener transport.
It is the final batch to be deployed out of the 60 electric buses the Land Transport Authority (LTA) purchased in 2018 for S$50 million from three suppliers. This new fleet is from ST Engineering Mobility Services.
The single-deck vehicles will also be the first electric buses in Singapore to come with three doors, meant "for better commuter flow".
Accommodating about 83 people each, the buses will be deployed for services 38, 40, 176 and 976.
PANTOGRAPH CHARGING
Unlike the previous 40 electric buses that use plug-in charging, these new ones will use pantograph chargers - or overhead chargers, which provide faster charging. 
Electric buses pull up into dedicated berths, where pantograph chargers mounted overhead will be lowered once activated by the driver. 
The buses will then be charged at a power rating of up to 450kW during their short layover times of 10 to 15 minutes at interchanges.
On such a charge, the buses will be able to travel about 48km, which more than covers the longest route they will be deployed on - service 176 - which spans 43km across a return trip. If charged for 30 minutes, they can travel up to 130km.
This charging method is faster than plug-in charging, which requires buses to be charged at between 90kW to 150kW for two to four hours overnight. Four pantograph charging stations are located across Bedok And Bukit Panjang Bus Interchanges under an electric vehicle charger regulatory sandbox.
EASIER ACCESS AND QUIETER RIDES
To allow easier access for those with strollers, for instance, the front doors of these buses will not have a pole in the centre, unlike existing buses, said LTA.
Wheelchair users can continue to board and disembark from the middle door.
Similar to other electric buses, those in the new fleet will also be quieter than conventional diesel buses.
The roll-out comes as Singapore plans to have a cleaner energy public bus fleet by 2040. The country currently has about 5,800 buses in total.
On a visit to Bukit Panjang Bus Interchange to view the new fleet, Transport Minister S Iswaran said one challenge of achieving this goal is dealing with the existing fleet of diesel-fuelled buses.
"They have a certain life cycle, and if you depreciate them or you take them out of service too early, it's wasteful economically; and at the public transport level, we'll have to bear that cost. We have to trade that off against the desire to achieve a cleaner energy bus fleet sooner," he said
The move to roll out new electric buses is therefore significant, "not so much in the number of buses, as much as in the kind of solutions that are being tried out", Mr Iswaran added. 
"Because once LTA and other stakeholders have a better sense - based on data and the technology - of how this is evolving and how it can be applied in our context, then I think we can scale up with a lot more confidence," he said. 
"So right now, I would say that this is a key phase where the numbers may not be large, but in terms of the data and information in review - that will inform our future procurement decisions."
Trying out different types of charging systems, Mr Iswaran added, is also important because "it may well be that we will have to consider using a combination of these technologies".
Providing an update on the outcomes of earlier roll-outs of electric buses, Mr Iswaran said these vehicles have achieved "about 50 per cent operational cost savings on a per kilometre basis", which is "quite significant" - on top of other benefits such as noise reduction.
He added that "the experience so far has been that it performs to the specifications that have been given by the manufacturers".
"So when you put it together, what it means is the initial effort with the electric buses has basically been performing to expectations.
"And that is good because what it means is it can support our decisions for future procurement," he said.