New 'digital twin' for national power grid to better manage Singapore's electricity supply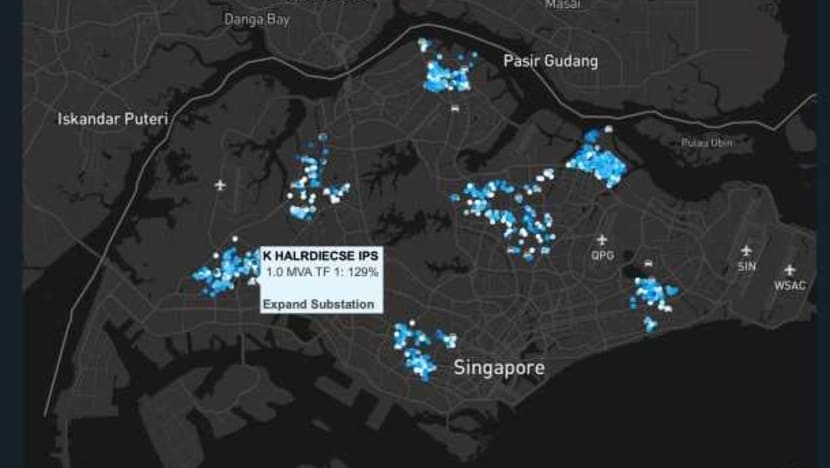 SINGAPORE: Singapore is developing a "digital twin", or a computer replica, of its power grid assets and network, to improve the reliability of its electricity supply and support the deployment of cleaner energy sources.
Created in collaboration with government agencies, industry players and research experts, the large-scale digital twin will give authorities a more comprehensive overview of the country's power grid assets and network.
It comprises two key models that can assess the health of power grid assets and the impact of connecting new energy sources and consumers to the grid.
In a joint release on Wednesday (Oct 27), the Energy Market Authority (EMA) and SP Group said the digital twin is currently in a prototype stage.
Research and development work is expected to be completed by 2023 and the digital solution will be progressively deployed, according to SP.
"When fully deployed, it will enable SP to better plan, operate and maintain the national power grid through modelling and simulations so that the actual works can be carried out in a more effective and efficient way," said EMA and SP.
Through the digital twin, authorities will be able to remotely monitor the conditions of power grid assets such as substations, transformers, switch gears and cables in real-time.
This will allow them to identify potential risks in grid operations early and reduce the need for extensive physical inspections, saving manpower resources, said EMA and SP.
Different potential scenarios can also be tested using the digital twin.
"We can then effectively test potential upgrades and enhancements, and future-ready innovations such as the projects under the SP Group-NTU Joint Lab to support our ambition to empower the future of energy," said Stanley Huang, group CEO of SP Group.
The digital twin will also be able to run models and simulations to determine the impact of additional loads, such as the charging of electric vehicles and the connections of solar photovoltaic and energy storage systems on the grid.
This will help to facilitate the planning of infrastructure for different needs, the release said.
SUPPORTING DEPLOYMENT OF CLEANER ENERGY
The digital twin will also help to support Singapore's energy transition, by future-proofing the country's power grid and ensuring that it is well-equipped to manage complexities while maintaining the reliability of grid operations.
Currently, the national power grid comprises more than 18,000 transformers, with more than 27,000km of underground cables interconnecting over 11,000 substations.
However, with increasing electrification and Singapore looking to deploy more distributed energy resources, the country's power grid operations are expected to become more complex.
"With the pressing need to tackle climate change, the power grid needs to evolve to support a more complex power system that will connect to more diverse sources of cleaner energy as well as a growing network to meet rising demand," said EMA's chief executive Ngiam Shih Chun.
Singapore is planning to quadruple its solar capacity to 1.5 gigawatt-peak (GWp) by 2025, before rising to 2 GWp by 2030. This is expected to meet about 4 per cent of Singapore's current electricity demand.
The country also previously announced that it would install 60,000 electric vehicle charging points by 2030, as part of efforts to boost the adoption of electric vehicles and phase out petrol and diesel vehicles by 2040.
It comes as Singapore races to meet its target of halving its 2030 peak greenhouse gas emissions by 2050, with a view to achieve net zero emissions as soon as viable in the second half of the century.