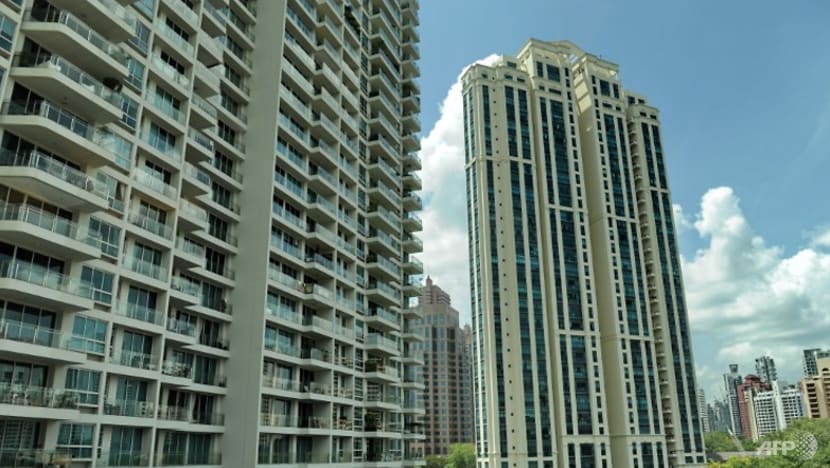 SINGAPORE: Sales of new private homes fell 22.5 per cent last month, according to data from the Urban Redevelopment Authority on Tuesday (Mar 15). 
Excluding executive condominiums (ECs), developers sold 527 units in February, down from 680 for January. 
Most of these were in the Rest of Central Region (RCR), where 266 units were sold. There were 160 units sold for Outside Central Region (OCR), and in the Core Central Region (CCR), 101 units were sold. 
Ms Christine Sun, senior vice-president of research and analytics at OrangeTee & Tie, noted that on a year-on-year basis, new sales excluding ECs declined by 18.3 per cent from the 645 units sold in February last year. 
"The private residential market is reeling under a triple whammy of cooling measures, declining housing supply and global uncertainties from the Russia-Ukraine conflict," said Ms Sun.
She also pointed to other challenges faced by property buyers, such as rising interest rates, property tax hikes from next year and fewer home options, given a smaller slate of project launches this year. 
Developers launched 194 units in February - a slight increase from the 178 units launched the month before. 
Of these, 167 units were launched in the RCR while the rest were in the CCR. 
"February is usually a slow month for developer sales because (Chinese New Year) tends to fall in the month," said Huttons Asia's senior director for research Lee Sze Teck.
Noting February was the second month where the launch volume was lower than 200 units, Mr Lee said last month marked the third lowest launch volume for February since URA began providing data.
"The only launch in February, Royal Hallmark, did reasonably well - selling almost one-third of its units against the backdrop of cooling measures in December 2021 and some uncertainties created by the war in Ukraine," he added. 
"One positive takeaway from February sales was that the proportion of transactions (that were) S$2 million and above ... stayed at the same level before the cooling measures," said Mr Lee. 
"This means that affordability remained unchanged despite the cooling measures, as there remains ample liquidity in the market."
Mr Mohan Sandrasegeran, research and content analyst at Ohmyhome, said market sentiment for the private new sales market is likely to "remain positive in the coming months". 
"We expect new sales to be in the range of 2,000 to 2,300 in the first quarter of 2022," he said. 
OrangeTee & Tie's Ms Sun said that there could be a revival in demand for safe-haven purchases as "war tensions continue to escalate". 
She said: "Looming uncertainties may instead benefit our real estate market as investors shift their focus back to defensive asset classes like properties."