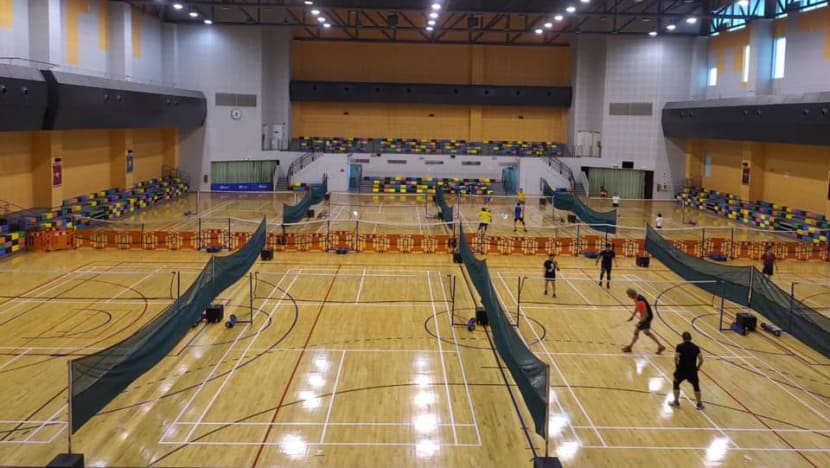 SINGAPORE: S$20 million will be committed to a plan to reinvigorate Singapore sports, bring people back to play sports, as well as reconnect with one another, announced Minister for Culture, Community and Youth Edwin Tong on Thursday (Mar 10).
The plan, called Bring Sport Back, will focus on three key elements, said Mr Tong during his ministry's Committee of Supply debate.
It aims to safely reintroduce mass participation events for all through more community events and sports festivals, he said.
To facilitate this, SportSG will be opening a grant call to fund such mass participation events at up to S$50,000 per award.
These events will target physical participation of 1,000 to 3,000 people each, subjected to prevailing safe measurement measures and will be augmented with virtual participation, said the Ministry of Culture, Community and Youth (MCCY) in a factsheet.
The open grant call will be rolled out from this month and is intended to support about 40 events or festivals over the year. Applications will be open for four weeks, the ministry added.
ALLOWING MORE TO PARTICIPATE
The plan will also aim to ramp up community participation in sports through "enhanced programming" and more group activities, said Mr Tong.
Currently, more than 170 facilities have already resumed 5v5 team sports, he noted.
"We are working on resuming larger team sports capacities across more facilities around Singapore, bringing back to full capacity in several phases," Mr Tong said.
"We will roll out more leagues and competitions for people of all ages under the ActiveSG umbrella. These include the ActiveSG Cup launch, and ActiveSG Leagues for athletics, badminton and canoeing."
These new ActiveSG Cup and leagues will provide playing opportunities for about 22,000 participants through FY2022, added MCCY.
ActiveSG academies and clubs will also increase the capacity of "high-quality programmes", to strengthen sport development, social integration, health and wellness, as well as to inculcate values, said Mr Tong.
These include new programmes and practice zones for street dancing and more offerings for ActiveSG badminton, gymnastics and table tennis academies, the ministry said.
The former will provide opportunities for about 10,000 participants, while the new academy offerings will reach about 2,500.
The new plan will also aim to optimise facilities and spaces in order to encourage people to return and play together, said Mr Tong.
"These spaces will be community-driven, serving the unique needs of our different neighbourhoods. These include repurposing spaces for a range of sports, and converting underused spaces into outdoor gyms," he explained.
"We hope that these measures will encourage Singaporeans to resume sporting and wellness activities safely."
MORE INCLUSIVE OPPORTUNITIES
Mr Tong also announced a new academy for para sports - the Para Sport academy - that will aim to create more opportunities for people with disabilities to pursue their sporting ambitions at a competitive level.
​​"I spoke during the earlier parliamentary motion last year about the unique ability of sports to enhance an individual's own self-confidence, and to transform community attitudes towards a person with disability," he said.
"Sports is one arena where we can, and indeed we should, level everyone up. Through sports, we can empower persons with disabilities in deeply profound ways to help them realise their full potential, and raise their visibility and prominence in society."
Mr Tong noted that the stories of many para-athletes attest to the value of sports in Singapore, playing a "pivotal" part in building an inclusive society. 
"The Para Sport Academy will bring us ... one step further along this journey, ensuring our para-athletes have an equal platform and as much opportunity as any other, to scale the pinnacle of sporting excellence," he said.
SPORTS GOING GREEN 
In line with the Singapore Green Plan 2030, a national movement unveiled last year to advance the national agenda on sustainable development, the Sport Green Plan was also announced by Parliamentary Secretary for Culture, Community and Youth Eric Chua.
The plan includes greener infrastructure and sports precincts, such as the first Green Mark SLE Platinum sport facility in Punggol Regional Sport Centre by 2024.
All SportSG-supported events will also attain green certification by next year, said Mr Chua.
The Sport Green Plan will also provide platforms for Singaporeans to participate in the 3Rs – reduce, reuse and recycle, said MCCY. For one, plans are underway to expand a shoe waste collection programme to include other sports equipment by 2025.
SportSG is also exploring initiatives to recondition sport equipment to expand their lifespan and reduce demand on resources for new ones.