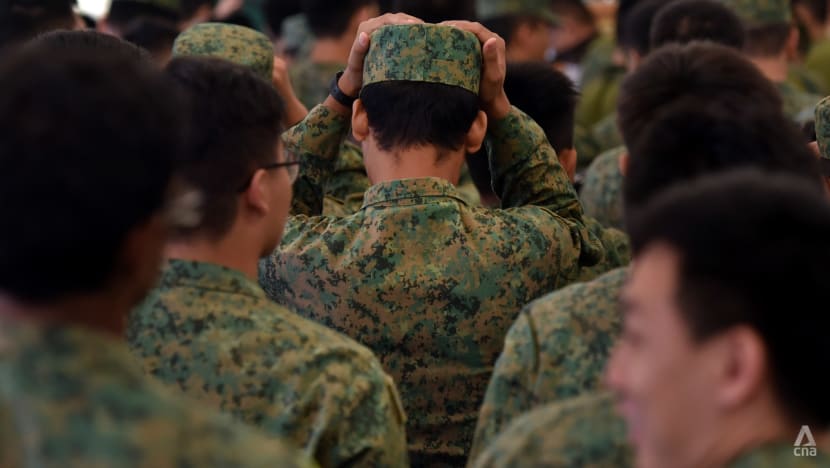 SINGAPORE: National servicemen (NSmen) are free to decide how they want to use their S$100 of NS55 digital credits, said the Ministry of Defence (MINDEF) on Saturday (Jul 9). 
The ministry was responding to CNA's queries after a TikTok video went viral earlier this week, demonstrating how the credits can be exchanged for cash using the PayNow option at Sheng Siong's simple teller machines.
The digital credits are part of the NS55 Recognition Package that is meant to thank past and present NSmen for their contributions to Singapore's defence and security, as Singapore marks 55 years of National Service.
They will be disbursed to eligible NSmen throughout July. 
The NS55 credits are recognised at merchants that accept PayNow UEN QR or NETS QR, including supermarkets, retail and F&B outlets, as well as hawkers and online merchants, said a MINDEF spokesperson on Saturday. 
"This arrangement provides our national servicemen with flexibility and potential added benefits in the use of their NS55 credits. It also supports our businesses.
"National servicemen are free to decide how they would like to use the credits. Those who plan to encash them at merchants with such functions may wish to consider whether they might incur extra fees." 
Sheng Siong's simple teller machines, for instance, charge a S$0.20 service fee for each PayNow transaction.
Some merchants may offer additional discounts when the NS55 digital credits are used, said the MINDEF spokesperson on Saturday. 
NSmen can also choose to use the credits to make payments to government agencies and educational institutions or donate their credits to charities online, as long as these organisations accept payment via PayNow UEN QR or NETS QR, the spokesperson added.
As with other NS credits, the NS55 digital credits cannot be withdrawn from SoCash.
Instead, NSmen will need to access their LifeSG mobile app to redeem the digital credits. 
However, hardcopy vouchers can be provided to those who have "exhausted all means of assistance" but are still unable to access or redeem their credits via the LifeSG app, MINDEF said in June.
These NSmen can contact the NS55 Call Centre at 1800-723-6755 or contactus [at] ns55.com.sg to request vouchers.
Those who need help accessing the LifeSG mobile app to redeem their credits can visit any of the SAFRA or HomeTeamNS clubhouses, or the Infocomm Media Development Authority's SG Digital Community Hubs. 
When credits have been successfully spent, there will be a payment success screen at the end of each transaction. NSmen can also view their credit balance and past transactions on the LifeSG app.
A non-exhaustive list of the merchants and collaborations for NS55 is available at go.gov.sg/ns55rp-merchants. 

Editor's note: This article has been updated to clarify that all NS credits cannot be withdrawn from SoCash.