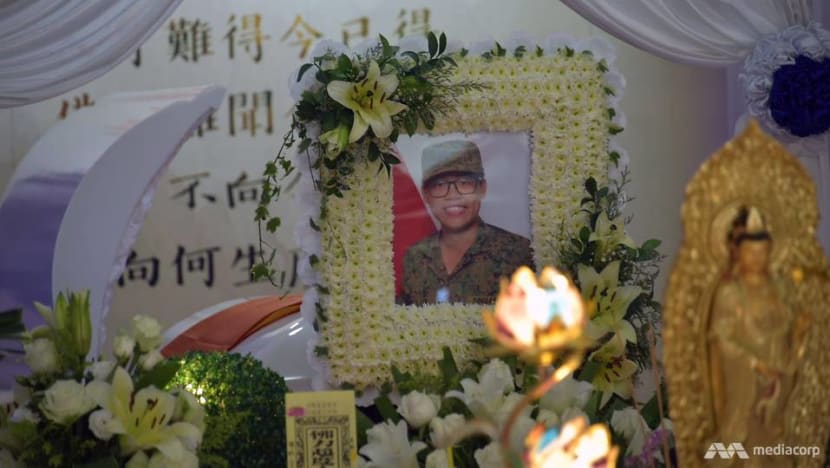 SINGAPORE: A Singapore Armed Forces (SAF) officer was charged in court on Wednesday (Oct 31) with causing the death of full-time national serviceman (NSF) Dave Lee Han Xuan by a rash act not amounting to culpable homicide.

Corporal First Class (CFC) Lee died on Apr 30, aged 19, two weeks after he suffered a heat stroke at Bedok Camp following the completion of an 8km fast march.

According to the charge sheet, Captain (CPT) Tan Baoshu, 30, was the Officer Commanding of Support Company, 1st Guards Battalion, and the supervising officer of the fast march conducted on Apr 18 between 6.30am and 8.25am.
He was charged with causing the death of CFC Lee by failing to evacuate him in a timely manner and "disallowing the administration of the necessary treatment to CFC Lee, thereby causing the death of CFC Lee from heat stroke".

CPT Tan faces a maximum jail term of five years, a fine, or both if found guilty.
He did not indicate whether he intends to plead guilty or claim trial, and will be back in court on Nov 28.
He is out on bail of S$10,000.

"CPT Tan has been suspended from service pending the outcome of the court proceedings," said the Ministry of Defence (MINDEF) in a statement on Wednesday.

MINDEF said in an earlier statement that CFC Lee was evacuated to the medical centre after the fast march. An SAF medical team attended to him, and he was subsequently taken to Changi General Hospital, where he was warded in the intensive care unit.
The Singapore Police Force has referred six other SAF servicemen involved in the incident to the MINDEF for investigations.
In a statement on Wednesday morning, the ministry said it takes the safety of its servicemen seriously.
"SAF personnel who conduct unauthorised activities, or who wilfully or negligently fail to comply with training safety regulations, will be severely dealt with and prosecuted under military law by way of summary trial or general court martial, or under criminal law before the civil courts," said the statement.