'Help Neighbour': Feedback via new OneService app feature alerts agencies to residents in need
SINGAPORE: About 40 per cent of the feedback received via a new feature in the OneService app were new instances of potentially vulnerable people. 
The Help Neighbour feature, which allows residents to alert social service agencies to people who may be in need, was piloted on Jun 30. 
A total of 58 instances of feedback were received, with about 60 per cent of the cases already known to agencies, Senior Minister of State for National Development Sim Ann said on Thursday (Sep 2). 
"This means 40 per cent were new cases being added to the agencies' radar," Ms Sim wrote in a Facebook post. 
The Help Neighbour feature is a collaboration between the Ministry of Social and Family Development (MSF), Municipal Services Office (MSO) and Agency for Integrated Care (AIC).
Residents are able to alert social service agencies without needing to remember the specific agency or hotline to contact, they said in a joint press release on Thursday. 
Feedback submitted via the feature will allow AIC, MSF and their partners to locate and reach out to persons in need more quickly through geotagged data.
DIRECT CHANNEL TO AGENCIES
When feedback is submitted, it will be channelled to the relevant agency to engage the person in need and provide the necessary assistance.
The collected information will only be shared with the agencies and their partners, and not with the public. 
"The feature helps to preserve the dignity and privacy of persons in need by acting as a direct channel to connect these persons to agencies," said the press release. 
Ms Sim said this also enables concerned strangers to report their encounters with potentially vulnerable people without risking over-exposing the person on social media.
This is "especially relevant" in cases involving complicated family dynamics as public exposure could mean greater pressure on already strained family relations, she added. 
"While the concerned stranger submitting the feedback may not be told confidential details, he or she will be assured that the person is being helped – which I believe is the core motivation why people make such social media postings in the first place."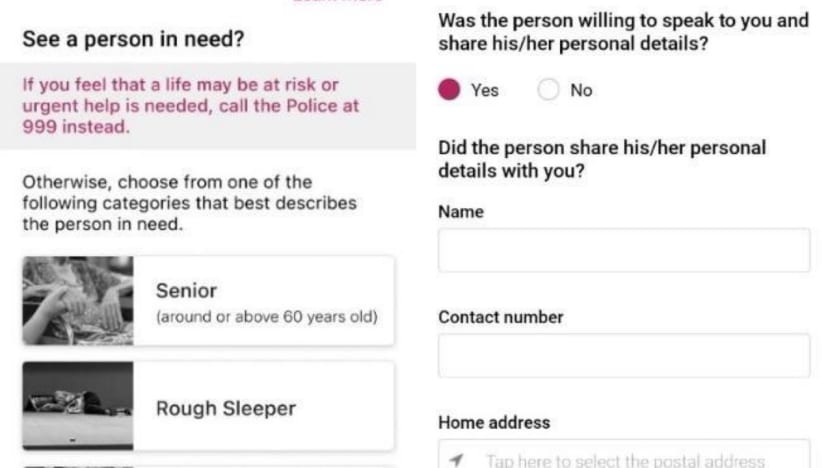 Residents will receive an acknowledgement message on the app and via email after submitting their feedback.
For cases related to injury, harm, or lives at risk, the Help Neighbour feature will alert residents to direct their feedback to emergency services such as the police first.
Residents are also encouraged to engage the person perceived to be in need first, to better understand their needs or if assistance is indeed required. 
The social service agencies will continue focusing on four groups of people commonly flagged by residents during the soft launch: Vulnerable seniors, rough sleepers, cardboard collectors and tissue paper sellers.
Users can also refer persons in need who are not in the four main groups via the "Others" category.
"With a rapidly ageing population, it would certainly help to have more pairs of watchful eyes on the well-being of seniors living alone or with limited family support," said Ms Sim.